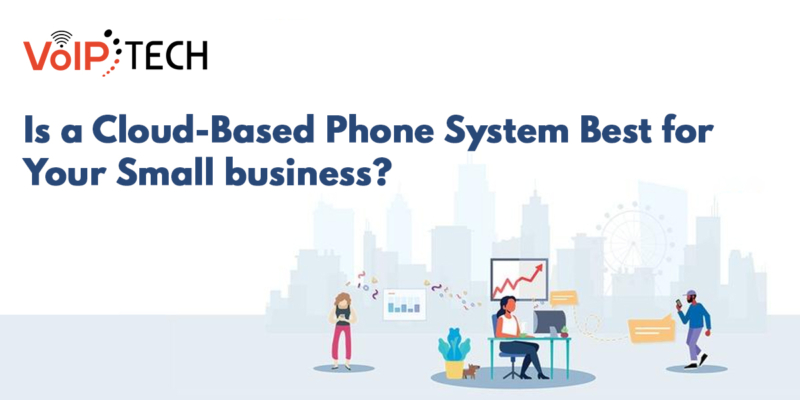 Cloud-Based Phone System become increasingly popular. They take the hassle out of managing your phone system and allow you to access it anywhere.
Business phone systems that use the cloud to use the Internet and cloud technology. It is also frequently referred to as an Internet-based phone system or a VoIP platform.
The most significant benefit of this configuration is its affordability because the provider will take care of the hardware, installation, and maintenance, saving you from making a sizable investment. The inherent low cost and agility of cloud computing provide you with a usable and effective solution. Some companies even offer free plans.
The Cloud-Based Phone System transformed how businesses handle calls and conduct business.
What is a Cloud-Based Phone System?
A Cloud-Based Phone System is a telephone service that allows you to transmit calls online. A Voice over IP (VoIP) telephone network is another name. A cloud-based phone system can store data housed in one or more remote secure data centers, which is one of the ways it differs from conventional analog phones that use traditional cables to establish communication between two callers.
Cloud-based phone systems can use with a wide range of devices, including Voice over internet protocol phones, computer calling applications, smartphone apps, rooted phones with adaptors, and traditional phones.
Private branch exchange, also called Hosted PBX, is an example of a phone system that uses the cloud. All data is stored and accessed in the cloud, which saves you time & expense by making it easy to update and safeguard your data.
Because a cloud phone system is housed in the cloud, data is kept on a safe server that can access online. Traditional landlines are replaced with a cloud phone system, often hosted by a third-party service provider like VoIPTech solutions.
A Cloud-Based Phone System does not necessitate constant maintenance or on-site hardware. A cloud phone system stores information digitally and allows calls to be received through the Internet using answerphone tape, phone bills, and wires.
Cloud phone systems can be accessed from any internet-capable device, including smartphones and computers, and only need a broadband connection to function. They help firms run more efficiently since they are less affordable and more straightforward.
Advantages of Cloud-Based Phone System
For your company's communication needs, whether for internal communications among office-based and remote staff or your contact center and customer service/support unit, cloud VoIP and phone systems are perfect choices. Small businesses may take advantage of and benefit from cloud-based phone systems' features and benefits. These consist of:
You can manage your company on the go, work with your staff in the field, follow up with your customers, and respond to client questions wherever you are, whenever they arise. Full phone system capability is available through your cloud telephony and is always available from any access point.
Communicative coordination
The system provides you with a single platform or hub for all your communications, including chat, voicemail, faxes, and text and voicemail messages. Additionally, you get a single inbox for all of your emails.
90% of customers would rather speak to a live person on the other end of the phone than a robot. Calls from customers are forwarded and routed intelligently to the appropriate agent or person for a prompt response or problem resolution.
With the help of this function, you may communicate with your staff even when they are not present physically. You, your company, and everyone else benefits from saving time, money, and assets.
For cloud phone systems, adding a new user is as easy as creating a new account or adding them to your existing account, unlike physical, on-site phone systems that require you to add new gear. The latest user can utilize all features and functionalities based on your selected plan. In other words, it can scale for very little money.
The Cloud-Based Phone Systems that will work for you are the Best for small businesses. How are you going to know that? Examine its features and facilities, check if it has plans that meet your budget, and try it out for yourself if it has a free trial. If a free program is available, use it to launch your firm. If you need additional features later, switch to a premium plan. VoIPTech solutions are the best Cloud-Based Phone system provider in India.
Why Choose VoIPTech solutions?
Cloud telephony with intelligence.
With the help of VoIPTech solutions' clever and user-friendly solutions, you and your staff can effectively handle calls to increase productivity and give consumers the best possible service. It provides real-time provisioning of phones, call fail-overs, calls routing, shared lines, multi-level IVR, customized voicemail, and other services.
You gain total visibility over your queues, enabling you to monitor active calls, watch agent performance, view the available agents, check call logs and recordings, and receive real-time data and analytics.
Supports all types of phone numbers
Toll-free, local, port-in, and international business numbers are all supported by VoIPTech solutions. Even vanity phone numbers are available if you wish to strengthen your brand.
Unified communications system
Whether you require a simple system or features suitable for large corporations, VoIPTech solutions offer you flexibility and scalability. It provides cloud PBX with all the bells and whistles, including multi-level IVR, auto-receptionist tools, role-based security systems, and call monitoring, in addition to single command call forwarding and recording.