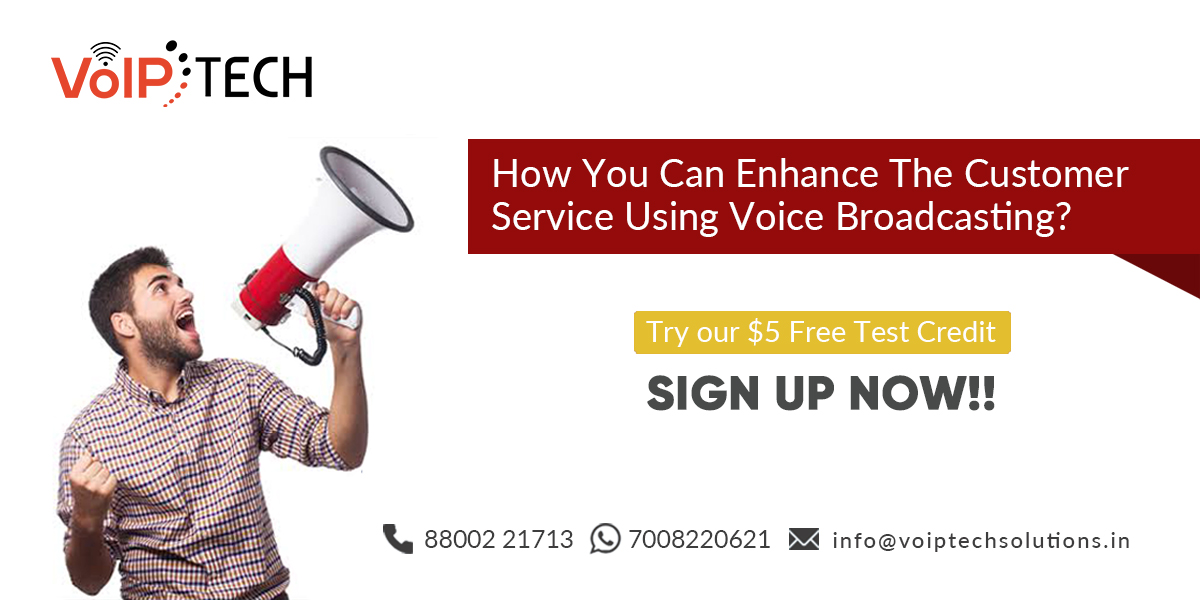 Don't you think Voice Broadcasting can be a great asset to enhance your customer service? But HOW? Well, the answer is crystal clear. We all know that with an undaunted experience, every company aims to provide its customer the best customer service possible as the customer is the ultimate boss for your call center. But before you must know what exactly is Voice Broadcasting? And it could really help out. Well, voice broadcasting is nothing but a customer-service tool that ensures a quality customer experience. And in order to enhance customer service and attract leads, call centers found various methods to voice broadcasting. 
However, to create marketing leads with voice broadcasting there are two methods involved one is delivering a pre-recorded interactive message and the second one is the voicemail message. Isn't it cool? And as of now to enhance customer experience,  various methodologies have been developed. 
Below are the points covering how  customer service is enhanced with the help of voice broadcasting:
Personal Touch: 

Always remember that with voice broadcasted messages a customer experiences familiarity rather than the distant feel of text, in comparison to a written message. To customers, it usually provides a comforting experience. And with regards to what influences each customer, voice broadcasted messages can also be customized. However, to express their indebtedness to each customer gratitude "Thank You " message is also being employed by companies. And at the end of every voice message, these personalized messages add warmth to the customer experience, which was previously possible in only person-to-person interactions. 
Consistency: 

However, a

call center

can maintain message consistency while reaching out to their customers only by using voice broadcasting. And a

call center

needs to hire callers in order to communicate with their customers but without voice broadcasting, the process becomes a lot slower than expected. However, the scope of message inconsistency during calls affects the whole experience along with the chances of providing the same experience to every customer become lighter. Apart from that, the process becomes hectic when the limit on the number of simultaneous calls renders. At the same time, a contact center solution can ensure on-time delivery and can out-dial and retry each unanswered call with voice broadcasting. 
Wider Range Of Audience: 

Always remember that one gets to reach out to a wider range of audiences with

voice broadcasting

. And who did not get the opportunity to learn to read or write, businesses can easily reach out to people living in different parts of the country/state and to people as well. When a company wants to reach out to customers who are visually impaired is also quite handy. However, voice broadcasting takes another step forward to exterminate the line of differences among people in the case of customers with such challenges. 
Customer Reminders: 

Apart from all the above-mentioned points, customer reminder is the most important aspect of voice broadcasting. It makes sure that customers are never late in completing everyday tasks such as bill payments, timely renewal, attending scheduled events, and many more. And it's quite imperative that a voice broadcast is delivered to a customer as messages and emails can get lost in the never-ending list of spam in case of any emergency alerts. Usually, when updates are required to be provided by the customers, it is often needed that the customers are updated in order to share their willingness or unwillingness to enroll under the same especially only when a new policy is launched. For which to ensure that the customer is always on time in giving out their details a timely reminder is much needed. Last but not least,

voice broadcasting service

proves to be of immense help in case of delays and re-adjustment of services, be it on trains, flights or a mess at a cinema hall. 
DND Filtration: 

However, a call center always ensures that they are only reaching out to the very interested customers who want to hear them just to avoid creating an unnecessary fight which is only possible with the DND filtration along with the government guidelines. Isn't it amazing? 
Answering Machine Detection: 

It is more suitable that a different message is broadcasted, at the same time when calls are being diverted to answering machines. However, it can easily identify whether a live person or an answering machine has answered the call, an intelligent system is embedded in a

voice broadcasting system

. Isn't it great?   Ultimately it ensures a diligent service is being provided. 
Additional Features: 

 Last but not least, apart from all the above features described in order to use it for press 1 campaigns an organization can also opt for interactive voice broadcasting to ask for customer's input. Usually, when an association wants to opt for a poll to introspect the perspective of customers for a new service they might be looking forward to starting or updating an existing one this is often used in these cases. 
We are one of the Best VoIP Service providers in India that offer customized cloud call center solutions with Voice Broadcasting to improve the efficiency of your agents & boost your business productivity. Switch to VoIP System, walk hand-in-hand with the future. Call: +91-7008220621. Our VoIP services come with an extensive range of features to meet your business requirements. Sign Up and get FREE $5 credit today! For more info, call: +91-8800221713.