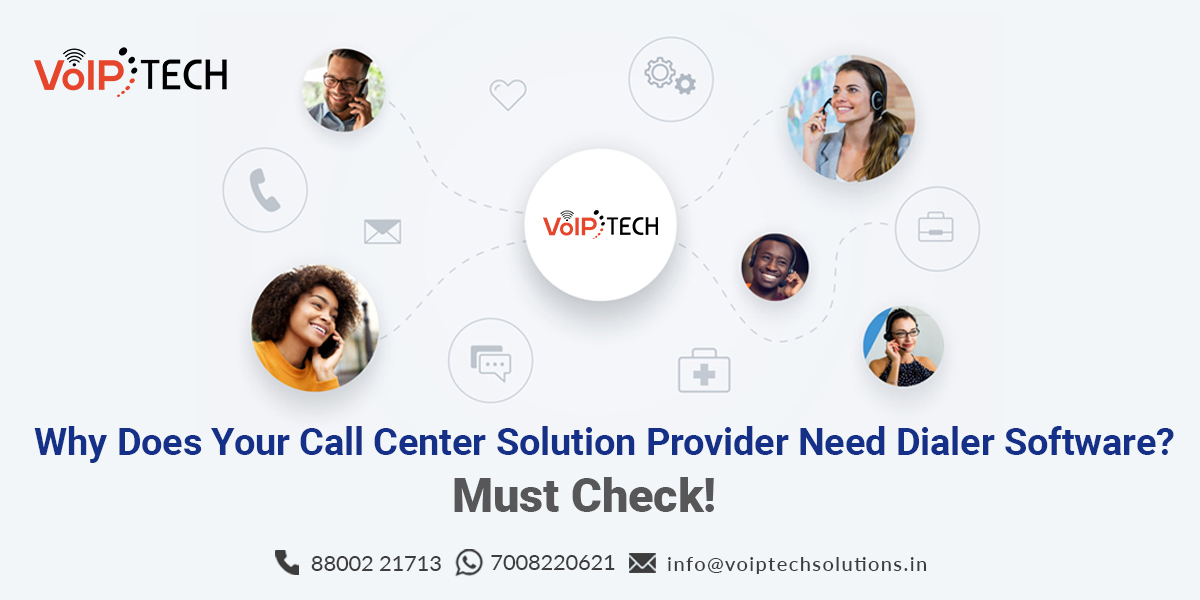 Have you ever thought about integrating dialer software for your call center solution provider? And how it could save your call center solution provider time? Because generally for making and receiving calls, agents at the call centers are completely responsible. However, without dialer software call center solution provider would have faced extreme downtime. As manual dialing of individual phone numbers consumes a lot of agent's time and energy. Always prefer the process that involves keeping in continuous touch with the customers and building a healthy relationship with them.
Along with that, there are high chances of error as the agents might make mistakes while entering a phone number. However, a call center solution provider has Manual dialing and its limitations that gave rise to the use of proper dialing software. And for that, you need to have thorough knowledge about dialer software and how the right dialer software eases an agent's job at the call center solution.    
What is the Dialer Software for Call Center Solution Provider?
Dialing up phone numbers of customers which are arranged in a queue is the complete responsibility of dialer software. However, carrying out multiple outbound calls at once is fully managed by a cloud-based dialer which is undoubtedly considered to be the best tool. Companies of all sizes have welcomed the dialer application with both hands, whether it's a start-up or an established brand.  
Dialers come with a lot of benefits that simplify an agent's workload and eases his/her job along with saving time and making multiple calls. Along with various features and hence, can be classified into multiple classes, a dialer has evolved over time a lot. 
Various Types of Dialer Software:  
Dialer software has been availed to the users based on their functionality and specific features: 
Predictive Dialer:

Before the former ends it helps to connect with multiple numbers at once by queuing up another one.
Progressive Dialer:

  After the former call ends, this dialer places the next call immediately. 
Auto Dialer:

Some unnecessary numbers such as FAX numbers and DND lines have been eliminated by the dialer.    
Power Dialer:

Enhancement of connection with the customer is great with this dialer.  
Preview Dialer:

  With an additional option of skipping a phone number from the dialer list, it provides the agent with an informative display of the customer's details such as call history, past transactions, etc. 
Robo Dialer:

  With the help of a recorded message it works as a dialer as well as an agent which dials calls and attends them quite well. 
Dialer Software: A Blessing for Call Centers
In the communication system of a call center, all enterprises must realize the importance of using dialer software.  From automating the dialing process to affecting the various elements all are involved at a call center which is being helped by a dialer. Below are some benefits of getting a dialer for your call center solution.
Generates Leads and Converts Them:

  Even for B2C and B2B businesses, the dialer software contributes to strategizing the process of generating leads, unlike its traditional phone dialing system. The agents can reach out to as many customers as possible which in turn, increases the chances of acquiring high sale generation rates by easing out the dialing process. However, the agents can utilize that time in converting the prospective clients into leads by saving time on the dialing process. To improve the customer-business relationship, continuous or frequent call connections can help a lot. 
Improves Efficiency:

To overcome the problems faced due to manual dialing, the automatic dialing software has helped call centers a lot. To reduce the errors related to the traditional manual number dialing system, the dialer plays a vital role in doing the same. For affecting the efficiency of the call center's performance, call barriers such as misdialing, long waiting times, numerous call drops, etc. are accountable. And there are least chances of misdialing and other call problems only by automating the process of dialing. 
Reduces Idle Time and Downtime:  

Reduction in the idle time of an agent is the main benefit of deploying an automated system of dialing numbers at a call center. However, to prevent time wastage an autodialer detects such situations and enforces skipping the particular call being a smart technology. By making sure that only responsive and useful calls are being routed to the agent, the dialer software effectively minimizes downtime. However, it eliminates time wastage and allows the agents to take up more calls per hour. 
Enhances Average Talk Time:

  Call centers observe a significant increase in levels of average talk time which is undoubtedly one of the benefits of an

automatic dialer

. However, the dialer software improves call connectivity and increases agent engagement ratio as compared to the manual dialing system. And the agents get to spend more time on each call and promise a resolution to each one of the customer's issues only with the least time wasted in sitting idle or indulging in random numbers. Better customer experience and enhanced productivity levels are the only results of this engagement. 
Reduces Errors Due to Manual Dialing:

Being aware of the fact that manually dialing customer phone numbers are time-consuming and holds chances of minor errors which undoubtedly leads to severe issues. Apart from that, it involves wrong numbers, busy lines, fax numbers,  finding numbers by eating up the actual conversation time period. However, poor connections lead to customer frustration which eventually impacts revenue generation. While predicting the company's overall revenue generation, an agent's performance is a critical factor as well. Apart from that errors and time wastages lead to insufficient costs that a company bears like hiring agents and maintaining the hardware.
We are one of the Best VoIP Service providers in India that offer customized cloud call center solutions with Call Center Solution providers to improve the efficiency of your agents & boost your business productivity. Switch to VoIP System, walk hand-in-hand with the future. Call: +91-7008220621. Our VoIP services come with an extensive range of features to meet your business requirements. Sign Up and get FREE $5 credit today! For more info, call: +91-7008220621.