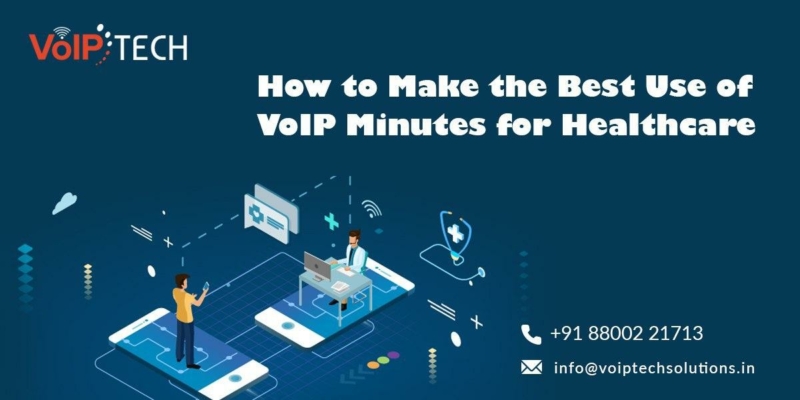 Have you ever realized the importance of the VoIP minutes for healthcare? In this digital age, for every healthcare entity, be it large, mid-sized, or small, the need for fast and reliable communication has become a necessity. As VoIP takes communication to new heights, the healthcare sector couldn't afford to miss out on the benefits that the technology offers. To make the conversation more user-friendly & conscientious, a large number of hospitals are switching their communication networks from landline to VoIP Calling.  Whether you are a healthcare chain or an individual owning a hospital, VoIP minutes from VoIPTech Solutions for healthcare can help you give a great customer experience every time. 
How VoIP is useful in the Healthcare Sector?
VoIP is not only measured for its cost-effectiveness, the kind of nex-gen features & flexibility it offers is second to none. For a monthly fee that's up to 70% lower than landline costs, you get a whole bundle of rewarding features like unlimited minutes and extensions, customizable voice greetings, voicemail, multiple toll-free or vanity numbers, voice to text features, call analytics, and much more. And, you don't need any IT/networking support for the setup. 
Below are some healthcare facilities that will find VoIP Minutes a perfect solution. Consider the following:
 General Hospitals

 Medical Facilities

 Private Clinics

 Dental Care

 Orthopedic Centers

 Medical Aesthetics

 Face Lift & Cosmetic Surgery Clinics

 Rehab Centers

 Mental Health Practices & Clinics

 Therapeutic Massage Centers

 Yoga Centers

 Private Nursing Homes

 Health Villas

 Imaging & Radiology Centers

 Pharmacy Stores

 Childcare Centers

 Pediatric & Other Specialty Clinics

 And, more
Right Plan for your healthcare sector: 
Most Virtual Telephony needs a powerful duo: firstly a trusted VoIP provider plus a Monthly VoIP Calling Plan that fits your business requirement in the best possible way. As a responsible healthcare service provider, you would definitely don't want to miss the opportunity to give your customers great service and 24/7 support. And, choosing the right package is vital to make the most out of Internet Telephony Services. As the features vary, according to the plan. Spending about 5 to 10 minutes to do the math now can save you a ton.
You need to ask yourself these questions, before purchasing a VoIP Plan:
What's the size of your healthcare facility? Is it a large organization or just mid-sized health support? 

Does your calling system need a minute-based plan or unlimited VoIP minutes?

Are you present in just one location or have branches all over the country or the world?

The exact number of business phone numbers you need?

The devices you would like to use?

The features you need?
Knowing The Importance of VoIP Features for Healthcare:
The best thing about VoIP phone systems is, they don't come with hidden fees. Everything is clear & transparent and mentioned in the service catalog. So how do all these seemingly "high-tech stuff" benefit a healthcare practice? 
Here is the list of features that can improve your healthcare customer service in many ways:
Adding New Extensions: During the hustle and bustle of life of hospital employees, they really need to pick up calls directly from their cell phones, for that only they have been provided with a personal extension. Without any information loss, it makes communications faster and reliable. 
Call Routing After Working Hours: Being a doctor is not an easy job to maintain the perfect balance between personal and professional life. But VoIP allows you to pre-plan, when and how after-hour calls are distributed among you and your staff. You just need to log in to your profile to change these or other settings anytime.
Displaying Caller ID: Sometimes we cannot distinguish between personal and business calls. When it is being forwarded to your smartphone, all business calls will be appropriately identified.
Sending Custom Voicemails: Patients should never feel like they're just "hanging on the line" or "left out unattended". By prioritizing the convenience of patient care, VoIP solutions

help you gain a loyal audience base.

Texting: Make your patients feel thankful for attentive appointment reminders while colleagues and staff can provide you with vital information. With VoIP telephony

, sending and receiving text messages from your business phone number becomes easier. 

Mobile App Integration: With a simple app integration, you can enjoy all the benefits that the technology has to offer, anywhere in the world.
If you're looking for VoIP minutes for healthcare, then VoIP Tech Solutions is the ultimate destination for you! To get started, call: +91-8800221713. For more info, please visit our website: https://voiptechsolutions.in/. Now it's your turn to integrate!