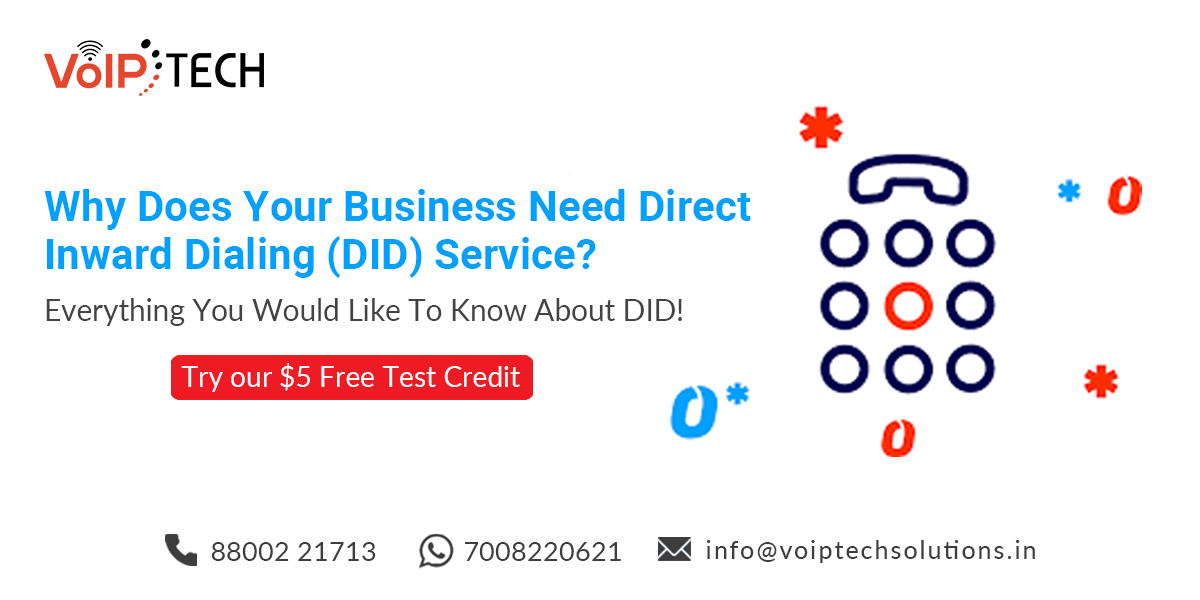 Imagine you're having a query, but eventually end up spending some "not-so-called quality time" with the automated phone menu or human receptionist every time before actually getting to speak to the concerned person. After repetition of the same process on multiple occasions, getting annoyed is common, and one thing that must be coming to your mind that "why can't I just reach this person directly?" This is where DID comes to the frontline. The reason behind that the business you are trying to contact might not have integrated the DID Numbers service yet. So, what exactly are DID Numbers? And, how Direct inward Dialing Service can benefit your business? 
So, let's start with the first question itself.
What Exactly is DID Service?
Direct Inward Dialing (DID) involves a series of contact numbers getting connected to your business PBX and that is done by your telephone service provider. It empowers enterprises of all sizes to assign virtual numbers that help bypass your central reception lines so that the callers can directly reach the desk extension or group of extensions. The best thing is, you can use DID with any local, premium-rate, or toll-free numbers. Through a DID customers can directly reach your number.
What is a DID number?
A direct-dial number might seem like a regular phone number, which is not the case. In general, it is a virtual number that directly goes to an extension or particular locale in your organization. In other words, it is called a shortcut phone line.
How does DID Service work with VoIP?
VoIP system is the most advanced and easiest way to integrate virtual direct-dial numbers and it is only possible with SIP Trunking. The role of SIP is to make the trunking line connections easily available at the need of the hour. And, to your knowledge, these are virtual lines available across the broadband, not the physical ones.
The virtual links which will be provided to you will be internally configured and by using a software application the numbers will be linked to your extensions. Isn't that great? The best thing is, you can do it by yourself or else can ask for your VoIP provider's assistance. If you are planning to launch a sales campaign on an urgent basis, then it can be a great help. No matter how many new trunk lines you need, be it 20 or 30, you can easily achieve it without any external help. No waiting time, no more hassle – it's easier than ever.
Why Do You Need Direct Inward Dialing?
Well, having a reception system is good, but do you really think that you are handling your inbound calls efficiently?
Don't you think, you should have something that can skip the phone menu or receptionist and can let the callers directly connect to the concerned department? You can't have the same system for enterprise & small business customers, right? And, again having different lines can reap the maximum benefit from DID service – especially when integrated with an advanced VoIP phone system.
What are the benefits of Direct-Dialing?
Businesses from all walks of life can benefit from DID. Here is how:
Can save a ton: With the integration of DID, you can certainly decrease the required trunk lines for connecting to your business. With an advanced

VoIP system

, you can use the call forwarding feature & send the DIDs to different continents, hence saving a ton on long-distance calls.

More free time: Call routing to individuals without the help of a receptionist or phone menu, allows you more free time. You can easily follow up with a client.

Improved customer experience 24/7: Customers can get to speak to the concerned person without any hassle that eventually ends up with an enhanced customer experience with a better satisfaction rate.

Better collaboration among team members: Team members can speak to each other over a dedicated extension, no matter their geographical location. 

Local phone numbers: No matter where your office is located, you can still have a local phone number for the native audience. This helps build the trust factor towards your business. A business operating in Los Angeles can have the number of Mumbai or Paris displayed on customers' phone screens in that market.

No on-premise hardware required: With

VoIP

, you don't need any kind of on-premise hardware for the setup. You make use of your existing phone system & components for the same.

Auto call forwarding: You can forward incoming calls to any virtual numbers or personal numbers without the knowledge of the callers.

More flexible work environment: With DID, you have more control over your calling options.

Auto time setter: You can set a particular time for a call to be made, and it automatically dials those numbers exactly at that time. This is a great tool for teams working abroad, in different time zones

Marketing attribution: You can easily track the ongoing marketing campaigns & individual performances with 100% accuracy. 
How VoIPTech Solutions Can Help You Get a DID Service?
Being one of the top Indian VoIP providers in the market, it's VoIPTech Solution's responsibility to serve customers with out-of-the-box solutions. We can help you decide the exact number of direct-dial numbers your business needs and how you can save big. After the set up of DID service, you can provide a more personalized & sophisticated experience to customers, taking your supposed system to the next level.
Are you a business, looking for a reputed VoIP phone service provider that can provide you with DID numbers? VoIPTech Solutions is the best choice for you. Our network is spread over 165 countries around the globe. Our paid plan starts at $10 per month and goes up to $20 per month. Our VoIP services come with an extensive range of features to meet your business requirements. Sign Up and get FREE $5 credit today! For more info, call: +91-7008220621.