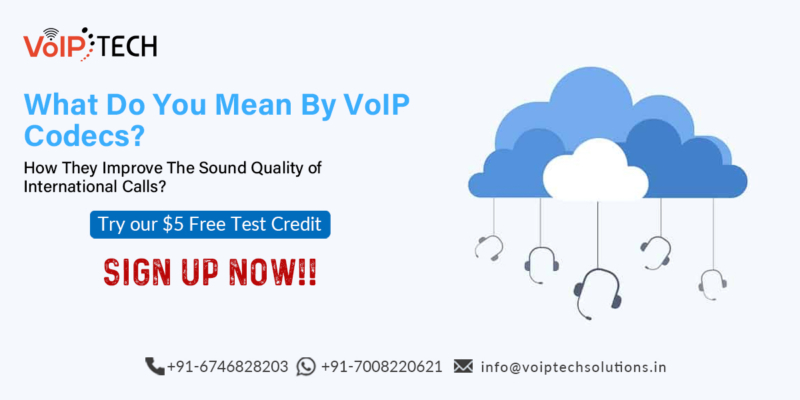 Gone are the days of those unclear verbal interactions, frequent call drops, and frequently used words "pardon" and "sorry, can you repeat again". Thanks to the cloud-based VoIP Phone systems, callers now experience crystal-clear voice over the phone, what all they need is a high-speed internet connection. The dreams of many are now a reality with the introduction of VoIP codecs. So, what do you mean by VoIP codecs? What are the things you need to consider to choose the right VoIP codecs for your business phone systems? Need answers? Well, this blog has all the answers for your queries. 
What do you mean by these VoIP codecs?
It is a technological realm that decides the voice quality, available bandwidth, and squeezing of phone calls made over the internet. The functionality of these codecs are controlled mainly by proprietary or they have predefined algorithms (mostly open-source).
VoIP "codec" is an amalgam of two words: Compression and Decompression. Have you ever wondered, how a movie of 2 GB is downloaded in minutes, hours instead? This is all possible due to these Codecs! The best examples you can take are the image capturing tools (JPEG), online media streaming (H.264), and encryption-based software applications (AES), to name a few. In addition to this, the quality of the videos and bandwidth you require to watch videos on popular online streaming sites is determined by these codecs.
VoIP codecs are not limited to this only, conversion of analog to digital packets is possible just because of these codecs. The latency rate and quality of audio calls placed over the internet is also determined by these VoIP codecs. The compatibility of these codecs with different devices plays a major role in its success.
The VoIP codecs share a single goal – quick transfer of data and that occurs due to compression. Advanced VoIP applications used for business communications do make sure phone calls don't boar hundreds of bandwidth that eventually results in HD quality voice.
Voice over IP devices play a key role in converting those audio signals into their digital packet version, ensuring secure transmission over the Local Area Network (LAN). In order to make these data packets get the first priority, there might be the need for Quality of Service (QoS). How does it help? This feature enables those VoIP data to get the first-row clearance as compared to those that are less important. And the end result is, superior call quality is maintained 24/7.
All the key functionalities are the same, however, when it comes to compressing the audio no one matches the quality and endurance of VoIP codecs. Why is compression so important? Audio files require a high volume of bandwidth for the transmission to occur, which is subjected to limitations. Without the compression, the files and documents will generally take more amount of space than the normal, creating a lot of space allocation problems for organizations. As an intelligent business owner, you must think about the VoIP codecs to achieve efficiency in compression and allocation of less bandwidth.
How does It help?
By keeping things in check, you can maximize your actual capacity in terms of greater planning and cost-cutting, while making the best out of your long-term investments
When it comes to remote working scenarios, the flexibility and usability of Cloud VoIP phone systems are second to none. Your workforce can stay connected with each other 25/7, with notable features video conferencing on the go, call recording at any moment and point of time, and making long-distance calls using devices of their choice irrespective of the location.
Understanding the science behind audio quality:
Today, having a reliable business VoIP phone system has become a must to millions business, ranging from startups & small to midsize and large enterprises. It lays the foundation for establishing an excellent business communication with all sorts of amazing features. Well, audio quality holds the key to make or break a deal.
Before you jump straight into audio processing, you should get well along with these terminologies:
Sample rate or sample frequency: The term refers to the number of exact samples taken per second from the audio calls. By combining these samples altogether you can obtain the total value with amplitude measurement, coming from the signal waveforms that are collected over a specific period. You can expect better quality audio with a higher sample rate.

Bitrate: The data transmission into audio formats per second. More and more audio files can be captured from there the info is collected. In general, the sound quality is directly proportional to bitrate.

Bandwidth: It refers to the speed at which the transmission of data occurs. It calculates the data transmission rate per second.
No matter how good your agents' voice is and the way they communicate, it won't be making any difference to the person on the other side – with a low bitrate the good will sound bad. The same is also applied for the sample frequency.
In short, with a low bandwidth nothing gonna work in your favor. Thanks to VoIP codecs, they play a key role in conserving the bandwidth so that you enjoy the best sound quality 2/7.
How to organize your codecs?
Cloud-based VoIP service providers have the authority to determine the codecs that will be available for you, depending on the hardware you use. Most VoIP service providers usually transmit the data packets through their server,and it's the software used in your IP phones that does the job compressing. The negotiation of the right codec occurs between the phones of both parties involved, so that the callsca be connected properly. 
You should go with codec that is best for your business phone. But before that you should be well aware of your available bandwidth and number of calls made per day. G.722 should be your first preference to avail high quality sound, if not available then go with G.711. What if there is low bandwidth? In that case, going with G.729 above G.711 would be ideal.
The role of VoIP codecs in delivering crystal-clear communication:
Today, to ensure a seamless communication between teams working from multiple locations and customers, you definitely need the service of cloud VoIP Phone Systems. And, your choice or availability of IP codecs will make things a bit easier with HD quality voice, avoiding the complex setting and maintenance of those bulky telecom equipment. What is the best way to get it solved? By partnering with reliable cloud phone system providers like VoIPTech Solutions, you can enjoy all the advantage of the technology from the start.
Are you a business or call center service provider, looking for VoIP Providers that can integrate the best VoIP phone systems by providing the right codecs? You couldn't have a better choice than VoIPTech Solutions. We give you the choice to have your own codecs that can accommodate your existing hardware, ensuring superior quality sound 24/7. With us you get international phone numbers over 165 countries. Our paid VoIP Minutes plan starts at $10 per month and goes up to $20 per month. Our VoIP services come with an extensive range of features to meet your business requirements. Sign Up and get FREE $5 credit today! For more info, call: +91-6746828203.