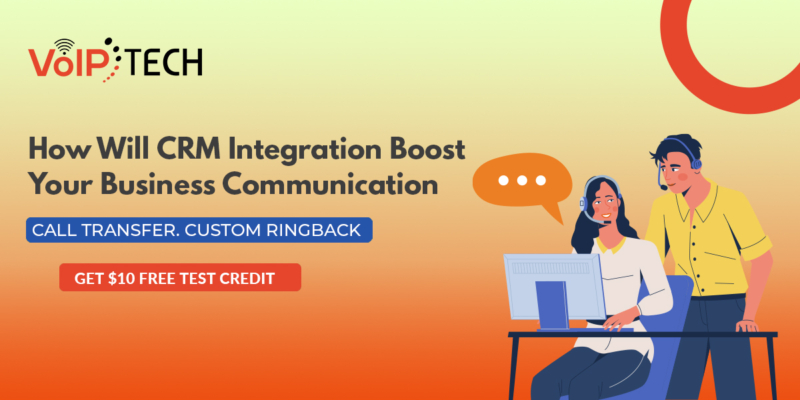 The cloud phone system is an efficient way for your business to contact and send messages to your employees quickly. CRM integration is the best way to improve your business communication.
Introduction
Customers want a seamless experience across all communication channels in the modern digital world. To compete in this market, your company must offer customers or clients the newest communication channels, such as instant messaging, email and phone services, and other social networking websites.
Your team gets access to precise client information through these third-party integration capabilities on various communication channels, enabling them to handle customer inquiries effectively.
No technique helps your business to boost your business's communication system quickly. But we assure you that our Cloud Phone system is unique from other communication systems. Cloud Phone System is known as VoIP Phone System.
This blog provides more details on Cloud Phone System and How will CRM Integration Boost your Business Communication With A Cloud Phone System?
Cloud Phone System
Solutions for commercial communications in the cloud have advanced significantly. It has evolved from being a low-cost substitute for on-premise phone systems to becoming the top option for business communications for organizations of all sizes. It keeps growing and adding additional features to better serve its consumers' requirements, just like all excellent goods and services.
Its compatibility with other commercial productivity software, particularly customer relationship management systems, or CRM, is one of these breakthroughs. Yes, most business communications systems hosted in the cloud today can link with the leading CRMs.
The most recent advancement in cloud computing, called Cloud Phone System, offers creative options to businesses that may not want to spend on traditional Business and call center telephone services. Thanks to the Cloud Phone System, customers may place and receive calls and SMS without needing additional infrastructure.
There is no software to install or gear to purchase to use these Cloud Phone systems for business. IVR, call center configuration, call recording, and other features are all included in the Cloud phone service. These services are available through landline, mobile device, or computer settings.
CRM software is a platform that helps the business keep track of all sales, boost lead generation, increase customer retention rates, and make integrations of many other helpful products faster and easier. The CRM software assists in fusing sales, marketing, and customer relationship functions into a single, intelligent dashboard that integrates your customer data, addresses communication issues and saves time and money.
Customer relationship management, or CRM, gives a business a lot of benefits. Building closer relationships with both new and existing clients are the main advantage of CRM.
Customer relationship management (CRM) software is technology organizations use to manage interactions and connections with customers by preserving all pertinent data and enhancing overall business profitability.
The term "CRM" describes a CRM system, essentially a tool for managing sales, contacts, workflows, productivity, etc.
CRM Integration                                                                            
CRM integration refers to the process of connecting your CRM to a system from a different company. Because you can manage and keep an eye on your company's data from a single system, you'll be more productive, provide superior customer service, and generate more revenue.
CRM integration with third parties like Salesforce can help you increase productivity by enabling your staff to access crucial data from a single system.
Cross-checking data for accuracy will enable you to provide better customer service.
Profits can raise by seeing trends and utilizing them to steer clear of mistakes and run a more successful company.
By offering a compelling customer experience, CRM (Customer Relationship Management) technology provides comprehensive support for enhancing your business's interactions with current and potential customers. CRM software packages integrate with Cloud Phone System (Cloud Phone Integration) from respected suppliers to accomplish these goals, allowing companies to manage customer relationships better and respond to client issues.
Why is the integration of cloud telephony important?
A comprehensive solution for tracking the customer life cycle, Cloud Telephony Integration includes Lead Management, marketing campaigns (Missed Calls, SMS Service), customer retention (Contact Center Solution, Live Chat), and more. This functionality is crucial because, independent of the communication channel, it unifies all the data for a given lead or contact during a conversation. Gathering such data for such a contact improves our overall sales conversion rate and empowers the customer communication experience.
Advantages of CRM With A Cloud Phone System?
Increases Efficiency & Automation –
CRM and cloud telephony integration create an effective data management system and reduce the need for human intervention, which promotes automation. To access client data or communicate with customers, customer service representatives don't have to transfer between the Cloud Phone System and the CRM. Every time a customer calls, thorough customer records appear immediately, saving the agent's time and effort.
Additionally, a centralized database is a stand, which may be automatically updated whenever new data for clients need to add. Integrations between CRM and cloud telephony enable functions like autodialers and click-to-call. The agents are not obliged to go through the time-consuming procedure of manually picking which clients to phone.
A better data and call tracking system
It is now simple to monitor and keep track of incoming and outgoing conversations and update information specific to the calls, thanks to Cloud Phone System features like Interactive Voice responses (IVRs). No need to manually keep track of when to call the clients. Automatic calls are arranged in the customer's preferred order, simplifying the tracking procedure. Autodialers use clever technology to identify voicemails, loud tones, and DNDs, which in the long run results in tailored customer information, less agent effort, and lower overall business costs.
Service Scope for Customization –
Outstanding customer service is an essential part of any organization for making an excellent first impression and building a solid brand. The combination of CRM with cloud telephony contributes to creating all-encompassing customer assistance that encompasses calls, social networks, chats, etc.
Clients have little trouble getting in touch with the agents, which offer to make additional leads and increase existing customers' trust. When a customer's call is called an agent, a centralized database allows the customer's information to be obtained in a matter of seconds, reducing time and increasing the customer's sense of privilege.
Dashboards that Use Careful Data Analytics –
Any business's marketing, sales, and customer service functions depend on one another to grow. A thorough customer data analysis can significantly improve our understanding of the intended audience. It is considerably simpler to use the records to track and plan the business model for greater profits when all the data is accessible from a single platform, such as a dashboard.
The combination of cloud telephony with CRM offers reliable information on missed call volume, the delivery of goods and services, etc., that helps decision-makers reach the best conclusions.
Offers a Platform with One-Stop Solutions –
The CRM and Cloud telephony integration provides a one-stop solution platform as you can consolidate all your communication requirements into a single versatile workspace. The company's employees can contact clients and one another most conveniently and effectively, thanks to calling recording and call routing tools.
Intelligent call routing ensures quick customer response time. Sales representatives may guarantee improved customer conversion rates with click-to-call features because of the personalized and speedy data recovery.
Why is VoIPTech Solutions Best For Your Business Communication System?
The VoIPTech solutions can integrate your phone system, CRM, and business apps onto a single platform. To effectively serve your clients in real-time, your staff must be more effective, efficient, and efficient.
A Windows desktop application called CRM Connect offers strong integration with dozens of top customer relationship management programs. Calls may be launched and controlled rapidly from applications, and rich CRM information is displayed for calls immediately.
Conclusions 
These are only a few advantages that integrating CRM with Hosted Phone System can provide to your company. Many businesses are now using CRM systems, and they are pretty satisfied.
The industry is currently in a highly competitive situation, and only those who can maintain solid client relationships will be successful in the future. CRM allows you to save time and money while improving productivity and ensuring happy customers.