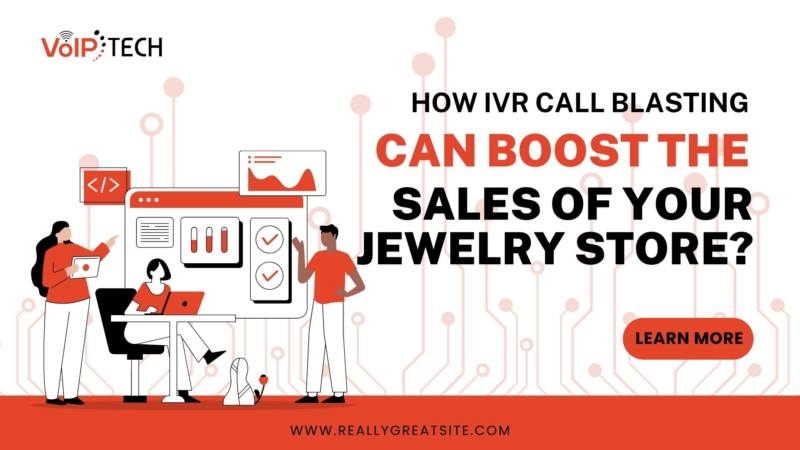 IVR call blasting is a process that allows you to broadcast prerecorded bulk calls to your target audience. Nowadays, it has become one of the potent ways to boost the sales of businesses. In this blog, we will explore how IVR call blasting can increase the sales of your jewelry store.
What is a jewelry store?
A jewelry store is a shop that sells jewelry and watches. In India, you can find hundreds of small and large jewelry stores. It's because Indian women love wearing jewelry.
The target audience of Jewelry stores
Mostly women are the target audience of jewelry stores. It's because they love rings, necklaces, and bangles.
Use IVR call blasting to boost sales of your Jewelry store.
Personalized Customer Outreach
When it comes to jewelry, everyone has a distinctive choice. So if you have a jewelry store, you must go for personalized customer outreach. With IVR call blasting, you can easily broadcast prerecorded voice messages to your target audience based on their preferences.
Special Offers and Promotions
Consumers always love special offers and promotions. So you must consider sending them alluring voice messages with exciting offers. IVR call blasting can help you reach hundreds of customers at once to present your offers. No doubt it will boost your sales.
Event Invitations
Events always attract people. But how will the customers know about it? Here comes IVR call blasting. You can use it to notify potential customers about your events, functions, and contests. It will help you boost your sales, especially if you have a jewelry store.
Customer Surveys and Feedback
To boost the sales of your jewelry store, the feedback of your customers is crucial. It will help you analyze the negative and positive aspects of your services. You can improve your customer service by conducting surveys among people. IVR call blasting can help you in this regard. You can broadcast prerecorded messages to your target audience and ask them to give their feedback through IVR prompts.
Personalized Follow-ups.
Personalized follow-ups are crucial when it comes to boosting the sales of your jewelry. People may come to your store, look at your products but go home without buying. In such cases, you must do follow-ups through prerecorded IVR calls. You can prepare personalized messages and broadcast them to hundreds of customers.
Conclusion
To boost sales of any business, IVR calls blasting can play a crucial role nowadays. It's a direct B2C interaction method that is effective and productive. We discussed how it helps boost sales for jewelry stores. So feel free to give your views on this blog below. Thank You!