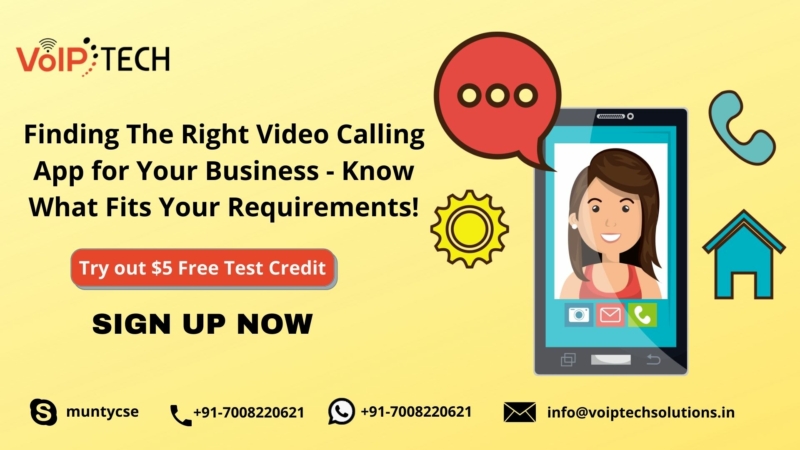 Do you think business travel is that necessary? If you can achieve the main objectives by going virtual, just imagine how much money you can save! The time & money you invest to make the business deals happen also can be achieved through video conferencing as well. Although it is not as effective as that of one-to-one, still you can get some remarkable achievements. The pandemic has definitely made businesses learn from their mistakes and try to save money as much as they can. Especially in the mode of communication. Be it for business assignments or personal trips, Covid-19 has forced everyone to go virtual. And, Right Video calling apps have been a lifesaver in that regard, as people can actually meet over a chat and do some real business. Despite the unprecedented circumstances, it allowed us to stay connected with our close ones, colleagues, and customers alike. You can call these Right Video Calling Apps the new normal.
Every technology has its own set of advantages. And, video conferencing apps are a technical realm that almost saved businesses during the pandemic. If you weren't already set up for video chatting, it can come with a hefty price tag. Luckily, there are a number of right video calling apps available in the market that offer free plans to make the new normal a little easier on those with a tighter budget. Below listed are a list of the right video calling apps that offer free & affordable video conferencing with added features.
Here we go:
Microsoft Teams by Microsoft: Microsoft Teams is a replacement for Skype for Business with more intuitive features. It combines advanced features like instant messaging, video calling, technical documentation, & team collaboration into a unified platform, allowing users to start a video call with just a single touch. From screen sharing & using digital whiteboarding to call recording & access to information, Microsoft Team is definitely the #1 choice for users when it comes to convenience of use & security.
Powered by Microsoft's Advanced Threat Protection (ATP), the tool can scan teams to ensure nothing that is malicious in nature can be present on the platform. Your calls are protected with high-end security encryption, multi-step user authentication, and device verification. It offers a plan that is absolutely free of cost, up to 300 participants can be on the board for up to 24 hours at a time. You can see the basic paid plans available on the internet.
Zoom by Zoom Video Communications: Considered one of the industry leaders in the video conferencing zone, Zoom has experienced rapid growth over the years and become a must during the lockdown. From businesses & learning platforms to personal calls & educations, it has been empowering all alike, by keeping everything intact & functioning smoothly.
The tool offers HD-quality audio and video calling to millennials across different geographical destinations. It supports up to thousands of participants (this includes certain plans) and 49 videos present on the screen. Users can chat, see each other and share their screens simultaneously and comment. Powered by advanced video calling features like virtual backgrounds, calendar setup, and a waiting room to set it apart from its competitors – it can certainly take the video calling experience to the next level.
With an enormous rise in the number of users, Zoom has introduced new security features to make sure that its own users don't face any kind of ''bombing'' and are no longer vulnerable to any future risks. All the online meets are secured with enhanced security encryption and only the host has the authority to start a conversation. You can also use screen share watermarks and audio signatures for the same. The free plan includes 40-minutes (max) for 100 participants at a time, and it's unlimited for 1:1 meetings. If you are looking for paid plans, then you can see them online.
Google Meet by Google: An enterprise-friendly version of Google Hangout with more advanced features to make the best out of online meetings. You can use your browser to join the meet or use any iOS and Android apps to get started. The tool also offers all the benefits of other video conferencing apps with 2-step verification & other additional high-end security features.
It is available with an impressive free plan, up to 100 participants for unlimited hour-long meets. If you are looking for paid plans, then you can see them online.
Web Ex by Cisco Webex

: The app has a wide range of capabilities. Users can meet, create, and communicate all in one place. You can share your screen and record conversations on your device. WebEx guarantees HIPAA/BAA compliance and end-to-end encryption. You can lock the meeting rooms with a password to maintain 100% privacy. Its limited free version allows 1:1 meet for 50 minutes. You can see the paid plans online.

GoToMeeting by LogMeIn: As the name suggests, the product delivers a seamless experience to ensure you can meet and collaborate with customers and co-workers quickly. You can enjoy crystal clear voice calling, chatting, link sharing during the meetings.
With its free version, you can host 3 participants at a time for 40-minutes from your browser or mobile device. Its GoToMeeting Business also comes with a 14-day free trial, allowing up to 250 participants for unlimited online meet.
Google Duo by Google

: It's Google's video calling app to make it on this list. So, what's unique about this app? It's completely mobile-based. You can call it an alternative to Apple's FaceTime. You can start conversations from anywhere, what you need is an Internet connection. It is a completely free video calling platform that runs on both iOS and Android devices. 
From 1:1 to adding up to 32 participants at a time, you enjoy the crystal clear video calling of Google duo with add-on features like doodles, effects, or send emojis to the participants.        
UberConference from Dialpad

: Dialpad's high-end video conferencing solution comes with an extra layer of security as compared to its contemporaries. Participants need identity authentication to join the conference & it can be locked to keep the unwanted new entrances out of the loop.  
You can enjoy unlimited conferences, lasting up to 45 minutes on desktops, laptops, & smartphones with HD quality audio & video. You can record calls as well.
Above all, flexibility and cost-efficiency are the major takeaways for businesses of all sizes. Ultimately it helps the employees to work anywhere, anytime. As a whole, video calling apps offer you a complete virtual meet solution that helps make your business communication more effective, secure, & collaborative. No matter what you deal with, clear communication is the pillar for expanding worker profitability and certainty. With regards to client administration, viable correspondence in the call focus prompts increasingly fulfilled workers and clients who are bound to focus on a brand as long as possible. To convey the absolute best in client administration, a notable video calling solution provider is indeed what you need the most.
In addition to this, you must adopt the new norm and plan to get the maximum out of this. You don't have to buy expensive equipment, save on monthly travel bills, take advantage of notable features, and last but not least you are not dependent anymore. Download the app from the play store, log in, and you are right on your money. 
Are you a business or an organization, looking for free video calling software to stay connected with your remote workforce? VoIPTech Solutions can help you. For more info, call: +91-7008220621.