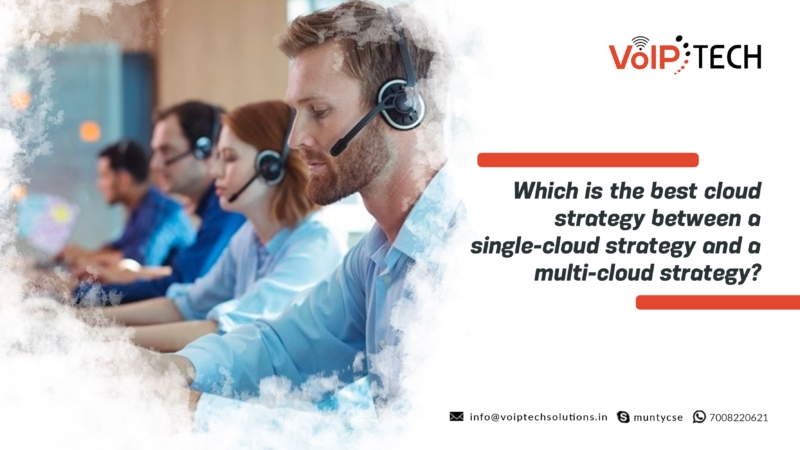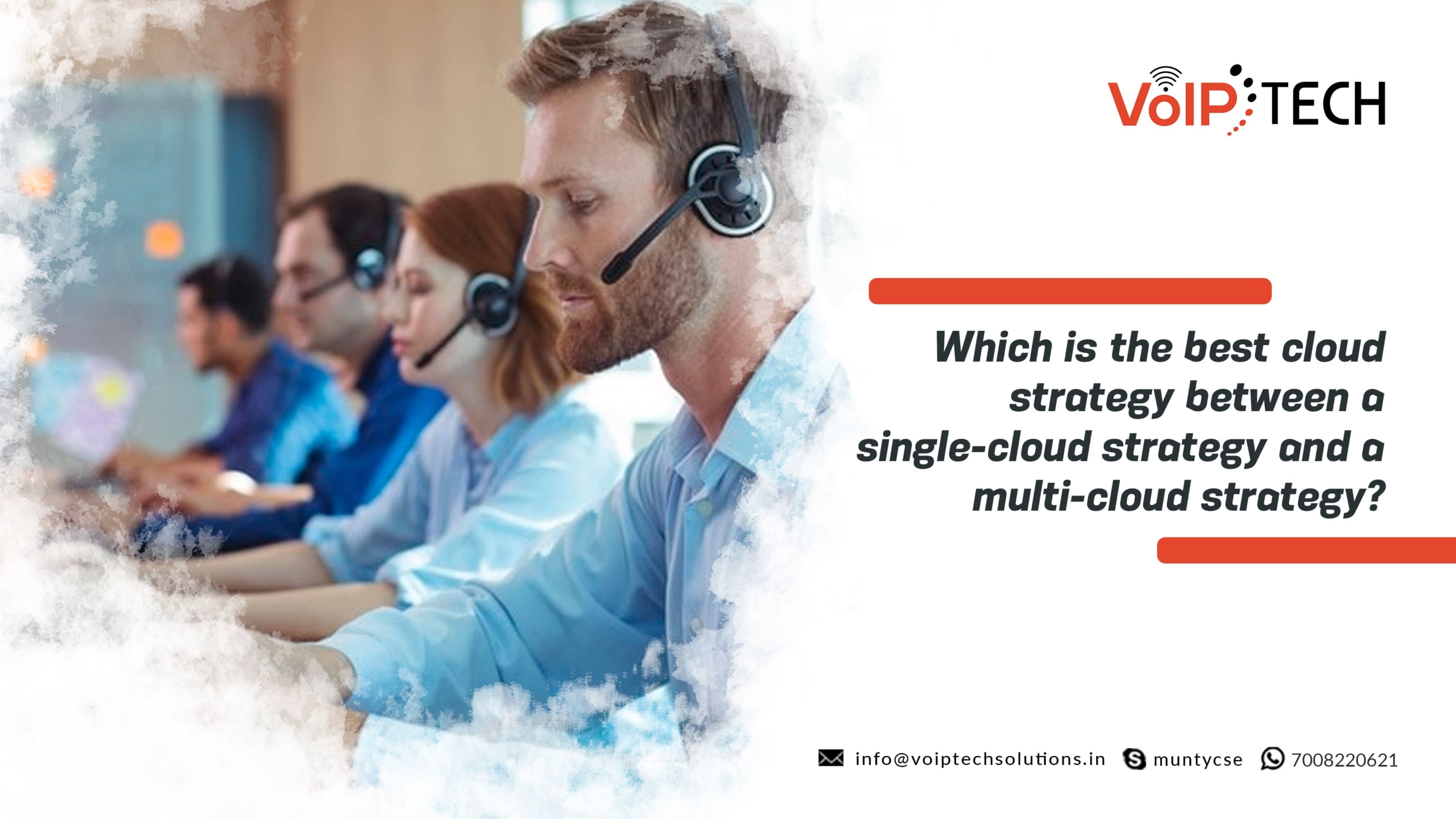 Choose the best cloud strategy between a single-cloud strategy and a multi-cloud strategy for your business.
 The primary distinction between a single cloud strategy and a multi-cloud strategy is the number of cloud service providers with whom a company collaborates. A single-cloud strategy relies on a single cloud storage provider to provide all of an organization's cloud storage needs and capabilities.
What Is a single-cloud strategy?
In a single-cloud strategy setup, all of your cloud-based services and applications are powered by a single supplier. On-premises servers handle all additional computing requirements.
Your single-cloud strategy provider could be a multi-tenant public cloud, where you share resources and servers with other customers but keep your data separate and private. It could also be a hosted private cloud, where a single third-party vendor manages virtual servers and applications exclusively for you. Your company does not share resources or expenses.
If you just use one of the following, you have a single-cloud strategy:
A cloud-based strategy program, such as email or customer relationship management, is known as software-as-a-service (SaaS)
PaaS (platform-as-a-service) is a development framework that merges multiple apps into a single platform, such as Vonage Business Communications or Google Workspace.
IaaS (infrastructure-as-a-service): a cloud-based environment that allows you to integrate a range of vendor-provided apps with custom apps, such as Amazon Web Services and Microsoft Azure.
Benefits of single-cloud strategy
Although multi-cloud is by far the most common strategy, not every company has come on board. If you're seeking these characteristics, single-cloud may still make sense for your company,
Simplicity:
If your organization or business is small and your operations are straightforward, one cloud provider may be able to handle all of your requirements.
Accountability:
You know who to call if you have a problem with your cloud services. They can't blame you and tell you to call a different vendor. It's their issue, and you're both aware of it.
Compliance:
If your company is in a highly regulated field, such as healthcare or banking, you must either control your data or deal with vendors who are familiar with all applicable regulations and can support your data reporting needs. Many cloud providers have built their systems to meet various business requirements, but the fewer suppliers that handle your data, the lower the danger of data privacy.
What is a multi-cloud strategy?
Multi-cloud refers to a strategy in which a company uses two or more clouds from separate providers. Software as a service (SaaS), platform as a service (PaaS), and infrastructure as a service (IaaS) approaches can all be used.
To fulfill the demands of your business, you use a selection of cloud services from multiple SaaS, PaaS, or IaaS suppliers in a multi-cloud environment. These services could be delivered through several private clouds or public clouds. According to Flexera's analysis, the majority of firms now use a hybrid cloud environment, which means they use both public and private clouds.
Some cloud services, including communication tools, CRM, and productivity apps, may be used by your entire workforce, while others, such as sales enablement, accounting, and project management, may be used by specific teams or departments. Meanwhile, IT might employ other cloud solutions to create an architecture that can handle all of the other solutions as well as the business devices that access them.
Benefits of a multi-cloud strategy
Integrations: 
Using various software does not ensure that your data is isolated. Many cloud-based solutions can be connected with other cloud services to streamline data (so that the same information is available across multiple apps) and improve workflows.
Reliability: 
Every cloud is supported by a physical data center that is susceptible to natural disasters and human error. Using multiple clouds aids in disaster recovery and reduces downtime.
Scalability: 
As your company grows, so will your computing requirements. You may easily add additional functionality to your tech stack and add or remove users with a multi-cloud strategy.
Lockdown of vendors: 
A multi-cloud strategy decreases your reliance on a single vendor and gives you additional negotiation leverage when it comes to pay-per-use and volume discounts.
Management of costs:
Your IT department may select the best vendor, product, and service for each workload and assign workloads intelligently to fulfill processing demands at the lowest possible cost.
What is the difference between a single-cloud strategy and a multi-cloud strategy?
When cloud computing initially appeared on the market, it appeared that a single cloud solution could cover all of an organization's demands. They started by simply moving programs to a public cloud infrastructure, which may have necessitated some reworking. Organizations began transferring more and more to the cloud they had chosen — or just built-in — once the notion proved to be robust for less mission-critical applications.
Multi-cloud environments are becoming more common for a variety of reasons:
Different departments or divisions within the same company purchased cloud services independently.
To achieve effective disaster recovery (DR) and avoid vendor lock-in, IT departments began to replicate their public cloud deployments on another platform.
Multiple clouds are frequently used in a single firm following a merger or acquisition.
Some businesses are actively pursuing a multi-cloud strategy, usually to improve cost efficiency.
In other words, on a spectrum, the change from inadvertent to completely deliberate multi-cloud always occurs. A successful multi-cloud strategy starts with where the company is now, whether it's with a single cloud provider or several.
Which Cloud Strategy Is Best for Your Business or organization?
The ideal cloud strategy is determined by your company's current and future needs. If all you need right now is a cloud phone system or a good CRM, and you're fine with storing all your data on-premises, a single-cloud provider might be plenty. Switching to multi-cloud in the future is as simple as signing up for a new cloud service.
If your company's requirements are complicated, you'll probably need to use numerous cloud providers to achieve all of the features you want in your tech stack. However, all that freedom comes with a price: more vendor connections to maintain, more agreements to sign and checks to write, and more integration to manage for IT.
Why choose VoIPTech solutions?
VoIPTech solutions is offer cloud computing solutions for both a single-cloud strategy and a multi-cloud strategy for your business. Choose the best cloud strategy which is best for you.
Don't choose because we offer or any other company or business offers you a single-cloud strategy and a multi-cloud strategy for your business first look at your organization or business size then choose which is perfect suits for your business, then choose a cloud strategy.
select several cloud providers, each with a diverse set of services. You may improve your IT stack while also decreasing costs and streamlining your provider list.