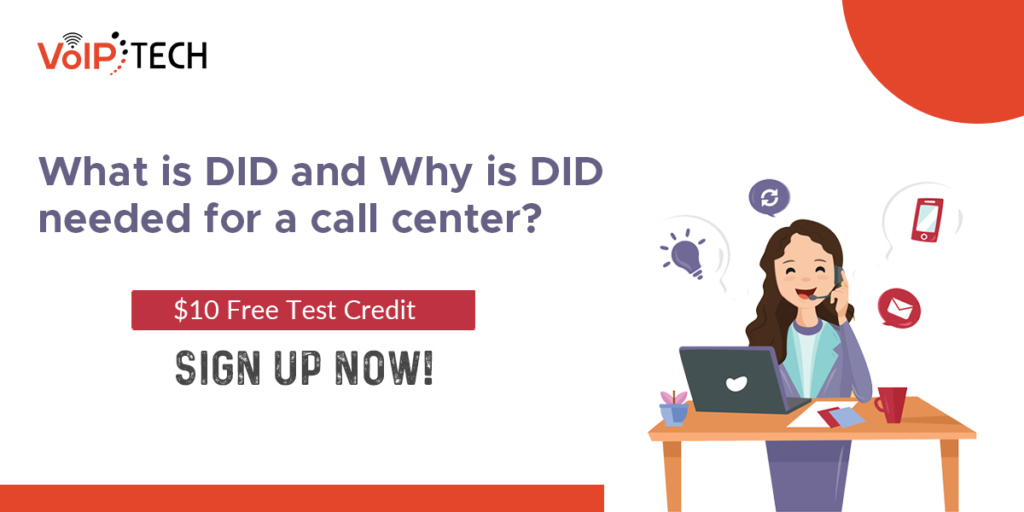 DID provides a seamless and efficient calling experience for your callers,
as well as less irritation. Take the benefits of DID in your call center.
What is DID(Direct Inward Dialing)
Using Direct Inward Dialing, a telephone service provider connects a group
of phone lines to your company's Private Branch Exchange (PBX) (DID).
Direct inward dialing enables organizations or firms to create virtual phone
numbers that skip the main reception lines and connect directly to a desk
extension or group of extensions. Local, global, premium-rate price, and
toll-free numbers can all be utilized with DID(Direct inward dialing).
Direct-dial numbers(DDN), direct dial(DD), and direct dial-ins are other
terms for Direct inward dialing(DID). This is essentially what someone
means when they say "contact me at my direct number."
What is a DID number?
To a client or customer, a direct-dial number seems to be any other phone
number. A DID is a virtual number that corresponds to one of your
company's extensions or locations. Consider it a shortcut to a phone
number.
Direct-dial phone numbers are used to route inbound calls to an
organization's phone system. That number is "direct" since it connects calls
to a single individual. This specialized call routing is maintained by the VoIP
phone system.
What is the definition of a call center?
A call center is a functional group inside a service department that handles
incoming and outgoing client or customer phone calls. They are run by
representatives who manage each interaction and maintain track of open
cases and transactions.
Call centers can be active (outbound) or reactive (inbound) in customer
support (inbound). This means they can either contact clients with service
offers or provide regular customer care and answer incoming calls. Many
businesses now provide proactive customer service to strengthen client
connections and capitalize on timely upsell and cross-sell possibilities.
Call centers can also be operated by the parent company or hired as a
third-party service. Both methods have advantages and disadvantages that
influence the effectiveness of the customer service department, depending
on the demands of the firm. Third-party call centers, for example, are more
efficient, but they may be unfamiliar with the brand's product, service, or
reputation.
Benefits of DID number
Direct inward dialing allows you to reduce or cut the number of trunk lines
needed to connect your call center. You can even forward Direct inward
dialing(DID)s to various continents using a VoIP system, reducing
long-distance charges price.
Calls are routed directly to the person, eliminating the need for a
receptionist or phone menu. Customers will find it easier to follow up when
their agent has a single phone number.
Customers may reach out to personnel anytime they need assistance,
which improves the customer experience. From the customer's or client's
perspective, this might be an unforgettable experience of DID.
Employees can communicate with one another via a dedicated extension,
even if they are in separate buildings, cities, or nations.
Direct-dial inward happen in the phone network with Voice over IP, so you
won't have to buy any new phones or hardware.
Without the consumer knowledge, you can have your direct-dial line
automatically transfer incoming calls to your mobile phone or other
temporary numbers.
You have more control over where and when calls are received with DID. A
mobile workforce necessitates a versatile solution. When you combine the
capabilities of VoIP, DID, and SIP with mobile phones, email, and SMS, you
have a more powerful telecommunications system for your company.
Phone Calls can be forwarded to different Phone numbers at different
times. This is especially useful for worldwide teams who need after-hours
support for multiple time zones.
You can accurately track the performance of each marketing campaign by
assigning various numbers to them.
Futures of DID number
Internal chat and call presence allow support staff and departments to
collaborate in real-time.
This eliminates the need for clients to repeat themselves to various
employees.
Internal chat tools, on the other hand, will bring the receiving agent up to
speed. As a result, chat is an essential component of modern commercial
communication.
Automatic Call Distributor (ACD)
ACD Increase the productivity of your call center with automatic call
distribution. This call functionality allows you to route incoming calls to
contact center agents automatically. It does so based on the routing policy
you specify.
Interactive Voice Response (IVR)
People can converse with computers using Interactive Voice Response
technology. This can be used to direct consumers to the appropriate
customer service department. IVRs assist businesses in providing a
consistent and efficient customer experience.
Additionally, IVR functionality can assist consumers in resolving difficulties
without the need to speak with a live person. As a result, it's an important
element of every corporate phone system.
Voicemail to Text & Email
For consistent help, forwarding voicemail by email or text is ideal. Even if
they are busy, the same skilled agent can handle many contacts on the
same issue. The representative can then listen to the recording and decide
what to do next.
Two out of every three customers use at least three contact channels,
according to customer service statistics.
All touchpoints are centralized with a consistent customer record thanks to
the voicemail-to-text capability.
Priority Notifications
Set distinct ringtones to notify workers when important accounts call.
Priority notifications are the common name for this service.
Do you have any major clients who account for the majority of your
recurring revenue? Do you have a VIP service program where a specific
quality of service is guaranteed? Priority notifications inform your
employees when they should be at their best or call managers.
Change in Extension Dialing Number
It is possible to mos a feature that allows you to transfer calls to different
numbers using extensions.
Customers can contact the appropriate agents directly.
Priority access to a constant support person is expected for key accounts.
This identifies the extension calling number without using personal cell
numbers.
Integration of CRM and Business Tools
Software integrations are required for any call center phone system worth
it's salt. Some of our personal favorites are as follows:
A VoIP function that connects your phone to your CRM is called Call Pop.
When a consumer phone, essential customer information appears right
away. It helps your agents to immediately recognize who they are dealing
with.
Queue of Calls
While your agents are busy, you can use this option to place a large
number of calls on hold. You'll never miss an inbound call this way. When
queuing is used in conjunction with another tool, such as IVR or an
auto-attendant, it is most effective.
Call queuing benefits businesses by allowing them to deliver proper call
routing to employees while preserving caller availability.
After that, the consumer can confirm whether or not self-service would
solve their problem. After a brief wait on hold, customers can guarantee
that they are directed to the relevant department.
Why choose VoIP Tech solutions for DID
VoIP Tech solution are the DID service provider take the benefits of it and
utilize it in your call center. If you have any queries then ask us we are here
to solve any queries.
We work with a team of dedicated designers, developers, engineers, and
support staff who put client happiness first in everything they do. When you
require assistance, we are always available to assist you. You can speak
with a genuine Zathura IT solutions employee in our offices at any time,
whether it's late on a Sunday night or early on a Monday morning.