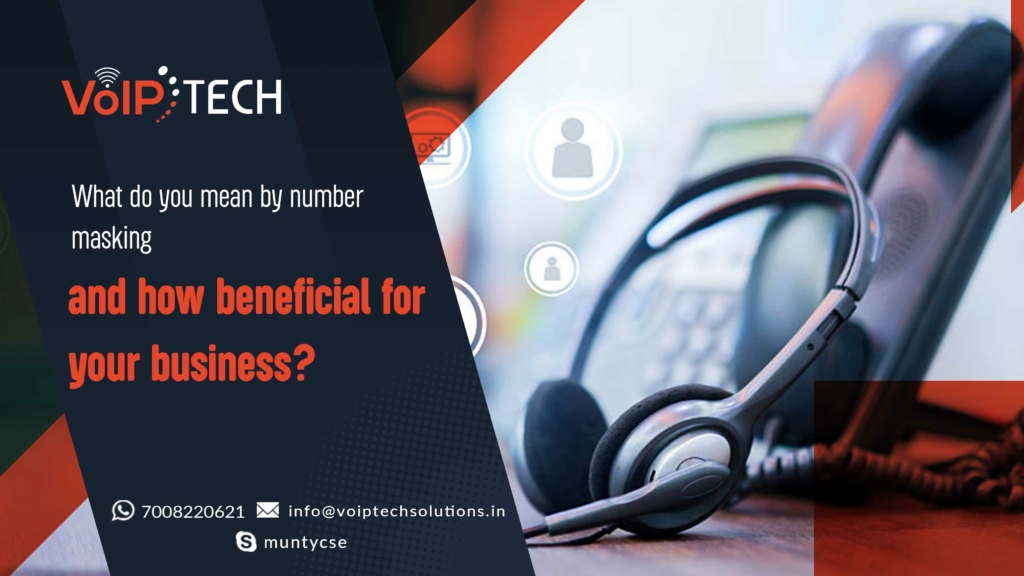 Protect your customer data and business revenue or model by number masking and it secures your conversation.
What do you mean by number masking?
Number masking, also known as call masking, is a sophisticated data security method that ensures the agent's and caller's privacy. Phone number masking is an important technology for connecting two on-call entities without revealing their phone numbers. Many sectors use number masking technologies to ensure trust and data protection in their client and customer interactions, from cab aggregators to online classifieds. By connecting the call through a temporary proxy phone number, this approach anonymizes the participating phone numbers.
A number masking is also known as proxy phone number, is used to conceal the private phone numbers of those engaging in a voice or text message communication. Masking phone numbers is critical for preserving the privacy and personal information of your customers and employees.
What are masked phone numbers?
Masked numbers are often used to protect phone numbers while anonymizing communication between multiple parties. Instead of direct communication between the parties using their actual phone numbers, users are linked via a third-party (proxy) phone number that bridges the call. By hiding private phone numbers, you may protect both your company's and your customers' identities.
How does number masking work? 
A customer is given to an operator.
When you press the 'call customer' button in the app, a call to VoIPTech solution's virtual number is placed immediately.
Your server is reached by VoIPTech solutions.
VoIPTech sends a ping to your server with information about the driver/executive. The relevant customer's number is returned by your server.
The customer number is dialed by VoIPTech solutions.
The appointed executive is connected to the appropriate customer by solutions.
The customer's phone number is removed.
Virtual numbers operate as a bridge between the parties, masking customer/passenger numbers from drivers/executives.
Why number masking is needed for your business?
Brands may increase long-term loyalty among customers by preserving their privacy and thereby improving their experience by adopting VoIPTech solution's number masking technique.
Protecting Customers' Privacy
Because calls are routed through VoIPTech's server, customer information is protected throughout conversations. Customer data is protected from beginning to end.
Call monitoring and tracking
For quality assurance and data analysis, incoming and outgoing calls between agents and clients can be recorded and monitored.
Call masking service provides businesses with relevant data insights on call performance, as well as call logs to improve customer engagement and assess agent performance.
What are the benefits of number masking you get from VoIPTech solutions?
Make privacy a competitive benefit for users.
Transform user privacy into a competitive advantage! Implement number masking in your real-time voice communication to attract more customers and maintain growth in a mature market.
By allowing consumers and staff to initiate calls from within the app, you can save money on phone calls.
Builds trust in your present and new consumers by providing a safe and end-to-end communication platform without compromising privacy.
Call Management Made Simple
Use the cloud-telephony suite's call management features to better manage your masked inbound and outbound calls.
With number masking, you may keep both parties' conversations private while maintaining the process's seamless flow.
By using number masking, you may avoid off-platform engagement and provide a secure manner of conducting business transactions.
Call recording and analytics are a safe and effective way to keep track of all consumer conversations taking place on your platform.
What are the futures offered by VoIPTech solutions for number masking?
Call masking/two-way number masking
To maintain optimum privacy during the chat, use two-way masking to disguise both parties' phone numbers.
API Integration (Click to Call)
Through click-to-call API integration, customers can dial a call directly from the "call" button on the website or app.
Reduce the risk of fraud and improve the quality of your business by automatically recording all conversations that take place on your platform.
With our user-friendly site, you can keep track of all your inbound and outbound calls and get call detail records at your fingertips.
Every agent has many caller IDs.
Display separate caller IDs for individual agents or the same caller ID for all of your agents with ease.
Analyze crucial call KPIs and obtain real-time data via a comprehensive dashboard to improve your company plans.
Why VoIPTech solutions are the best number masking provider
Complete customer service
We provide hassle-free client care at every step, from research to post-purchase assistance.
Improved Customer Service
Get better live support from our product specialists via email, chat, and phone.
Integrate CRM and other third-party applications to improve your company solutions.
With no work and expense, you can have a high-quality cloud telephony package.
Expand your business without restrictions on a smart technological platform.
Customized cloud solutions with rapid deployment
To better service businesses, we are always available for 24×7 support.
What are you waiting for! contact VoIPTech solutions today and get the facilities of number masking or improve your business model. Power your customer experience across the journey with  VoIPTech solutions.
Accelerate the connections that number masking matters for your business.
VoIPTech solutions eliminate any security worries you may have with fully protected networks and many stages of authentication. Throughout the process, our company guarantees that communication is secure.
transmission journey Allows VoIPTech solutions to demonstrate unparalleled client satisfaction and support.
This indicates that you can get technical help and guidance at any time of day or night. Receive a single, all-inclusive bill that includes no hidden fees. VoIPTech's solution will help your company.