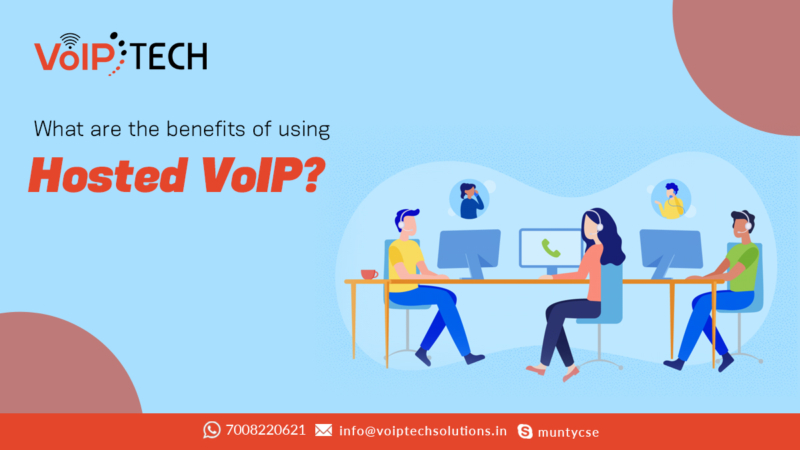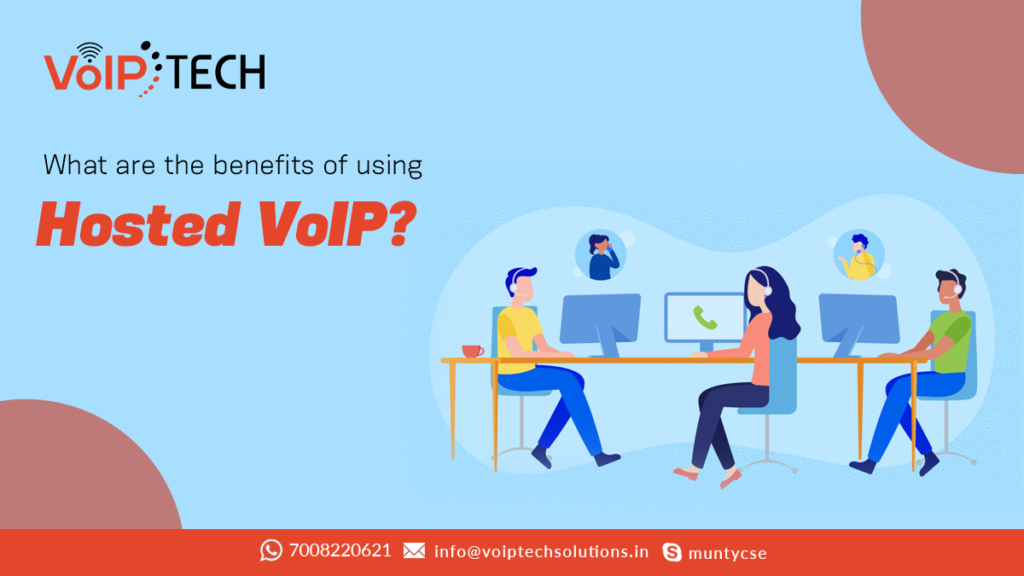 Hosted VoIP is the best solution for your startup companies, small business, large Enterprises and call centers, etc. Know the details about the Hosted VoIP.
It's nearly hard to run a business without a phone system. Telephone communication has always been an essential part of running a successful business, and it will likely continue to be so in the future. Of course, the technology we use to conduct our daily voice conversations has evolved dramatically, but the basic procedure of making a phone call has stayed fairly unchanged over time.
Hosted voice-over-IP (VoIP) is becoming increasingly used as a communications tool for enterprises of all kinds. Why? There is a slew of advantages, including cost, dependability, convenience, flexibility, and more.
Switching to hosted VoIP might save you a lot of money on your monthly phone bill, depending on the size of your company and your individual calling needs.
What is a Hosted VoIP
Hosted VoIP is an internet-based telephonic communication solution that is provided and managed by a third-party provider for a business or client organization. These services are an excellent choice for small organizations searching for a cost-effective and unified communication solution. Traditional landlines and accompanying analog equipment are replaced by a cloud-based phone infrastructure with hosted VoIPs. Every call is transformed into digital data packets and forwarded over the internet to the recipient. This procedure needs the installation of a physical server capable of managing the data, which, in the case of a non-hosted VoIP, must be done on-site by your company. With a hosted VoIP, on the other hand, you just subscribe to a VoIP provider who has already set up any secure off-site servers you'll require.
When you subscribe to a hosted VoIP service, you are outsourcing equipment and infrastructure without losing any of the benefits that come with it. Simply connect your organization to your hosted VoIP provider through the internet, and you'll be able to use any online communication services you require. It's also a sure-fire strategy to save cash. When compared to installing an analog phone system or any of the infrastructure required for an on-site VoIP system, hosted VoIPs are less expensive.
How Hosted VoIP works or functions
Hosted VoIP providers function on the cloud, providing support and direction at a lower cost than traditional IP or regular phone systems. Because VoIP phones operate over the internet, you will save money on installation, hardware, and other costs. Toll-free numbers and limitless free calls to faraway locations, particularly the United States, are provided by hosted VoIP. Companies that make frequent long-distance calls will save a lot of money as a result of this.
Hosted VoIP uses the same equipment and procedures as the internet to distribute information. Let's imagine you're using hosted VoIP to make a call from your business. In the most basic situation, your call connects to the internet through your office router, which then sends the data packet to the VoIP servers that are housed remotely. The server takes care of processing and managing the call, as well as routing and connecting it to the correct digital destination. Receiving a call operates similarly but in the opposite direction. Calls can also be made to and from landlines, however, this method requires the use of a PSTN (public switched telephone network) to connect.
Because hosted VoIP relies on a consistent internet connection to work, your company must have a secure and private IP network. To get the maximum quality and performance out of your calls, you'll need plenty of bandwidth and possibly a wired (rather than wireless) connection.
Benefits of Hosted VoIP
For their business communications, start-ups and small businesses prefer hosted VoIP providers because it is a reasonably affordable service with a fixed monthly cost. On-premise VoIP may be a preferable long-term choice for larger organizations with great communication infrastructure since it allows them to maintain complete control over their unified communications devices.
Regardless of which one you believe would be more beneficial to your business, all VoIP phone systems have many of the same benefits and capabilities, including:
Hosted VoIP is significantly less expensive than non-hosted VoIP or other communication systems that require the installation of particular equipment because you aren't investing in infrastructure and equipment. You won't have to pay a phone company to make calls, so long-distance and international calls will be substantially less expensive or completely free.
Similarly, with no maintenance or additional support expenses, the only cost you'll incur is a monthly or annual flat fee—which, given the range of capabilities offered by hosted VoIP, saves money both upfront and over time. In truth, some basic providers, such as Google Voice, provide a free phone number as well as unlimited domestic calling.
Encourages the use of unified communications (UC) 
Though the phrases are commonly used interchangeably, unified communications is technically a service that builds on an existing VoIP infrastructure. It refers to a suite of applications that permit real-time or non-real-time communication on a company-wide scale. Because you can't have UC without VoIP, if you want to integrate UC into your business, you'll need hosted VoIP first.
Long-Term Business Growth is Favorable
For small enterprises with expansion goals, hosted VoIPs are an excellent investment. Your business can stay up with larger companies because of the range of capabilities, lower costs, and ability to handle a remote or flexible workforce base. And, if your company grows large enough to require it, UC can be easily integrated into your existing VoIP infrastructure. Many private and public businesses are using hosted VoIP to satisfy their communication demands, so the system as a whole is unlikely to become obsolete very soon—once you've made the move, you won't have to worry about redesigning your communication services anytime soon.
● Customer Service Is Provided
Routine maintenance and integrated technical support are all features that hosted VoIP providers should and typically will include in their VoIP plan for your business. You can let your provider handle any issues or maintenance needs instead of hiring an IT specialist to operate on your server or a telephone repair firm to mend your analog system.
Hosted VoIP makes it easier for employees to collaborate within and between offices, boost efficiency, and control their communications. Hosted Voice and UC provide advantages that boost productivity. Take, for example, Visual Voicemail with Transcription. This feature sends the voicemail's transcribed text to your email inbox. Employees can multitask with it since they can read and respond to virtual voicemails while in a meeting or on another call, rather than having to listen to the audio recordings of messages one by one. Employees can also use desktop and mobile apps to host and record conference calls for better cooperation. To simplify and streamline interactions, hosted voice and UC integrate and consolidate forms of communication.
Why only VoIPTech solutions
Thus, with its numerous capabilities, hosted VoIP phone services may connect you to your success by delivering efficient and effective communication, which is the backbone of any business. One of the leading Hosted VoIP Phone Services, VoIPTech Solutions, offers the best features to help you take your business to the next level. It also offers a choice of services and plans from which to choose to give exceptional connectivity for your company.