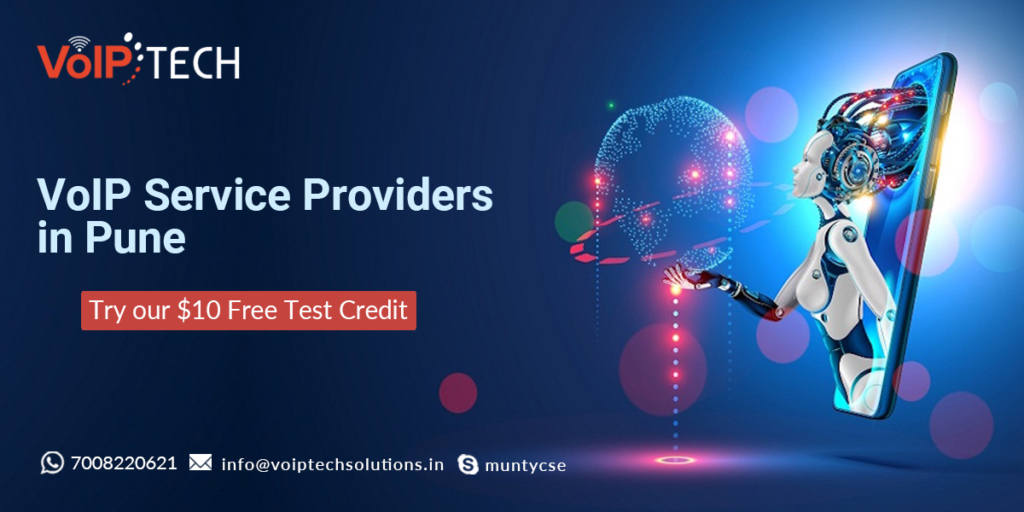 Greet the VoIP service in your business world and get it from the best VoIP service provider in Pune is VoIPTech solutions.
What is VoIP?
VoIP(Voice over Internet Protocol) is a technique that converts your voice into a digital signal, allowing you to make a call from a computer, a VoIP phone, or another data-driven device. Simply defined, it's an internet-based phone service. IP telephony, internet telephony, broadband telephony, and broadband phone service are all terms that have been used to describe this technology.
VoIP stands for Voice over Internet Protocol, and it is the transmission of voice and multimedia material over the internet (voice over Internet Protocol). VoIP calls can be made via computers, cellphones, other mobile devices, specific VoIP phones, and WebRTC-enabled browsers. VoIP is a technology that benefits both individuals and organizations since it typically has features that traditional phone systems do not. These features include voicemail to e-mail, call recording, and customizable caller ID.
What do you mean by VoIP service provider?
The company or business that provided all types of VoIP services is known as a VoIP service provider. The VoIPTech solution is the best VoIP service provider in Pune.
Voice over IP is a telephony technology or system that allows IP networks to conduct telephony operations like making and receiving phone calls.
It's frequently sold as a SaaS solution, which means the software is delivered as a service rather than a product.
Advantages of VoIP service provider
Allows for convenient use of the phone system regardless of location. Removes the need for an expensive technological setup and allows staff to operate remotely. Many businesses use corporate VoIP services to run their call centers, both inbound and outgoing.
When you're not in the office, the mobile app separates your personal and business communications and controls all of your conversations, allowing you to be more productive.
Your callers will receive personalized greetings and will be guided to the right departments, individuals, extensions, and other options according to their preferences.
To run your business, make use of premium services like call attendants, call recordings, call queues, and popular app integrations. Business phone service plans frequently contain these features.
International Calling with Local Rates
VoIPTech VoIP allows you to make international calls while saving money on your phone bill. It's all about functionality and uptime when it comes to a business VoIP phone system. Take use of this service right now to improve your business.
Facilitates simple installation and easily configurable processes based on your organization's communication needs. We can have your virtual phone service up and running in a single day, with solid customer care available 24*7 hours a week.
Uses internet access to seamlessly link your calls, participate in or host phone conferences, receive and send e-fax, chat, and text messages from anywhere at any time.
Features of VoIP service providers in Pune VoIPTech solutions
HD quality Voice and Video
It offers HD quality voice and video in video conferencing and normal calls.
Toll-free or free number availability
VoIP services are provided by toll-free number or free number which is DID(direct inward calling) and also provides an autodialer solution.
Speed dial helps you to contact a customer in a second. If any urgency to call a customer then it is more beneficial for you. You and your team member also take the benefits of VoIP service.
Call waiting and forwarding
Call waiting and forwarding is very easy for you. There is no delay in time and it is very time effective.
VoIP service not only helps you to connect locally it also helps to grow your business worldwide. It gives more customer expectations and reaches customers worldwide. Here it is the more beneficial features you need for your business.
Simple and easy to set up
There is no need for any physical wire or cable need for connection. It's very simple to set up and no physical agent is going for setting your connection. VoIPTech team members are always ready to solve your queries or doubts.
There are no charges for any additional settings. VoIP service additional settings are just like a phone app update in just a few minutes.
Why choose VoIPTech solutions?
The nice thing about Voice Over Internet Protocol is that it isn't restricted to just one business. We have the Best VoIP Service Providers in India for Business Use in All Industries at IP Momentum.
An excellent communication system is all you need, no matter what industry you're in or how big your business is. Your employees, customers, and vendors may interact with each other through high-quality calls thanks to a reliable, cost-effective, and efficient communication solution.
Setting up a seamless connection will not only provide a fantastic experience but will also increase the productivity of your staff. As a result, solid client relationships are maintained and growth is healthier.
VoIP stands for Voice over Internet Protocol, often known as IP telephony, which is a method of delivering voice data over the internet. VoIPtech solution is one of India's best VoIP service providers because of the high quality of service and availability of 24/7 assistance. Our VoIPTech has approached VoIP in the most effective way imaginable, and as a result, we are now the market leader. Top-tier corporations, corporates, enterprises, contact centers, and individuals in India prefer to use our VoIP services. Our services are primarily focused on providing unconditional limitless calling to a variety of locations in PSTN quality with enhanced features.
We provide tried-and-true solutions for making international calls for business development, quality assurance, and inter-and intra-office communication to any company. VoIPTech solutions have their infrastructure, including numerous VoIP switches in India and abroad, to ensure that clients receive service with no downtime. Businesses can avoid the tolls charged by traditional telephone systems by using VoIPTech's VoIP and Internet telephony.