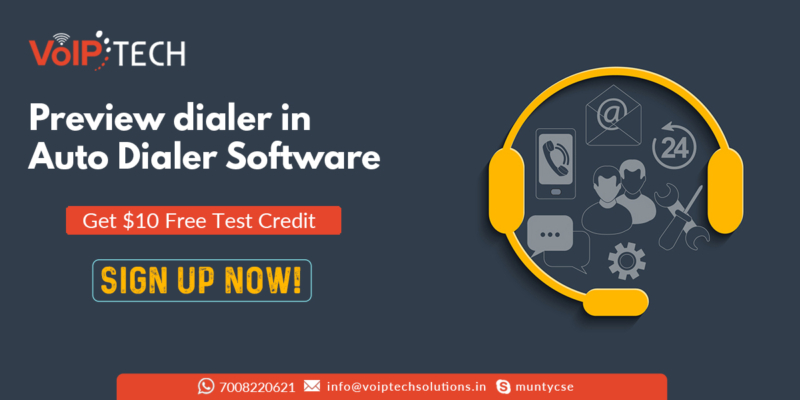 A Preview dialer is the best dialer solution in auto dialer software and improves your brand productivity.
Outbound call centers have multiple campaigns for various processes such as cold calling for lead generation, following up and nurturing inbound leads, market research, surveys, and so on, and simply manual dialing will not help in meeting competitive targets. Agents who use manual dialing typically have 10-15 minutes of talk time per hour because the majority of their time is spent on repetitive unproductive tasks such as manually dialing contact numbers and terminating calls, dealing with busy tones, and answering machines, and disconnected calls.
An autodialer, also known as an automatic phone dialer, is a type of outbound dialer software that assists in automatically dialing a list of contacts. Depending on the call flow, you can play a greeting, request IVR input, and more. Depending on the circumstances, all calls can be routed to different agents. There are various types of auto dialers available to suit various outbound dialing processes and bring their benefits to call center operations.
Preview dialer is one of the auto-dialer solutions, here we discussed more details on Preview dialer.
What do you mean by Preview dialer?
A preview dialer, like other types of automated dialers, is used in outbound call centers. Based on your outbound campaign settings, the preview dialer system selects a contact record from the call list and sends it to an agent who can review the contact details, including the contact history and other available contextual information, before placing the call. After reviewing the customer record, the call center agent can accept the call or reject it and move on to the next number on the contact list.
Apart from progressive and predictive dialers, which do not give agents the option of continuing or terminating a call, preview dialers give agents complete control over the dialing process and allow them to manage contact review time. Because agents can pre-screen accurate information on leads or customers before placing the call, they are better prepared for the interaction and have more successful calls with a positive business outcome and stronger customer connections.
While preview dialers can benefit all businesses (small, medium, and large), they may be especially useful for outbound contact centers with complex sales campaigns where customer research is typically required before making phone calls.
What is a dialer?
A dialer is a piece of software used in contact centers to streamline the process of outbound calling. Sales teams frequently use dialer call center solutions for telemarketing, cold calling, and lead generation. Furthermore, customer service teams use them for proactive customer service and support, conducting customer surveys, and gathering customer feedback. Aside from that, call dialers can help businesses and organizations in a variety of other ways. Voice phone dialers, for example, can be used in
calling campaigns for appointment scheduling/reminders, emergency notifications, public reminders, debt collection, and so on.
How does the Preview dialer work?
Preview dialer works stepwise in auto dialer solution. It works in stepwise procedures
1. Your qualified agents receive targeted contacts.
2. The agent can review all of the contacts presented or each one individually.
3. When click-to-dial is enabled, a customized agent workflow is displayed.
4. The call is connected, and the agent either completes the interaction or creates a customized callback.
5. Automation is still retrieving and delivering qualified target contacts.
Benefits of Preview dialer
Contact immediately to your customer or clients
Many people hang up on telemarketing calls because they talk too long to be connected. When the client answers a call on another dialer, they are kept on hold for far too long. This frustrates the potential customer and may cause them to hang up. Furthermore, this is a sign that the call is an advertisement
or from a telemarketer. Such delays do not occur with preview dialers. Potential clients or customers are immediately connected to a live person.
Reduced cost
Dropped calls result in lost leads in the telemarketing industry. The preview dialing system significantly reduces the number of dropped calls. This is significant because dropped calls not only result in the loss of potential business but also have an impact on the morale and spirit of the call agents.
Agent Efficiency increase
Call center agents have a goal of closing as many deals as possible. The preview dialing system provides agents with important background information and other details about the client they are about to speak with. This increases their chances of having a more fruitful interaction. When you provide agents with prior information, their efficiency rises and they become more productive.
Customer Engagement improved
Call agents connect better with clients they understand and know something about. Agents are better equipped to deal with clients on a more personalized level, which improves customer engagement. This benefits outbound contact centers with thousands of calls.
Make your work easier
Telemarketing and telephone advertising are difficult tasks. Call agents will be forced to call hundreds of phone numbers on a daily basis if they do not use an auto dialer. Instead, many tasks are now automated, saving agents a significant amount of time and energy. Auto-dialers are especially
important in contact centers for large and midsize businesses.
Low cost
All businesses prefer a low-cost option that will save them money. This allinclusive call center will save your company money and integrate seamlessly with your phone system.
Best use of Preview dialer
This dialer manages current lists and is ideal for outbound campaigns run by commercial, fundraising, political, or other organizations. With error-free dialing, exceptional connection rates, and answering machine detection, agents are more productive and can increase sales and revenue.
If you have a small staff, preview dialer software is also preferable. Because a preview dialer allows agents to set their own pace, they avoid burnout, which can occur when manually dialing and filtering through numerous outbound lists.
Why is the VoIPTech solution the best dialer solution for You?
Potential customers are instantly connected to agents when using the Preview dialer in the auto-dialer solution, eliminating potentially long wait times and resulting in fewer dropped calls. Furthermore, because agents are given insights on each contact before placing the call, this allows for better
engagement and increases agent efficiency.
Contact VoIPTech solution for more details.