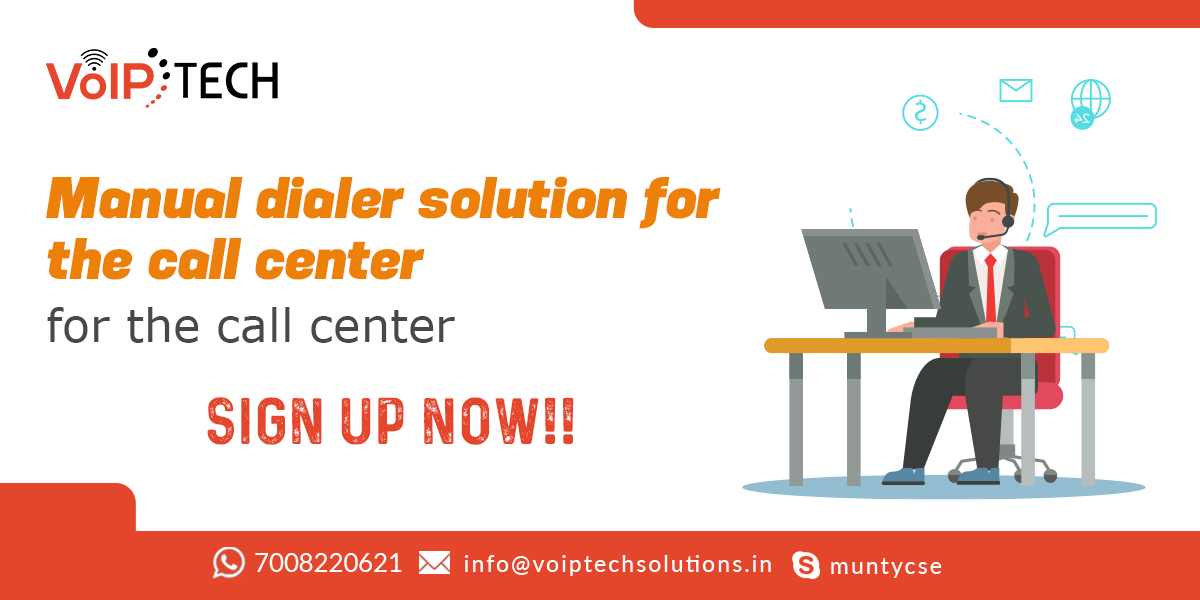 The Manual dialer is still the first choice for call centers that are starting their operations and have a limited budget, and little knowledge about the industry.
Manual dialers and auto-dialers are the two broad categories of call center dialers. Manual dialers are the most fundamental type of call center dialer. They require agents to dial phone numbers manually while frequently consulting the contact list.
Agents must even wait to see if a live person answers the phone. Manual dialers cannot be used to manage large outbound marketing campaigns and handle a large number of calls in call centers. Businesses are currently using manual dialers for simple outbound call campaigns.
What do you mean by the Manual dialer?
A Manual dialer is a basic dialer in which agents or team members manually dial the contact numbers from a list of customers one after the other. Most small call centers begin their operations with the traditional dialer. Call center agents or team members use a manual dialer to dial a number from a preloaded list or by typing on a keypad. Agents must then wait for the phone call to connect, which could be incorrect, busy, or go to an answering machine. Because manual dialing does not allow for the filtering of these calls, it is the least efficient method of placing outbound calls.
When is a Manual dialer used in call centers?
Manual dialing is typically used in outbound or blended contact centers where sales agents must process a large amount of information before dialing a lead, prospect, or customer. Power dialing, on the other hand, is used when agents need to call larger databases in less time. You can also use manual dialing if your business phone system is extremely conservative and system integrations with third-party applications are difficult. Integrations are not permitted in highly secure dialer CRM due to IP policies, so call center managers must rely on manual dialing.
A Manual dialer is preferable in outbound sales processes where the data quality of call data is high and there are many more processing steps. Some CRM systems allow you to integrate your phone system to enable a simple click-to-call feature. To summon the manual dialer, agents click the customer's name.
What are the advantages of the Manual dialer?
Manual dialer systems require the agent to dial a number and enter specific information about a call, such as a caller's name, notes, call disposition, and, if applicable, appointment reminders. These details, along with the call time, call durations, and talk time duration can be saved in the database. When this data is compiled, it can be used to monitor the performance of call center agents through call recordings, logging details, and idle time.
What is the difference between the Manual dialer and auto dialer?
The cloud call center dialers are divided into two categories: auto-dialing systems and manual dialers. Manual dialers are the most fundamental type of call center solution. They require call center agents to dial phone numbers manually by frequently consulting the contact list. The sales agent must even wait to see if a live person answers the phone. Outbound call centers cannot control outbound marketing campaigns and manage thousands of calls using manual dialers. Businesses are currently using manual dialers for simple outbound calling campaigns.
The auto dialer system, on the other hand, automated outbound call campaigns by dialing phone numbers. Answering machines, pre-recorded voicemails, unanswered calls, and busy tones can all be detected by voice dialers (auto-dialers). When a live person answers the outbound call, these phone dialers transfer automated calls to available agents or play pre-recorded messages.
Outbound call centers can further streamline calling campaigns by utilizing a variety of automated dialers, including predictive dialers, progressive dialers, preview dialers, and power dialers. Automating dialers have already replaced manual dialers in modern call centers. Call centers can use auto-dialing software to increase agent talk time, decrease idle time, and improve customer experience. Some businesses may even choose an omnichannel contact center solution to improve call center operations by leveraging cloud-based technologies.
Call centers can also use sophisticated omnichannel contact center dialers to transfer calls to different devices, run multiple campaigns, and generate workforce management tools. By listening to live calls and reviewing call recordings, they also assist call center managers in monitoring agent performance and evaluating call quality.
Access to customer information
Manual dialers require agents to manually place outbound calls. As a result, agents can control outbound calls based on the specific needs of individual calling campaigns. However, automated dialing now supports predictive progressive and preview dialing modes.
The number of calls
There is no modern call center that can handle a high volume of outbound calls with manual dialers. Auto-dialers and other modern telemarketing software assist call centers in running large-scale calling campaigns and automated outbound calls. Predictive dialing starts outbound calls by anticipating when a call center agent will be available to handle the next call. As a sales agent finishes the current call, the progressive dialers dial the next contact number.
Productivity of agents
When using a manual dialer, sales agents must dial the number manually and wait for a live person to answer the phone. Answering machine detection technologies are used by auto-dialers to distinguish between answered calls and inactive numbers. The feature assists call centers in increasing agent productivity and managing an increase in outbound calls.
CRM incorporation
Most businesses today use CRM solutions to efficiently manage customer information. Businesses do not have the option of integrating manual dialers with their CRM systems. As a result, after finishing a call, agents must manually update customer information. Automated dialers can work in tandem with a company's existing CRM systems.
Marketing campaign administration
There are no features available on manual dialers to improve outbound call campaigns. Modern auto-dialers, on the other hand, include advanced phone messaging and calling features. Caller ids, call routing, call transfer, call routing, appointment scheduling, and call monitoring are all basic features of modern dialers. Advanced features include interactive voice response, automatic call distribution software integration, touch tones, lead management, and workflow automation. These features make it easier to monitor and manage multiple marketing campaigns. Some auto-dialing solutions even offer a free trial period with no credit card required. Businesses can assess their efficiency without incurring any costs.
Why choose VoIPTech solutions for the Manual dialer solutions?
Manual dialer solution from VoIPTech Solutions includes voice recording, quality monitoring, reporting, answering machine detection, multiple campaigns, and lead management. It is intended to boost outbound call center productivity by completely manual dialing processes.