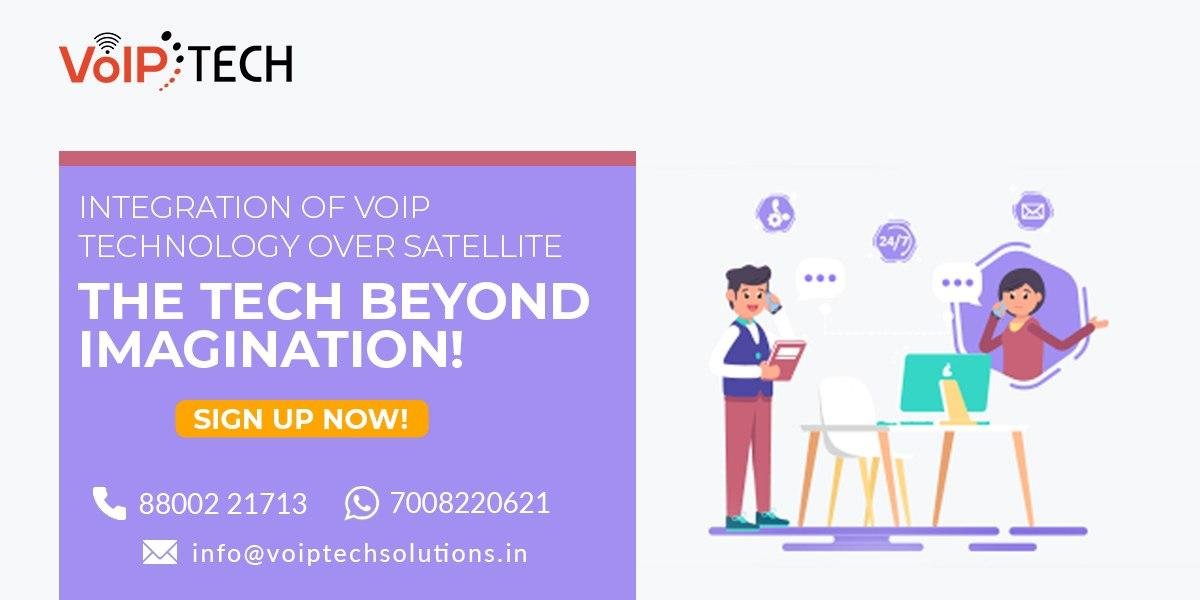 Have you ever imagined VoIP Technology Over Satellite? Well, NO! Being aware of the fact that VoIP Technology Over Satellite in New Delhi, India can help up to a great extent. Many households are not getting connected to the Internet properly, people completely rely on satellite service. It is happening only because of their livelihood in remote areas, where the internet connectivity is very low through Cables, Fiber, and DSL and it can only be resolved through VoIP Technology Over Satellite. 
Nowadays satellite technology has advanced so much that it has actually solved the Internet connectivity issue for everyone by increasing the speed significantly. However, there is still a big question that is unresolved with the satellite Internet service – Will VoIP technology work over the satellite? Unfortunately, you might be sad about knowing the truth behind it as it might help. 
Types of Internet Connection:
Many organizations use different types of Internet connectivity for a smooth workflow process. And for VoIP calls, the best option is to switch to high-speed options like fiber or broadband. However, there are also other types of Internet connectivity available for smartphones and other connecting devices for making calls like WiFi or mobile networks.  
But the companies having offices in remote areas like which are not developed do not have access to the fastest internet connectivity. So in that case, Satellite connection plays the prime role. In the areas that do not have access to the internet connection, satellite-based internet connectivity is one of all options. So it's always the best option for the organizations to choose VoIP Technology Over Satellite. 
Benefits of VoIP Technology Over Satellite Phone Service:
Considering satellite VoIP phone services, there are various benefits that can be included with an Internet connection: 
Can use a phone that works identically with any landline phone 

Plug-and-Play Crystal Clear Calls Over Hughes Satellite Gateway 

To have 10 simultaneous calls over a single satellite connection, connect as many phones as you can. 

Not only a single satellite network, the phone works over any Internet connection

Have various features like voicemail, call forwarding, activity, and many more. 

Online Portal – Can track your account online from anywhere.

It's very easy to start as all the equipment is well configured and tested before shipping. 

Local phone numbers can be assigned to your phones.

The phone number and the location show the same despite the movement of the phone.  

Customers are unaware that they are calling over satellite due to the low latency i.e 500-650 milliseconds. 
VoIP Phone Calls Optimized for Satellite:
Always remember, when it comes to VoIP Technology Over Satellite, there should not be any hindrance during the phone call. To avoid that, ground control plays the sole role. It minimizes the delay between calls. And for that network latency is one of the lowest in the satellite industry. Apart from that, it has also an amazing low bit error rate which is best for VoIP.  
Industry Solutions
Always go for backup phone service for your organization for an emergency secondary phone service.

Rural buildings, houses, and various equipment are serviced only by satellite. 

Various mobile satellite dishes are being used through mobile command vehicles phone communication. 
However, now most of the organizations are offering VoIP plans as add-ons to satellite connection services which is an amazing technological advancement from the last 10 years. However, most of the organizations have their own plans which have tremendous low costs. 
 Ultimately the demand for VoIP Technology Over Satellite in New Delhi, India is growing. If you're looking for a lead-rich website then VoIPTech Solutions is the one-stop destination for you! To get started, call: +91-8800221713. For more info, please visit our website: https://voiptechsolutions.in/