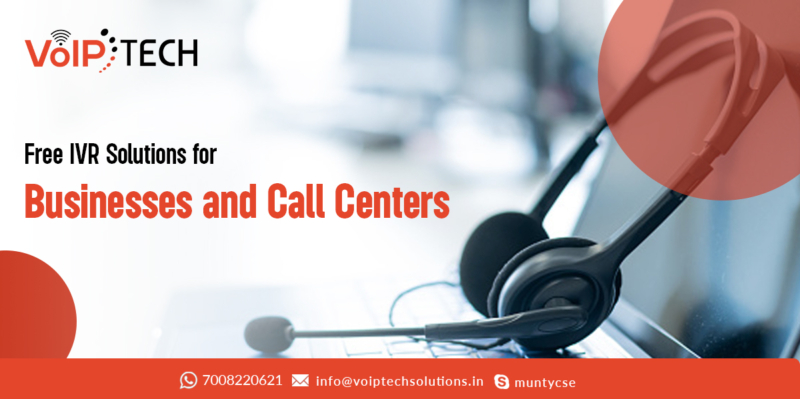 Improve your customer experience through free IVR solutions that are cost-effective and reliable. Free IVR is automated communication technology.
Small businesses or call centers are frequently on the lookout for a cost-effective IVR service provider that also provides free IVR service. Small businesses are hesitant to spend a significant amount of money on inventory purchases. As a result, they always choose a free IVR service provider who provides IVR services at a minimal cost.
What is IVR?
IVR (interactive voice response) is an automated telephone system that engages customers by integrating pre-recorded messages or text-to-speech technology with a dual-tone multi-frequency (DTMF) interface, allowing them to provide and access information without having to speak with a live agent. If the IVR system is unable to retrieve the information that the customer requires, the pre-programmed menu options can aid customers in being routed to the proper representative for assistance. IVR software can enhance call flow and reduce wait times by combining computer, and telephony technology, resulting in improved overall customer satisfaction.
What do you mean by "free IVR"?
Free IVR means that it is free or free of cost. No cost is needed for it. Businesses and call centers both take advantage of it to improve their business and call center customer support problems and give them the best solutions to their problems.
Free IVR systems improve the customer experience by allowing customers to self-serve the information they require without the aid of customer service. It also reduces contact center call volume, resulting in shorter wait times and lower operational costs for enterprises.
The value of interactive voice response (IVR) software lies in its ability to improve customer experience, boost your company's bottom line, and relieve tension among your customer care and sales employees.
Instead of pushing your customer service employees to handle every question, IVR software handles front-line conversations and escalates only those issues that require a live agent.
For each free IVR software program, there are 2 types of options available to you. You'll point out its main purpose, advantages, and disadvantages, and give honest user reviews. The two types are
Free: All features are free, for perpetuity.
A Free Trial: A free trial means that you can use the solution for 7 days or 15 days, and after the trial period is completed, you can be paid money to buy it.
The telecommunications industry has evolved, and as a result, several extraordinary concepts for correspondence have emerged, both for business and call center uses. IVR (Interactive Voice Response) is a newly developed and widely used method of consumer contact.
How Does It Work?
When a customer dials the business phone number provided on your website, they are greeted with a pre-recorded voice that instructs them to dial particular numbers on their keypad to obtain the desired result.
When a consumer dials the chosen IVR, the process of retrieving data begins, and the necessary information is communicated back to the caller.
The Benefits of Free IVR
Interactive voice response has several benefits. Businesses benefit from IVR technology since it improves their automation efforts and gives them a competitive advantage. Among the many benefits are:
Efficient call routing
IVR solutions direct calls to the right call-center agent after gathering important information from the caller, minimizing wait times, and enhancing first-contact resolutions.
lower operational costs
Interactive voice response (IVR) technologies are extremely cost-effective. They can expand access to information during off-peak hours of the day, such as nights, weekends, and holidays, in addition to reducing call levels for customer support professionals.
Reduce errors.
When used correctly, IVR systems can eliminate errors in the customer service process since they do not rely on a human customer care agent to take notes and route incoming calls appropriately.
It increases data security.
Voice recognition technology is used in some IVR systems to verify an individual's identification, which adds a layer of protection. This is especially useful for highly sensitive personal information such as social security numbers and phone numbers, bank account information, and lab results from doctor's appointments.
Improve the first-contact resolution rate.
Because callers are always sent to the agent best capable of satisfying their needs or the most relevant department, IVR dramatically improves first contact resolution. The agent who answers the phone is better qualified to answer the caller's questions and is less likely to pass the call on to another agent.
improve the efficiency of client service.
Agents that work for a company that uses an IVR are better at solving specific problems and meeting the needs of the clients they are responsible for. As a result, customer service efficiency improves.
Why does your business or call center require an IVR system?
Business or call center communication strategies have altered as a result of technological advancements.
To begin with, IVR software has dramatically revolutionized corporate communication, resulting in increased team cooperation and client retention. Furthermore, it enables businesses to provide high-quality customer service.
The Interactive Voice Response (IVR) system allows you to efficiently manage your business and call center calls by automatically replying to user inquiries and routing calls to the appropriate agents without the need for human participation. It serves as a virtual receptionist for your company, giving it a more professional appearance.
Features of Free IVR:
Panel discussion in real-time
The live call dashboard allows you to track live calls and view real-time call records and data.
All of your IVR calls should be recorded in a secure cloud so that quality can be monitored and personnel can be better trained.
When a customer calls, you may see their information and history on the screen.
With a cloud-based portable IVR number, your support employees may operate from anywhere at any time.
The menu on the IVR (Interactive Voice Response)
Use IVR options to greet your clients with personalized messages and connect them with the appropriate personnel.
For data-driven business choices, get superior call insights with daily, weekly, and monthly call analytics reports.
Why VoIPTech Solutions?
In today's competitive business environment, leveraging the power of customer engagement software-driven by VoIP technology is a wise choice.
Make sure to invest in one of the greatest free open source IVR software solutions to see your corporate communication quickly transform. You can reach out to VoIPTech solutions here if you need assistance deciding on the ideal IVR system for your company.
We at VoIPTech provide solutions to your business and call center solution needs and assist you in expanding globally. With your support and trust, we would love to be a part of your enterprise and assist you in enhancing client relationships and increasing business earnings with your support and trust.