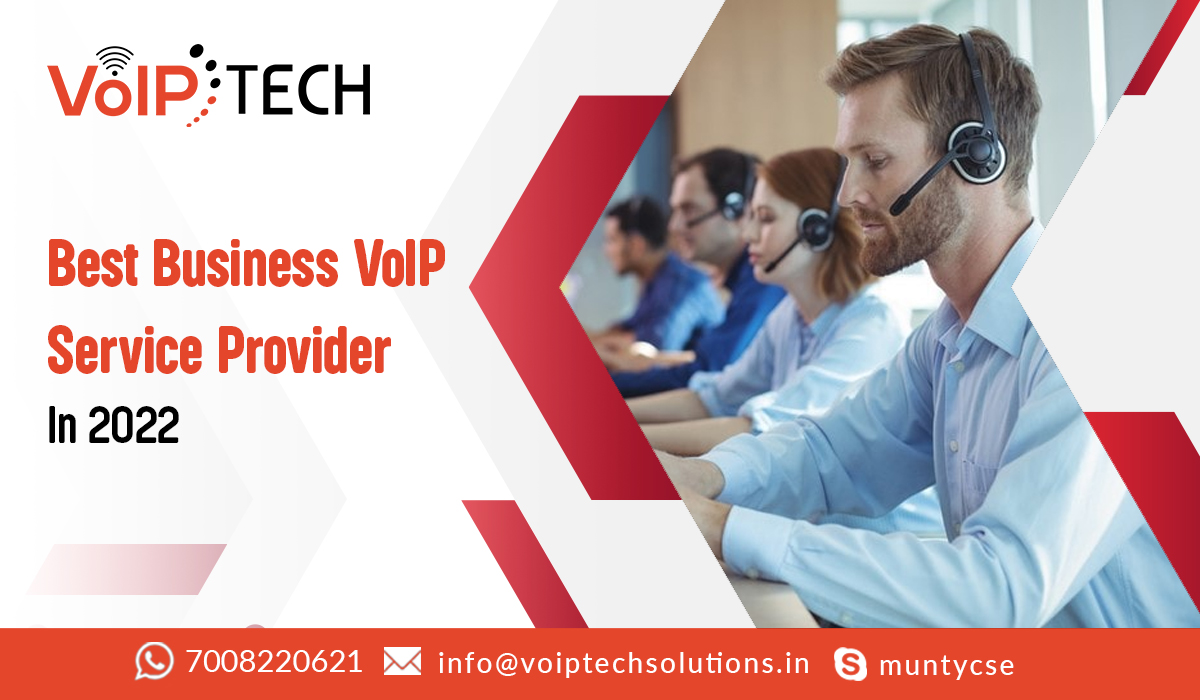 Are you trying to decide on a business which VoIP Service provider is best, but not sure which is best for your needs? Find the right VoIP provider.
What is VoIP Service?
While tracking customer and prospect interactions, VoIP services enable businesses to connect and collaborate digitally. Small business VoIP providers offer affordable rates, smart features, and easy-to-use phone systems. Enterprises of all sizes can quickly set up new phone numbers or port existing ones to VoIP.
As technology advances and businesses adapt to ever-changing circumstances, many businesses are abandoning traditional landlines in favor of voice-over-internet protocol (VoIP) services. With VoIP services' wide range of integration capabilities, you can reduce expenses, enhance distance collaboration, and increase productivity.
Most VoIP companies offer a wide range of features and prices. Matching the right service for your business can be difficult.
What is VoIP (Voice over Internet Protocol)?
VoIP stands for Voice over Internet Protocol, and it is a type of business phone service that allows you to make calls from your computer or mobile device while managing the calls effectively. The technology of making and receiving phone calls over the Internet is also known as Voice over Internet Protocol (VoIP). Many people believe VoIP is a good substitute for traditional landlines.
You've probably heard of your Internet Protocol address or IP address. Using an IP address, computers and devices communicate on the internet.
Benefits of VoIP Service
No matter how big or small a firm is, its bottom line is crucial. As such, cost-cutting measures must be considered. Businesses can save a lot of money by switching to a VoIP phone system.
Hardware and software that are both cost-effective
The advantage of VoIP is its low cost of hardware and software to run the system. Providers of high quality ensure that their clients always have the most up-to-date software and have access to modern technology. This eliminates the need for enterprises to buy their phones and infrastructure, potentially saving them money.
These benefits are frequently built into a converged data network, and the cost is built into the already low price of the VoIP service you're already paying for.
Voice Calls Aren't the Only Thing
Another benefit of VoIP is that it makes video conferencing easier. In reality, you can transfer numerous media formats during phone or video chats to significantly boost your capacity to give presentations or solve problems in them.
Additional Features That Aren't Included In The Price
Many businesses are unaware of all of the benefits and extra capabilities that come with a VoIP service. Your VoIP system enables you to connect a wide range of devices to maximize your company's efficiency.
Caller ID, virtual numbers, contact lists, voicemail, and other benefits are common in VoIP systems, but they can all be used in more complex ways to improve operational efficiency. Voicemails and messages, for example, can be forwarded to several colleagues with a single click, and voicemail-to-text transcriptions can be sent immediately to your inbox for review while you're on the move.
Fax over IP almost reduces the high cost of long-distance facsimile while also improving equipment compatibility and service reliability.
Fax data is once again carried in data packets, which greatly improves efficiency. To send or receive a fax, VoIP doesn't even require a fax machine.
Increased Communication Efficiency
Keeping your employees in contact is crucial when they are working from different locations within the office, at home, or all over the world. One of the most intriguing VoIP benefits is the ability to have a single call ring to your desk phone for the first few rings, then to your mobile phone, tablet, or laptop if the call stays unanswered. As a result, more essential calls are answered and less time is spent checking voicemail or communicating via other platforms.
Installation, configuration, and maintenance are all simple.
One of our favorite benefits of VoIP is how simple it is to set up IP phones, even for folks with no technical knowledge. There's no need to hire a team of experts to run phone lines throughout your office. On the other hand, IP phones are practically plug-and-play.
Adding additional users is likewise a breeze with hosted VoIP software, and a web interface makes transferring, adding, or modifying your system settings a breeze. Because of this simplicity, maintenance is simple and rarely necessitates expert assistance.
Integration with other business systems is simple.
To improve operational efficiencies, your company most certainly uses a variety of additional systems and technology. VoIP may be easily integrated into a variety of commercial platforms.
That means you'll get all of the benefits of VoIP without having to change your current applications or IT infrastructure. Outbound calls, for example, can be made using Outlook or other email systems, and client records can even be read while on the phone with the customer.
Is Your Business in Need of a VoIP Business Phone System?
In any business, giving people a way to contact you helps build trust and boosts your sales. Most business owners have a contact form on their website that allows users to reach them via email. Customers may, however, prefer more immediate contact, depending on the industry.
This is why many businesses offer live chat or phone numbers on their websites. Giving customers multiple ways to contact your company can improve customer service and lead to more sales. A VoIP-based business phone service can help you build your business without the high costs, whether you run an online store to sell products or a business website to sell services.
Visitors to your website can quickly phone you for a quote, a pre-sale inquiry, or even assistance.
In summary, a business VoIP phone allows you to better manage and track your conversations, collect client information, and strengthen customer connections.
How to choose the best VoIP solutions?
There are a lot of big organizations that offer business VoIP services, so it's a crowded market. It's challenging for business owners to find the best VoIP provider for their company because there are so many options and the advertising is so aggressive.
If you're just starting, you might be seeking the cheapest VoIP business phone service. However, you must be cautious if you choose this path because it may lack some aspects that you will later learn are critical to your firm.
Some commercial VoIP systems are difficult to set up, move, or are simply too costly.
Why only use VoIPTech solutions for VoIP businesses?
VoIPTech provides a single platform for business communication and collaboration. Your team can use a desktop or mobile device to answer calls, communicate with coworkers, and share documents. Because of its frequent updates and broad feature set, VoIPTech is the clear winner as the best VoIP service for small businesses, medium-sized businesses, and large corporations.