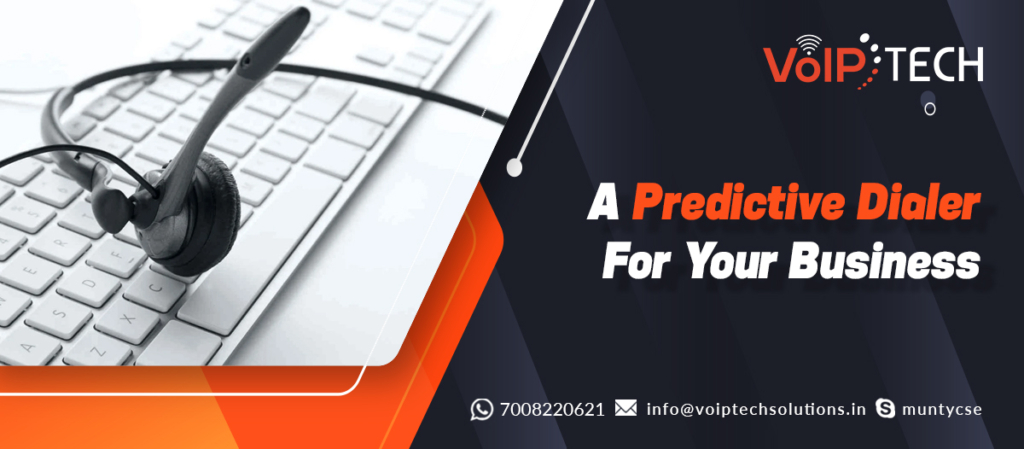 Improve your business or organization's identity by using a predictive dialer solution provided by VoIPTech solutions.
What do you mean by predictive dialer?
A predictive dialer is an outbound dialing system that allows you to dial many numbers at once from a list. While automating the outbound operation, a predictive dialer checks busy signals, voicemail, no answers, and disconnected numbers, connecting the agent only when someone responded to the call on the other side. The predictive dialer uses sophisticated algorithms to identify when an agent should end a call and then mass dials additional numbers. Predictive dialers' main benefit is that they cut down on manual dialing time, ways in which employees work more efficiently.
This dialing method assures the highest agent productivity and is hence the fastest alternative for outbound calls, with virtually no idle time.
Predictive Dialers Are Used By Whom?
Telemarketing, market research, debt collection, and customer service follow-up are all common applications for predictive dialers. Furthermore, some lead qualifying agents employ predictive dialers to increase the amount of time they may spend on the phone with leads during outbound sales prospecting.
Because predictive dialers focus on getting reps on the phone as much as possible, they may not be suitable for businesses selling high-value items or those seeking to provide a superior customer experience, as they don't allow time for research in between dials. A predictive dialer may not be the best choice for many businesses because a lead's context is critical to having a meaningful conversation.
How predictive dialer solutions work
Predictive dialers make phoning easier by dialing numbers from your contact list automatically. They are one of the most widely used voice-over-internet-protocol (VoIP) features today. Artificial intelligence (AI) is used in the phone system to forecast when agents will be accessible. When it detects that an agent is going to become available, it begins dialing many lines at once in an attempt to connect a call as soon as the agent is available.
By keeping agents on calls rather than searching through their contact list, this automated approach saves time. Auto-dialers, like predictive dialers, call single numbers to effectively disperse calls among available agents. As a result of the long pauses between calls, auto-dialers are slightly less efficient than predictive dialers.
Furthermore, the best predictive dialing software may be configured to adapt its automatic call rate to meet the availability of your agents. This means that if there are fewer workers in the office that day or half of the team is on a lunch break, the call rate will be reduced accordingly to reduce hold times while maximizing agent efficiency.
There are lots of factors to describe the works of a predictive dialer
More available agents provide additional data for the predictive dialer's projections, as well as more wiggle space between agent availability.
Before someone picks up, the average number of dials is
To avoid call abandonment, your predictive dialer considers the response rate of your contact list to determine how many numbers it needs to dial.
The ratio of answered calls to abandoned calls
Your predictive dialer is attempting to strike a balance between getting reps on calls as quickly as feasible while avoiding call abandonment due to a rep's absence.
Average conversation length
Predictive dialers look at the average length of your agents' calls to figure out when they should start dialing the next number.
What's the difference between an autodialer and a predictive dialer?
Though both a predictive dialer and an autodialer work in the same way, the results are vastly different. An auto dialer simply calls numbers and connects the call to an agent if someone answers the phone, eliminating the need for human dialing.
On the other hand, a predictive dialer is a sort of auto dialer with a significantly greater dialing rate that dials many lines concurrently and then uses an automatic call distribution system or call system to connect answered calls or respond to calls to the next available agent. This call routing procedure aims to increase the number of outbound calls and contact as many clients as feasible.
Benefits of predictive dialer
If you use a solution for your organization or business growth then first know about the benefits of predictive dialer and how benefit a business or organization.  Benefits are-
Intelligently Assign Calls
Based on factors like the number of available agents, the number of operational lines, and the average time an agent spends on a call, use your preset parameters and predictive dialing solutions algorithms to determine and automate call assignment which to take.
Increase call connect rates to 90%
Many businesses or organizations struggle to reach a 60 connect rate. VoIPTech solutions predictive dialer software learns from past data to alter the dialing algorithm after taking into available consideration agents. As a result, human interaction is no longer required, and call connections are greatly increased.
Increase agent efficiency
You may make more calls in less time or with less effort using a predictive dialer system. Ensure high call connect rates and reduce agent idle time by dynamically placing outbound calls and filtering out ineffective calls, such as responding machines or busy messages.
Boost Your Sales Conversions
Prioritizing leads, determining the optimal time to call, timely follow-ups, contextual discussions, and adjustable processes are all means to the end goal of enhancing agent productivity while winning more clients.
Features of predictive dialer VoIPTech offer
Integration with SMS and Email
Phone calls may not have to be the major form of communication. Look for a predictive dialer that integrates with numerous channels and allows agents to automatically send follow-up messages or produce responses when phone calls conclude.
To increase remember, send a text message to your answered and unanswered calls.
IVR and bots for outbound calls
Use our drag-and-drop IVR and speech bots to fully or partially automate your campaigns.
Individual agent performance may be easily monitored by call supervisors. During calls, barge in to listen or assist agents.
Detection of Answering Machines
To contact only live prospects, avoid answering machines and voice mail.
Choose predictive diallers that can record voice calls. This will allow you to keep track of agent activity and maintain quality control. The recordings can then be used to establish performance criteria and for training purposes.
Users can use this feature to automatically create callbacks during outbound campaigns while also redirecting calls to the next available agent.
Because our dialer can handle a variety of number formats, you won't have to waste time editing before uploading.
To increase your chances of being picked up, schedule the timing and amount of retries.
Local Caller Identification
Calls from unknown numbers may be ignored by your potential consumers. If you wish to increase contact rates, you'll need a dialer with a local caller ID capability.
Why choose predictive dialer solutions of VoIPTech solutions
VoIPTech solution provides predictive dialer solutions for your customer communication service not in India and also worldwide. VoIPTech solutions' main mission and main vision are to solve any queries or doubts regarding any customer support.
We are here to provide a 24*7 hour service, also we are very trustworthy. Contact us today to get more details about predictive dialers and switching your dialer method to a predictive dialer solution.