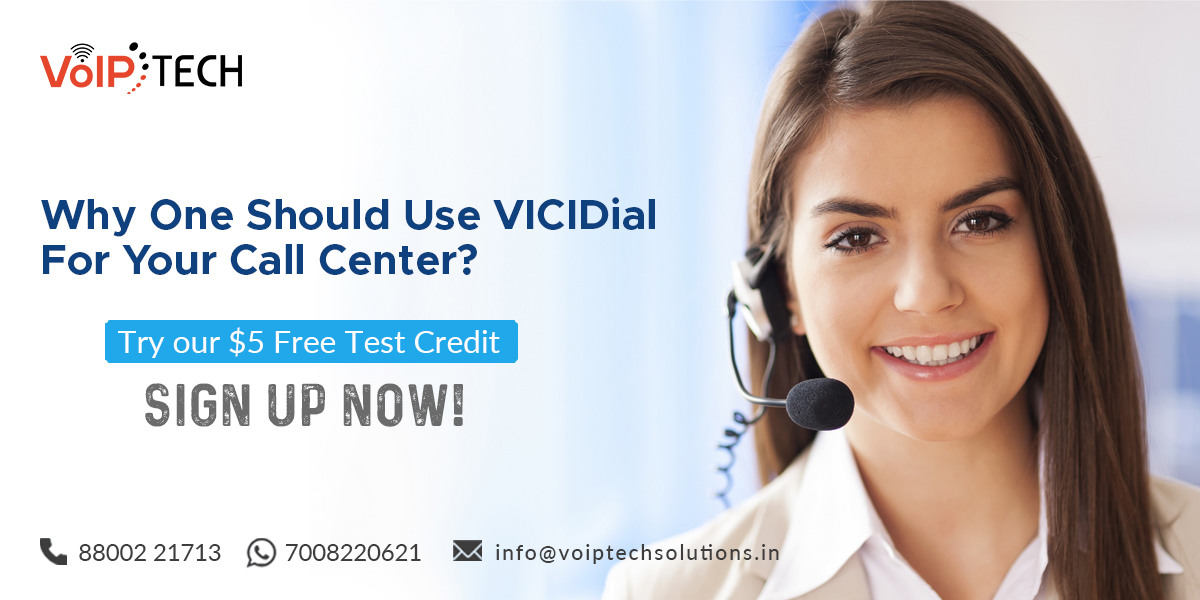 Are you a call center? Do you really want to use VICIDial for your call center? Well, No Worries! Because VICIDial is an excellent option preferred by both large as well as small businesses call centers. For many years, It has ruled the world but it has come into account because of its easy usage, extremely low-cost operation, and reliability for all the call centers. However, VICIDial is proved to be the largest installed base of any call center software.   
And the best part is? VICIDial allows all the agents to handle the overall blended outbound and inbound calls along with the manual and predictive outbound dialing list. Apart from that, it can also handle the inbound emails and the customer chat session over the website all within the same representative screen. Isn't it amazing? However, bring an open-source contact center solution that has no per-user charges and is totally free for anyone.
Why is Vicidial such a popular choice for call centers? Reasons are listed below:
Vicidial is QUITE inexpensive:

When you are going to consider from the management perspective, the

VICIDial software

is completely free. But those who really wanted to go deeper into the open-source system that the VICIDial uses will automatically understand that free things come along with many things like you cannot sell them and you have to maintain the original credit even after modification and many more. So you need to download, install it and it's completely done. 
And when the VICIDial serves as Linux-based software, then the hardware used by the VICIDial requires to run not only some minimal specifications but also off-the-shelf PC hardware. However, a single server-class machine cloud handles more than 50 agents bearing a very low cost rather than spending thousands on a proprietary dialer or inbound call center system. 
Vicidial is MUCH reliable: 

Being aware of the fact that VICIDial runs on Linux, it runs with a collective supportive software package that has a known documented and robust collections such as MySQL, PHP, Apache, and Asterisk. However, these all pieces of software provide a system that is quite reliable that works together. And the overall system is completely dependent on the hardware on which it is operating because of the redundant servers which can be built to spread the dialing and call load over them making it 100 percent completely reliable. 
No Proprietary Hardware or Software Components: 

However, to use VICIDial, no proprietary hardware or software is required at all. And whatever runs on the hardware,it completely depends on the agent computer, so the headsets are fully non-proprietary and are also quite inexpensive. 
Rapid and Cheap Scaling Of The System:

As your call center gradually grows, most proprietary systems require that you must purchase additional licenses and some additional hardware modules to expand. However, to handle the growth in call and agent volume the

VICIDial

usually requires only the additional purchase which should be relatively cheap along with the standard servers. 
Easy and Integration and Development:

As the architecture of

VICIDial

is simply open-source and standard-based so it is quite easy to integrate with some other software without having any prior knowledge of complex APIs or any additional development languages. 
Multiple Contact Points between Agents and Customers:

Always keep in mind that the agent sessions are not limited to phone calls with the latest version of VICIDial. In the same distribution patterns as phone calls have it is also quite possible to hand chat and email communications as well. However, it allows a staff of representatives to handle all the inbound communications quite efficiently rather than a separate group of individuals who are not functioning as a

call center

. 
Constant Updates and New Feature Rollout:

As

VICIDial

is open-source, it has a large development community with a lump sum interest invested while maintaining it. However, the latest features are always being tested and released well. 
Being the stakeholder in this industry, VoIPTech Solutions incorporates a dynamic service which is the VICIDial. We believe in providing the best VICIDial at the most economical price. Or we can say that providing a VICIDial for customer ease. For more info, please call: +91-7008220621. For more info, please visit our website: https://voiptechsolutions.in/.