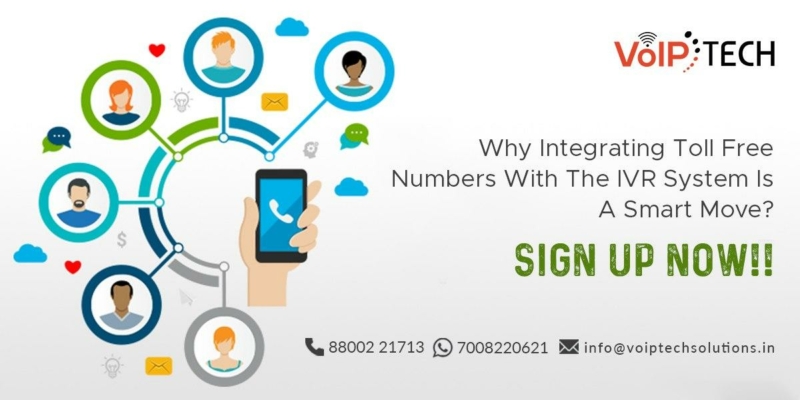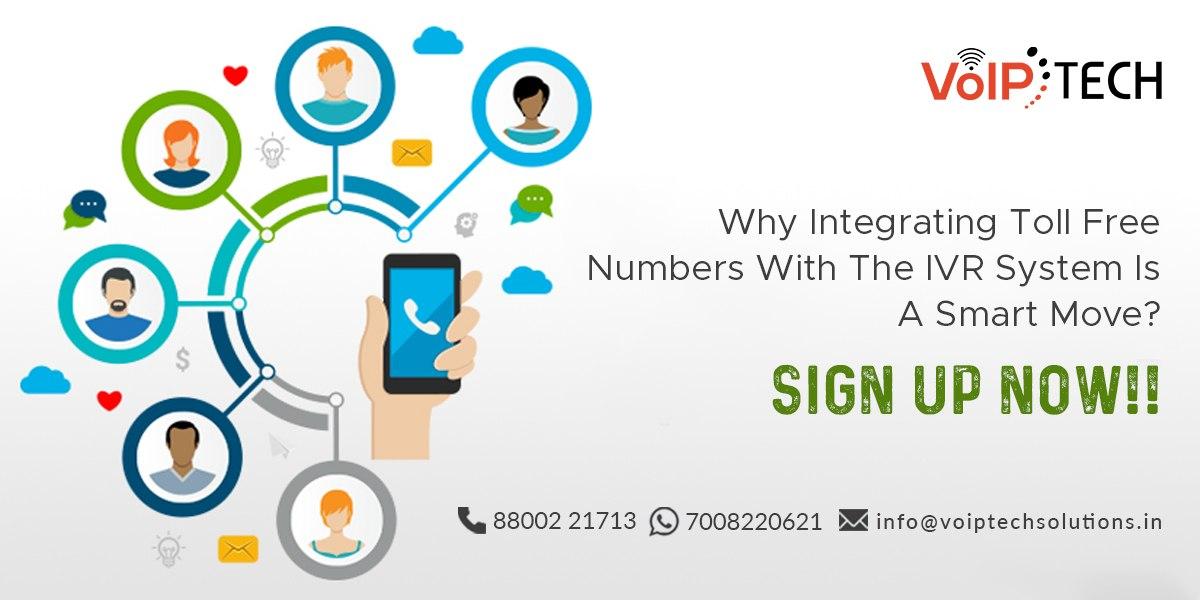 Don't you think Connectivity is the backbone for any business? Well, most of the customers who really wanted to reach your service get distracted only because of the availability of the business which ultimately  leads to unsatisfied customers. However, the only solution for seamless communication and connectivity is Toll-Free Numbers which is coupled with a IVR system. And only Toll-Free Numbers with an IVR system is capable enough to provide excellent customer support along with the consistent availability of an agent. While considering a small enterprise, there are very few existing potential customers but at the same time, the number gets doubled in the case of a large entity. Moreover, a small enterprise can also boost their customer experience by integrating a Toll Free Number with the IVR system.
However, in the end, the only thing that matters is being available 24/7 to the customers and managing their calls efficiently and effectively. And it could only be possible through a robust communication system. Undoubtedly Toll-Free Numbers with the IVR system helps to drive extraordinary benefits along with great customer experience in the long run.
Understanding the basics of Toll-Free Numbers & IVR System:
Always remember that business size does not matter when it comes to customer satisfaction as it is the basic objective for a smooth-running business. Your business might offer great products but it is completely worthless until a buyer gets satisfied with your service and support you offer. In that case, you really need to move forward to be open to various communication platforms. However, the Toll-Free Numbers and IVR system helps a lot in getting your business more productivity. Availability of a Toll-Free Number helps your customers a lot without incurring a single cost for calling. However, Toll-Free Numbers is a free dialing number for the customers which is completely beared by the business that ultimately motivates the customers for calling and connecting more frequently. However having a virtual toll free number gets your business an opportunity to build up an international presence. Isn't it really interesting? And the best part? You do not need to change your business number irrespective of your location change. 
When it comes to IVR System, it is a complete menu system that welcomes a caller with a greeting message. Apart from that, the IVR system is also used for segmenting, identifying, and routing the callers to the respective representatives within an organization. Last but not least you can confidently combine Toll Free Numbers with IVR system because it is quite a simple yet effective communication platform as it saves a lot of time, increases efficiency within an organization and most importantly it saves a lot more money. On the other hand, it helps in building customer satisfaction as well.    
The reason behind Integration of toll-free numbers with IVR system:
Now that you understand how toll free numbers work, it makes sense to find out why integrating them with your IVR System makes a worthwhile investment for your business. 
The reasons behind the integration of both the system are listed below:
Deliver exceptional customer service:

 Always keep in mind that for a successful business, enhanced customer service is the prime key to emerge your business reputation to the top of the list in this competitive market scenario. However, every organization is focusing on executing new ideas and techniques for being a pioneer in this industry. Along with a persistent availability of a representative and faster resolution of the customer, queries get you closer to success. Well, in that case,

Toll-Free Numbers

with

IVR system

creates an amazing customer-friendly communication channel. It directly connects you to the concerned department with the desired resolution to your queries. Ultimately it addresses a smooth resolution without investing any extra effort ensuring completely extraordinary service and support.  
Enhance business credibility & professionalism: 

The opportunity for businesses to gain credibility and prove how professional they are is literally drying up day by day because of the competitive market growth. When it comes to using a Toll Free Number with

IVR system

, it ultimately acts like a credibility metric which helps to build your presence without any constraints. And the customers call, the

IVR system

greets them with a personalized message. However, it helps the customer to resolve their queries by navigating through the menu in the

IVR system

. And the system is designed so well that there is not a single possibility of being unreachable and also incorporating a call back or missed call option to avoid losing a potential customer. However, these attributes help your business to emerge as a success by delivering extra effort and the highest quality level of service to the customers they need.  

Get a competitive advantage: 

Apart from all the benefits, the most significant one is branding. When it comes to securing a competitive advantage, a strong branding strategy really helps a lot. And always remember that to emerge on the top list you really need to have a reliable and accessible business contact number. However, a Toll Free Number makes it easier which is an ultimate reason for adopting for every organization to invest for. And integrating the

IVR system

with it takes you one step closer to success. 

Empower your marketing initiatives:

 When Toll-Free Numbers is integrated with an IVR system, it helps the business organizations empower their marketing efforts as well. However, investing in

Toll-Free Numbers

could be the best option for your business growth. Ultimately these numbers provide a great recall value for both new as well as existing potential customers. Apart from that, tracking a number also becomes easier with a call tracking solution. Last but not least it creates a database for the marketing team to make them connect to the customers later more efficiently. 
Drive extensive cost savings:

  Considering both small businesses as well as startups, both

IVR systems,

and

Toll-Free Numbers

are ideal and are quite affordable and easy to set up. As compared to regular telephone services, a toll-free number subscription is much lower. Offering affordable monthly plans, a toll free number is available on pay as you go basis instead of a contract. However, implementing an IVR system with a toll-free number is undoubtedly affordable for every business size. 
Ultimately the demand for Toll-Free Numbers is growing. If you're looking for a lead-rich website then VoIPTech Solutions is the ultimate destination for you! To get started, call: +91-7008220621. For more info, please visit our website: https://voiptechsolutions.in/. We will be proud to serve you!