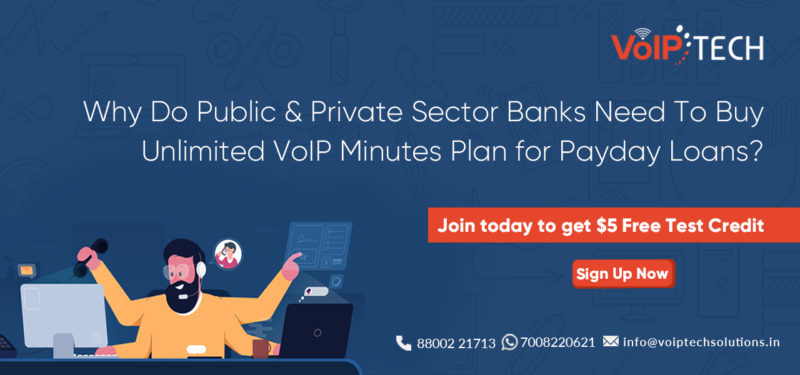 What kind of banks does provide payday loans? Is there any technology that can make the payday loan process easier & productive? Answering these questions one by one -1. Both private & public sector banks provide payday loans to customers, 2. Yes, VoIP Providers can make the process more easy & productive. How VoIP Service Providers in India can help? Well, VoIP Minutes can be a real help while approaching potential customers. Why do banks need VoIP Minutes Plan for Payday Loans? Before that, we need to know what exactly is a payday loan & then you can get a better idea about VoIP Minutes Plan for Payday Loans?
What comes to your mind when you hear of Payday loans? Payday loans are subjected to those small, unsecured short-term cash loans that people generally borrow from the bank or private lenders to manage their monthly expenses until the next salary is credited to the account. It is thus, a small amount of money that banks lend to the customers for a slightly higher interest rest. And, VoIP Minutes Plan for Payday Loans makes it easy for banks to reach the people in need without spending a ton. Do you want to know how VoIP Minutes Plan for Payday Loans helps banks to streamline the process? First of all, you need to know who those people are looking for payday loans.
What kind of people require VoIP Minutes Plan for Payday Loans & how banks should approach them?
Payday loans are basically for those falling under the working class category, having monetary issues, or monthly expenses going over budget. In general, payday loans come with a 7 to 60 days repayment scheme, depending on the lender. These short-tenure loans are a blessing in disguise in emergencies. Payday loans in India proved to be handy in the need of the hour like, for wedding expenses, medical emergencies, EMI dues, LIC premiums, college fees, etc. 
The benefits of Payday Loans in short:
Payday loans are a blessing in disguise for salaried class people who live on a month-to-month basis and can't afford emergency situations.
Fast and Simple: A person can avail of the loan quickly, i.e. often these types of loans get approval within minutes & amount credited to the beneficiary account. No long haul, no waiting.
Hassle-free Procedure: What you need to prove is a valid account detail, some personal and financial info supported by the government authorized document. No need for any extensive documentation that is generally the case in other loans.
No Credit Score Check: As it falls under the emergency loans category, no credit checks or collaterals are involved. Any individual can avail of this loan irrespective of their financial background.
How VoIP Minutes can help banks contact customers for easy Payday Loans:

If you are a bank or a private lender looking to take your business to the next level, then

VoIP Minutes for Payday Loan

would be a great tool to make, more business. So, what do you use to communicate with the customers? Traditional landlines, right? Well, if you are still using the traditional landlines, you must ask these four questions to yourself.

Are your agents available for consultation 24*7?

Can you work remotely?

What's your monthly expense on phone bills?

What you can't do with traditional phone systems?

Answering these questions one-by-one:

With traditional landlines, you can be available 24*7, but with a condition – you need to be physically present in office premises. As landlines are limited to office premises only. While on the other hand, a

Cloud-based VoIP phone system

lets you make & take calls from anywhere in the world on the same number, using devices of your choice. You will be available 24*7, without having to be chained to the desk.

Traditional landlines are location-dependent and require physical presence – so remote working is not possible. With

VoIP Phone System

s, you have the flexibility to work from anywhere. Especially in situations like Covid-19, where work from home has become the new norm,

VoIP

is a blessing in disguise.

You must be paying a hefty amount for your phone bills, right? Well, with the

VoIP phone system

, you can reduce your monthly expenditure on phone bills to almost 75%. Isn't that great? With

VoIP Minutes for Payday Loan

, you can have a fruitful conversation with potential customers, without having to worry about the bills. 

Traditional phones are limited to calls only, but

VoIP

is much more than just calling. With features like texting, email, video conferencing, etc., you can make the best out of your customer communications, and close the maximum number of deals with 100% precision.

The Bottom Line:

With goods prices soaring sky-high, meeting monthly expenses can be difficult for an average Indian. And, payday loans certainly help people to manage those expenses. Banks can take advantage of the situation and make the payday loan process easier with

VoIP Minutes

. This is high time for banks to make a smart move and make some good profit, especially during this Covid-19 pandemic, where everyone needs money. With so many benefits, not having

VoIP Minutes

in your system would be sounding foolish.

Are you a public or private sector bank, looking for

VoIP minutes for payday loans

? You couldn't have a better choice than

VoIPTech Solutions

. We offer you

VoIP minutes

at the most competitive price in the market. With us, you get international phone numbers in over 165 countries. Our paid plan starts at $10 per month and goes up to $20 per month.

Our

VoIP services come with an extensive range of features to meet your business requirements. Sign Up and get FREE $5 credit today! For more info, call: +91-7008220621.

If you're a business or a banking authority, looking for the Unlimited VoIP Minutes for Payday Loans, then VoIPTech Solutions is the ultimate destination for you. Switch to VoIP System, walk hand-in-hand with the future. Call: +91-7008220621.