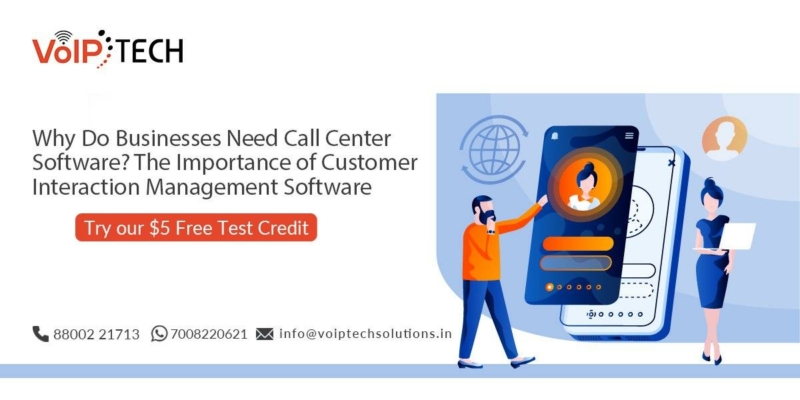 As technology evolves, the customer demand for better service is also getting higher with each passing day. A customer always expects the best experience every time and your call center solution may not be an exception. If the Call Center Software is not up to the mark, it will be a great loss for a business. There are so many competitors in the market for a customer to switch the product or service. So the business should understand the reason for having a high-end call center software and try to gain the customers' loyalty that is associated with the brand or service for a long time by installing advanced Call Center Software.
Call centers require seamless customer interaction every time. They always need to ensure that their customers are satisfied with the agent's behavior and effort. For a seamless customer experience, businesses should use customer interaction management software. it helps the business to handle all the interactions between customers and agents.
In this blog, we will try to make you understand the importance of call center software and why your business needs it. Before you jump to any conclusion, let's start from scratch:
What Exactly a Customer Interaction Management Software is?
Customer Interaction Management is a type of business software solution which manages the interaction between an organization and its customers. CIM software is generally deployed in a contact center and the contact center agents use it to communicate with customers of the organization. Customer Interaction Management software manages all communication across multiple channels such as e-mail, SMS, telephone, Instant Messaging, and social media.
Why does a contact center need Call Center Software?
Handle interactions across multiple channels:
Nowadays customers interact with a brand through various channels such as phone, email, social networks; chat, etc., customers can swap between channels according to their convenience as a single interaction. For customers, the brand is a solitary element, and changing the method of communication ought not to mean losing the setting of past interactions from the association's point. In this way, business right off the bat, should be available over all the important media stages and furthermore, ought to have the capacity to oversee interactions in an omnichannel way.
Maintain Data Synchronization:

Businesses manage their customer interaction in various ways such as sales, customer support, or account management. All these channels hold the key to retaining and expanding the customer base. A customer may interact with various departments of the organization at the same time, however, it is the organization's duty to guarantee that all the data in regards to their questions, input, or some new necessity ought not simply to be saved and updated in the system yet are noticeable to particular groups in a strong way. Guaranteeing data straightforwardness gives better bits of knowledge to the Support group for conveying customized administration, Account Management group to recognize up-selling and strategically pitching chances.
Empower Call Center Agents: Contact center

agents can provide the best customer experience

by providing a fast and right solution according to their needs. Most businesses use multiple systems like CRM, order management system, lead management system, etc. It is one of the tormenting tasks for agents to cross-check all the systems and answer every customer's query. Toggling different screens can hamper agents' efficiency and weakens the nature of customer communications.

C

ontact center

agents ought to be enabled with the right call center tools that diminish the multifaceted nature to get to customer data to drive better interactions.
How CIM helps in Call Center Software?
When businesses identify the communication gaps in the customer interaction process then it will be easy for them to evaluate and implement customer interaction software and ensure that customers are satisfied after interacting with the brand.
Smart customer interaction management software helps the business to improve across the various types of customer interactions. Here are some advantages of customer interaction software that helps businesses for an effective customer interaction process.
Omni-channel interaction:

Customer interaction management software helps to streamline customer interactions across multiple channels in a synchronized way. With omnichannel CIM software, customers see they are having a solitary association with a brand of bouncing starting with one communication medium to the next over the span of their discussion for getting the explicit issue settled. Association then again, is in a superior position to outline a whole client venture for better engagement.
360 Degree Customer Support:

With the right customer interaction management software solution, organizations can map all the customer information in a unified manner. If customers are interacting with multiple departments, CIM software helps to provide a 360-degree view of customer support service by updating information across various departments and processes. Agents can view customer interaction history for delivering superior and personalized customer experience.
Unified Agent Desktop:

Decreasing the procedure unpredictability for agents is an urgent advantage of actualizing a client communication arrangement. It gives an operator all the required client data on one single screen. The simple access to finish subtleties in one go settle client issues rapidly and setting of past collaborations helps in customizing the discussions. Additionally, the CIM software system furnishes a coordinated learning base with related data about the items and other related contributions, which helps contact center agents to give the right help to customers.
The Bottom Line:
Businesses need to understand that every interaction is important, whether it is small or big. So they must attend every interaction count. Call center software reinforces customer engagement, devotion and improves customer experience alongside improving inward operational procedures and expanding agent's efficiency.
Are you a call center or business, looking for the most advanced call center software to streamline your traditional business communication channels? You couldn't have a better choice than VoIPTech Solutions. We offer you robust and highly secure call center software that works on any device. With us, you get international phone numbers in over 165 countries. Our paid plan starts at $10 per month and goes up to $20 per month.
We are one of the Best VoIP Service providers in India that offer customized cloud call center solutions to improve the efficiency of your agents & boost your business productivity. Switch to VoIP System, walk hand-in-hand with the future. Call: +91-7008220621. Our VoIP services come with an extensive range of features to meet your business requirements. Sign Up and get FREE $5 credit today! For more info, call: +91-7008220621.