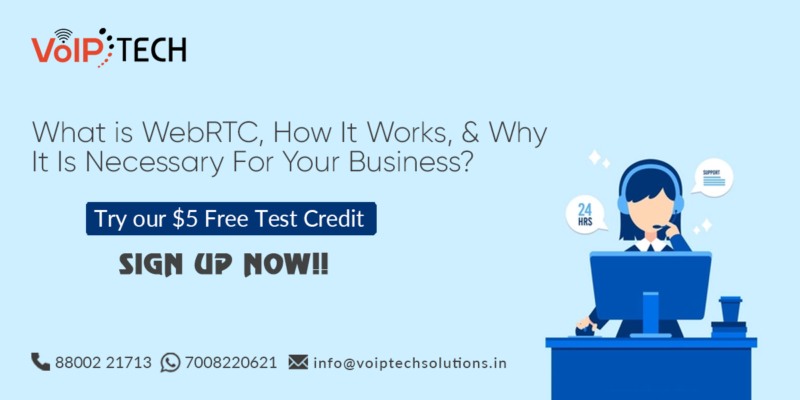 What is WebRTC Solution? How does WebRTC Solution work? Why is it considered a game-changer in the digital era? Have you ever wanted to find the answer to all these questions? Well, let us answer. Being aware of the fact that the new generation is always curious about the newly invented technologies. In that case, WebRTC Solution is the only technology that shows you the path towards the age of future communication just like VoIP Solutions. 
The only technology that can revolutionize the world of the telecom industry is VoIP Solution. However, it has changed the way of traditional telephony. And if you are going to consider in terms of cost and usage, it consists of many additional features, speed and most importantly it is proved to be a great user-friendly solution. However, VoIP Technology is now a rapidly growing solution around the world. Apart from that, it also gave rise to many additional primary functions like WebRTC Solution. Isn't technology growing like anything? 
Knowing The WebRTC Solution From The Core  
WebRTC Solution is the only technology or we can say that is a collection of communication protocols and Application Programming Interfaces that makes communication possible over Internet connections. The ultimate result of further developments in technology. To interact with each other, it acts as an amazing software and helps the application programs as well. However, it's a great asset for a web developer to integrate VoIP Technology into their web-based applications through WebRTC. 
The Real-time Usability Of WebRTC:
We all know that it has found all its way into our lives. Apart from the popular VoIP Solutions, many more business sectors have adapted the WebRTC. Some of the sectors are the Public sector, BFSI, Transportation, Healthcare, Media & Entertainment, the IT & Telecom Industry, Energy & Utility Sector, and Retail sector as well. However, its market also comprises some real-time solution vendors, integrators, and communication service providers. The browser-based collaboration functions include many items by making the web platform its important tool and workspace. And some of those items are calendar apps, cloud-based messaging, email applications, and video chats.  
Amazing Features Of WebRTC Solution:
Here are the distinctive features of WebRTC listed below: 
Free of cost:

Undoubtedly it's an open-sourced Application Programming Interface which has been introduced in 2011 by Google and its other partners. 
Minimal requirement:

For real-time video or audio connection, any WebRTC-enabled browser with any operating system along with a web service application is the requirement of connecting with any other devices. 
Privacy secured:

On WebRTC, encryption is always present. And a secure RTP protocol is used for encryption and authentication. However, it works better than any other WiFi network and also maintains privacy.  
High quality of voice and video:

For high-quality voice, WebRTC uses the Opus audio codec. There is also a highly efficient video compression technology named VP8 which helps to conceal packet loss, clear the noisy images, and other playback capabilities across multiple platforms. 
Reliable session establishment: 

To increase the quality and reduce the server load, it supports reliable session establishment. 
Adaptable to changing networks:

WebRTC has an amazing quality of adjusting the changes in any network environment or condition and also maintains the audio and video quality. Apart from that it also supports the multiple media stream endpoints. 
Integrating WebRTC with VoIP Technology – What It Means?
When you will be comparing WebRTC and VoIP Solutions, you will find both similarities as well as differences. But both WebRTC and VoIP solely focus on user experience. Irrespective of the consumer's place and location, they try to connect being anywhere. But if you are going to consider the delivery service way, VoIP and differs a lot. VoIP Solution generally uses a Cable modem, Wi-Fi,3G, DSL, and many more similar means. At the same time, it works on only browser-based communications. 
Uses Of WebRTC For Various Businesses:   
Video conferencing:

Do you know that the most popular and wide use for WebRTC is Video Conferencing? The video conferencing applications that generally use WebRTC are quite easy to use as it does not require any sort of downloads or assistance from your IT team. Isn't it amazing? 
Telehealth:

Undoubtedly WebRTC's excellent security proved to be the best for the healthcare industry. The medical and mental health professionals can easily get in touch with their patients as well as their families remotely being anywhere as per the convenience of their own homes, office trips, or vacation. For medication check-ins and some minor diagnoses, remote appointments are proved to be great options. And the best thing is telehealth. An amazing solution to cover up healthcare access. 
Company Training:

Using WebRTC applications, you can easily streamline your organization's onboarding process by offering various training. For those who usually train multiple employees at once or who are holding the training often, WebRTC is proved to be a great option. 
Broadcasting:

Another popular use of WebRTC is Broadcasting. One can easily go live and broadcast live sports, conferences, award ceremonies, company meetings, and many more. 
Ultimately, VoIPTech Solutions offers a dynamic technology that is a Solution. We believe in providing a solution at the most economical price. Or we can say that providing a WebRTC Solution for customer ease. For more info, please call: +91-7008220621. For more info, please visit our website: https://voiptechsolutions.in/.