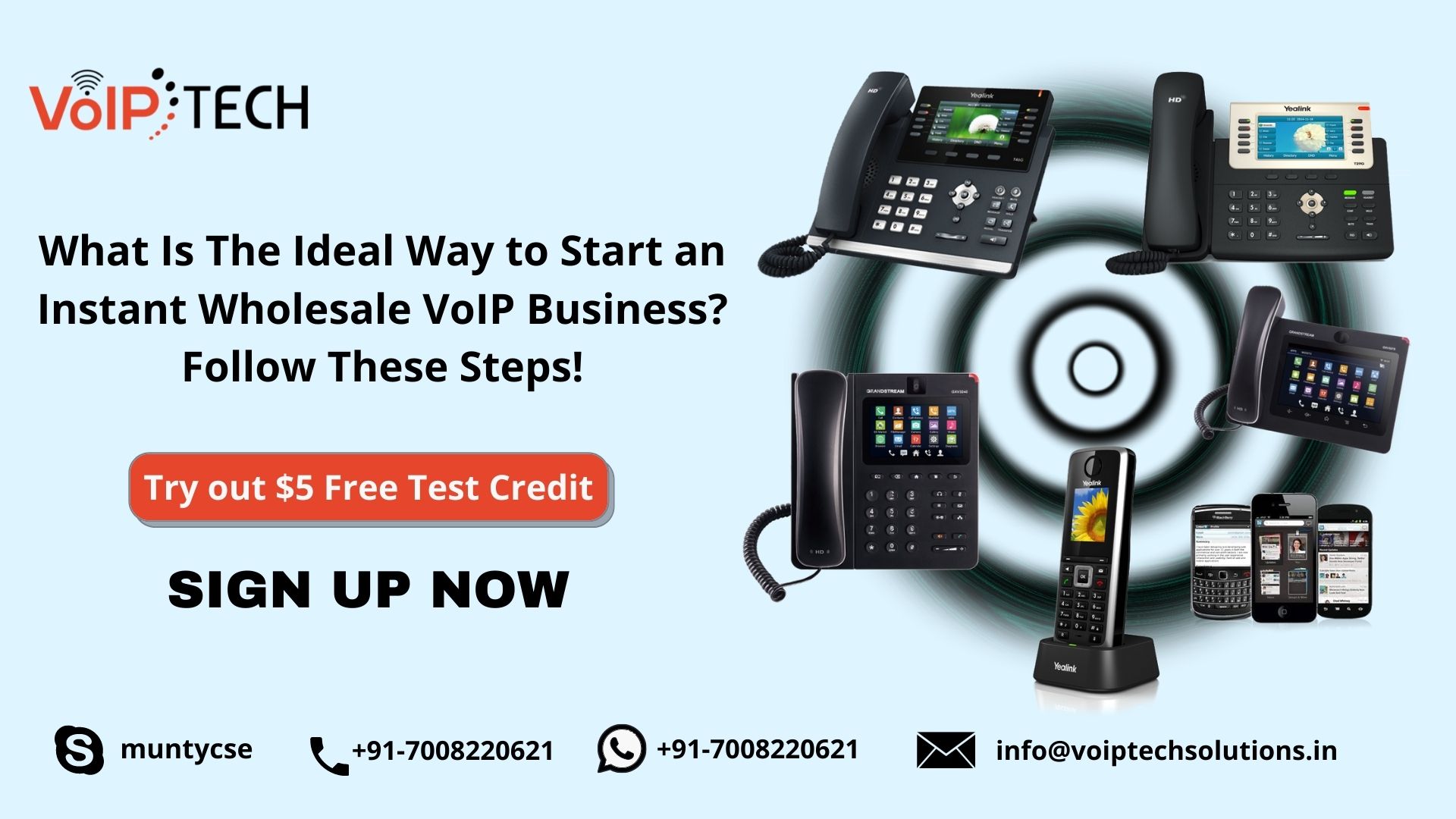 After calculating the sea of benefits that Instant Wholesale service offers, many entrepreneurs are willing to start their own Instant Wholesale VoIP Business. And, the reasons are obvious! The advantage the service offers over its traditional counterpart is attracting them to start the business the right way. In addition to this, the entire process of Instant Wholesale VoIP Business is quite simple and can be done without killing valuable time.
You can follow these in order to get started with your Instant Wholesale VoIP Business
Complete the Registration Process & Login: First of all, you need to hire the service of a reliable VoIP provider that meets your requirements. Better you opt for an Indian VoIP provider to ensure the highest quality services that would be a great help for your business growth. What you can do is, just Google for the top service providers in the country and search and check out for online reviews and the services they are offering. If you find them good for your business, then it is good to go.
This is not done yet. Once you have selected a certain VoIP service provider, you need to register online for immediate effect. In order to complete the registration process, log in to their official website and provide all the required details that are mentioned on the form such as; name, email-ID, contact details, and other applicable data. After completion of the registration process, you can log in to your account using the username & password.
Offer Routes: After you log in to your account, you can see the available view options on the side panel and choose accordingly. In order to sell these VoIP Routes

, what you need to do is offer the routes owned by you or those you have. You need to coordinate with the service providers and provide them with the necessary information if required.
Validation of the Routes & Confirm the same: Validating all the info is very important for preventing any types of misinformation or other related issues that may arise in the future. Once you are offered the routes, the system periodically checks them for their authenticity & reliability and confirms the same. Once the system gives the green signal, you are allowed to proceed to the next step.
Commercial Traffic & Transactions: After validating all the routes with success and you get a confirmation for the completion. What next? Now, you can start operating your commercial traffic without any hassle. You can expect more transactions from commercial traffic routing. What the result is? More revenue generation from the termination service eventually results in an increase in the number of transactions.
Instant Payment: If you opt for Instant Wholesale Service, then you won't have to face any kind of payment-related issues. On the completion of the termination routine, you receive the payment instantly, which was not the case earlier with the traditional wholesale VoIP service. You stay sure to have secure payment options which are protected by high-level network encryption. Just send a request for the payment, and your funds will be released at an immediate effect. 
How VoIPTech Solutions can help you & why should you choose its Instant Wholesale Service?
Being one of the top VoIP Service Providers in India & the world, VoIPTech Solutions offers the best quality Instant Wholesale Service to VoIP Termination Service Providers of all sizes around the globe at the lowest price. Small scale businesses are the biggest beneficiaries of the service offered by us. Here are a few notable features that make VoIPTech Solutions Instant Wholesale Service a good choice for your Wholesale ambitions, These are as  follows:
You will experience much lesser interconnection time

Simply fast & reliable as well

Zero paperwork & no lengthy process

24X7 technical assistance

Dedicated manager for each account
Do you want to take advantage of the VoIP Termination Service? You couldn't have found a better choice than VoIPTech Solutions. Our exclusive VoIP Termination Services will ensure your VoIP capability is enhanced at a budget-friendly price. We offer you a robust and fully functional termination carrier that works with any business phone system. With us, you get international phone numbers in over 160+ countries. Our paid VoIP Minutes plan starts at $10 per month and goes up to $20 per month. Our VoIP services come with an extensive range of features to meet your business requirements. Sign Up and get FREE $5 credit today! For more info, call: +91-7008220621.00.