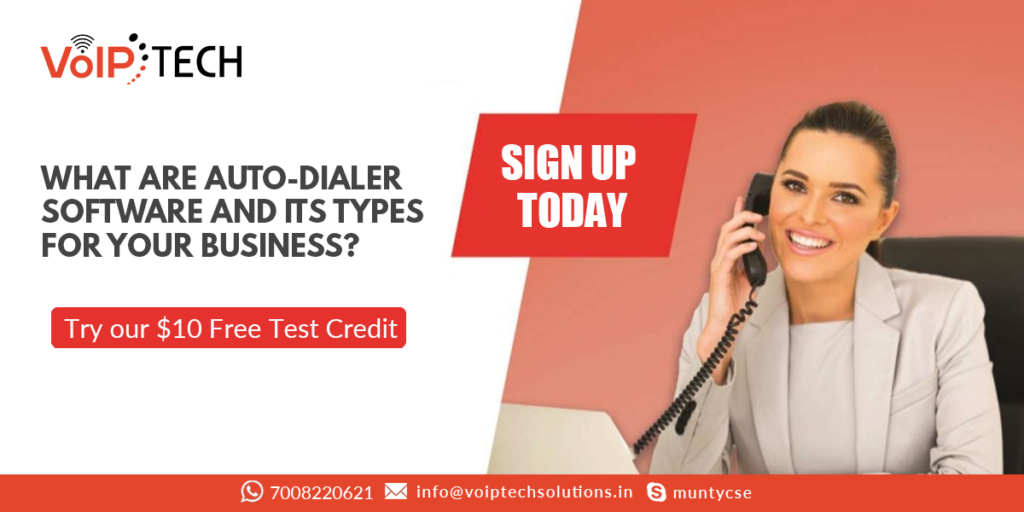 The best dialer software is auto-dialer software, which helps to improve your business, contact us today to get more details.
In businesses or organizations, auto-dialer software is one of the most commonly used dialer software. This form of auto-dialer software may make hundreds of calls in a matter of seconds while only connecting the agent to the actual user. Because all disconnected, busy, and unanswered calls are skipped. As a result, the agent's idle time is reduced and he is only connected to the live user, resulting in increased productivity and consistent outcomes.
What do you mean by auto-dialer software?
An  software is an outgoing dialer that enables organizations to ring out a large number of leads automatically, saving time for their employees. An auto-dialer software allows you to connect a customer to a live agent after the call has been resolved on the customer's end. This results in increased output and efficiency.
You can assign calls to different agents using auto-dialer software based on certain parameters. Businesses in the real estate, insurance, education, financial services, political marketing, debt and bill collection, weather forecasting, e-commerce, and a variety of other industries utilize an auto-dialer system to contact a large number of clients and transmit automated messages.
An auto-dialer software contacts current clients to make cold calls or send appointment reminders. And also, auto-dialer software is used by outbound interactive voice response (IVR) systems to contact existing customers and offer them notifications and bill payment choices. These are nearly entirely automated systems that employ telephone keypads and speech to guide users through a business's self-service options.
There are three types of auto-dialer software are used for communication systems.
Preview dialer
Preview dialers function similarly to a telephone book. The agent is presented with a list of potential consumers, who can review their information and history before dialing their number.
Because it is much superior to the old system — manually dialing numbers — this is frequently the first auto-dialer that organizations choose before upgrading to more complex systems. It gives the agent a preview of the prospect/information customers so they can prepare, but it doesn't waste time dialing the number. The agent can dial or skip the consumer based on what they observe.
Agents can provide a more personalized experience and boost success rates since they have more time and knowledge to prepare.
Power dialer
Power dialers dial the next number in a series after an agent has ended their call. The agent must indicate that they are accessible in this scenario, and the dialer will place the call automatically.
It allows the agent to make uninterrupted calls without having to manually choose or dial numbers. When a phone number is busy, unattended, or disconnected, it dials the next available number. A power dialer saves time for skilled agents by minimizing manual duties, lowering downtime, and enhancing productivity.
Predictive dialer
The predictive dialer simultaneously makes many outbound calls. When a prospect or client answers the phone, the call is transferred to the next available agent.
The most significant difference is that a predictive dialer considers multiple variables when predicting when the next agent will be available. It calculates how long each agent will spend on a call, the likelihood of a prospect/customer picking up the phone, and so on, and places call dynamically. For example, if an agent spends 3 minutes on average for each contact, the dialer will call that agent every 4 minutes, giving them time to finish and prepare for the next call.
This significantly minimizes the amount of time spent between calls. It improves agent productivity without hurting customer experience, which is especially important for call centers with a big number of agents and significant call volumes.
An auto-dialer software features
The Dial Order feature ensures that the auto-dialer software contacts all of the phone numbers associated with a contact, increasing the Dial Coverage for a company.
Detection of Answering Machines
An auto-dialer software from AMD avoids the answering machine. Only when a live person on the other end answers the phone does the call connect.
Agents with the "auto call on" status will automatically receive dialer calls and will not have to wait for the ring tone, allowing them to spend more time on the phone.
Notification through Dialer
When the dialing list is low on contacts or a PRI or SIP problem occurs, supervisors will receive an error code.
Uploading an Auto Dial List
The customer management API in VoIPTech allows you to import calling lists from CRM or any other third-party system.
Dialing using Agent Skill
Parallel predictive dialing is a method of matching dialing contacts to an agent's competence and knowledge, such as language Hindi, Odia, English, etc.
Send pre-recorded automated outbound voice messages to your entire contact list. Make mass voice calls using voice broadcasting technology to reach a wide target audience.
What are the benefits VoIPTech solutions provided for your businesses?
Increase your sales and collections.
Your sales could increase if you automate your calling procedure! Making more calls in less time will result in a higher lead conversion rate and faster sales.
Improve agent efficiency and production dramatically with a smaller crew. Increase the connect rate of your outgoing calls by automating them.
Increase your call connections and conversion rate with clever auto dialer software to raise your bottom line and make more income.
Multiple Campaigns to Manage
VoIPTech solution's auto-dialer software allows you to easily conduct and manage several campaigns, so you can give them all your all.
Automate your calling procedure to save time for your agents. With just a few clicks, you can call an unlimited number of customers.
Only connect the agent when a human answers the phone by using answering machine detection. As a result, agents can focus on quality leads rather than the machine.
Management of intelligent leads
When the lead list hits a certain threshold, automatically notify the supervisor and plan outbound calling efforts appropriately.
Truecaller native integration
Truecaller Verified Brand Identity can boost call pick-up rates by 40-60%, resulting in increased efficiency and conversions.
How to choose auto-dialer software
Each form of auto-dialer software has a distinct function. As a result, neither is fundamentally superior to the other. The best auto-dialer software for you is determined entirely by your company's needs and objectives. Here is something to consider facts while choosing the auto-dialer software for your business:
If you have a large company that makes a lot of calls, a predictive dialer might be a better option for increasing agent productivity. A preview dialer would suffice if you're a small business making only a few calls.
When you have a long-term relationship with a customer, it's critical to have all of your information on hand before calling. A preview dialer is the best option in these situations. Predictive dialers, on the other hand, maybe more effective for homogeneous consumer groups when your agents are repeating the same message.
Preview dialers are ideal for having hyper-personalized conversations with existing customers, such as coaching them through a problem or encouraging them to use a product. Power dialers, on the other hand, maybe more effective when making announcements or presenting new offers.
Do you require an IVR, to record all calls, report all numbers dialed, gather call analytics, safeguard client privacy, and so on? You can select the best analytics solution for your company based on your requirements.
Businesses and other organizations that make a large number of phone calls frequently utilize dialers. The most common industries that use auto-dialer software are sales, healthcare, emergency services, and hospitality. An auto-dialer software saves time and money for businesses by automating calls.
Why Choose VoIPTech solutions?
With fully protected networks and many layers of verification, VoIPTech solutions alleviate any security concerns you may have. Our team ensures that communication is secure throughout the process.
journey of transmission Allows VoIPTech solutions to demonstrate client satisfaction and Unparalleled support. Our crew is available around the clock 24*7 hour.
Indicates that you have access to technical assistance and consultation at any hour of the day or night. Receive a single, all-inclusive bill with no surprise costs. Your businesses will benefit from VoIPTech's solution.
For one low payment, you get an auto-dialer software solution.