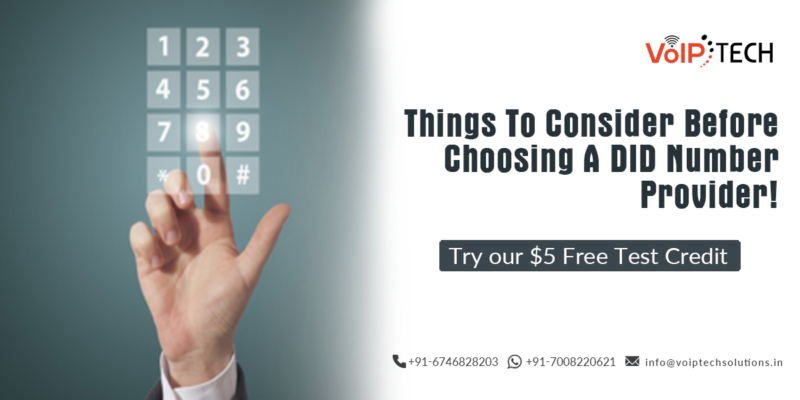 Internet telephony has enabled businesses everywhere. Isn't it? But the question arises WHY? Well, just to expand their horizons and thus set their business footprints across the globe while sitting at one location. And the system also offers convenience to the organization in managing telephone traffic, whilst making it convenient for employees and enabling smooth communication between their customers and staff. However,  organizations can give each employee their personal direct phone number that can be printed on business cards and utilize it to route directly to external devices like mobile phones just by renting a block of virtual numbers from a DID number provider. 
What Exactly is a DID Number? 
Well, to route calls to existing telephone lines virtual numbers are required and DID number is nothing but a virtual one. However, it allows customers and other contacts to call someone directly by omitting the trunk line or a complicated extension system. And to the proper extensions it routes hundreds or even thousands of incoming calls simultaneously which is the best capability of DID numbers.  
And while simplifying the business communications system DID numbers endow convenience to everyone. However, with direct inward dialing service, high communication costs can be foregone to a certain extent as it takes a company to the global marketplace accompanied by hefty costs. Well, identifying the best DID VoIP numbers provider amongst a big pool of providers offering the replicated service with big promises is always the first step.And businesses can take cues from our list of 5 primary questions to ask before committing to a DID number provider is just to distinguish the best DID number providers.
Provider is Reliable & Accountable or not?
Always remember that to shortlist those providers who have well-established corporate entities is very much important. And it is vital to assure that they have credible market experience while choosing a DID number provider.However, one can shortlist those providers only just to check the accountability of DID number providers those who possess a sophisticated website that follows good design principles which is undoubtedly quite encouraging. And after all these facts just go through the "Contacts" page for an actual address and look around the site for an "About Us" page. Moreover, it allows them to investigate a provider's reputation keeping in mind that a company traceable to an address will ease the research for organizations. 
The Provider Assuring High-class Security. HOW? 
Always keep in mind that choosing a DID number provider that has extensive system security in place is one of the primary requirements along with data breach leaving many organizations red-faced across the globe. And through the DID number provider, organizations would not want hackers getting into your account. Ultimately a security failure in the access portal could lead to rivals hacking and accessing confidential information and  theft of the business's financial details. And most of the businesses must check that they are discreet and reliable before shortlisting DID providers.
Do you really believe the Provider offers Competitive Cost, Free Trial & Moneyback Guarantees?
Wel, has the decision can come down to the cost of the DID number provider just after shortlisting two equally reputable providers? However, organizations must meticulously weigh whether the potential cost savings justify the risk only if there is a major price difference between an expensive, reputable DID number provider and a cheaper unknown newcomer. Choose a cheaper provider over the established market players lastly  if the enterprise is prepared to take a leap of faith and it must try to negotiate a free trial or money back guarantee offer.
Provider Offering Round the Clock Support Assistant. Is it so?
Well, in times of technical failures the DID number providers that organizations shortlist must provide a strong support facility. Enterprises might have to deal with providers working on the other side of the world and in completely incompatible time zones with internet telephony businesses working globally. However, to select a DID number provider that offers services round the clock is therefore important. And the companies do not want to be stuck with a provider that is not obligated to deliver insufficient assistance after setting up the DID numbers.
Provider Offering Global Reach. HOW? 
Well, look for providers that can assure global coverage for your enterprise instead of choosing a DID number provider who has a scope limited to a specific geography. However, without worrying about DID numbers this decision will allow any business to expand into different countries in the future. Also, to manage toll-free numbers it is important to assure that the new DID number provider is also able. Thus one must look for a provider that has numbers ready to go and a fast delivery system to port them having an inventory that includes plenty of vanity numbers may help drive the company forward .
Last but not least, a company should be able to choose the best DID service provider and develop a lasting and profitable business association with them. However, helping organizations reduce exposure to frauds and disputes whilst decreasing the investment costs on expensive equipment and ensure improved communication within and outside the company VoIPTech Solutions DID and Inbound VoIP services are provided on a dedicated application platform.
Being the stakeholder in this industry, VoIPTech Solutions incorporates a dynamic service which is DID Number Provider. We believe in providing the best DID Number Provider at the most economical price. Or we can say that providing a DID Number Provider customer ease. For more info, please call: +91-8800221713. For more info, please visit our website: https://voiptechsolutions.in/.