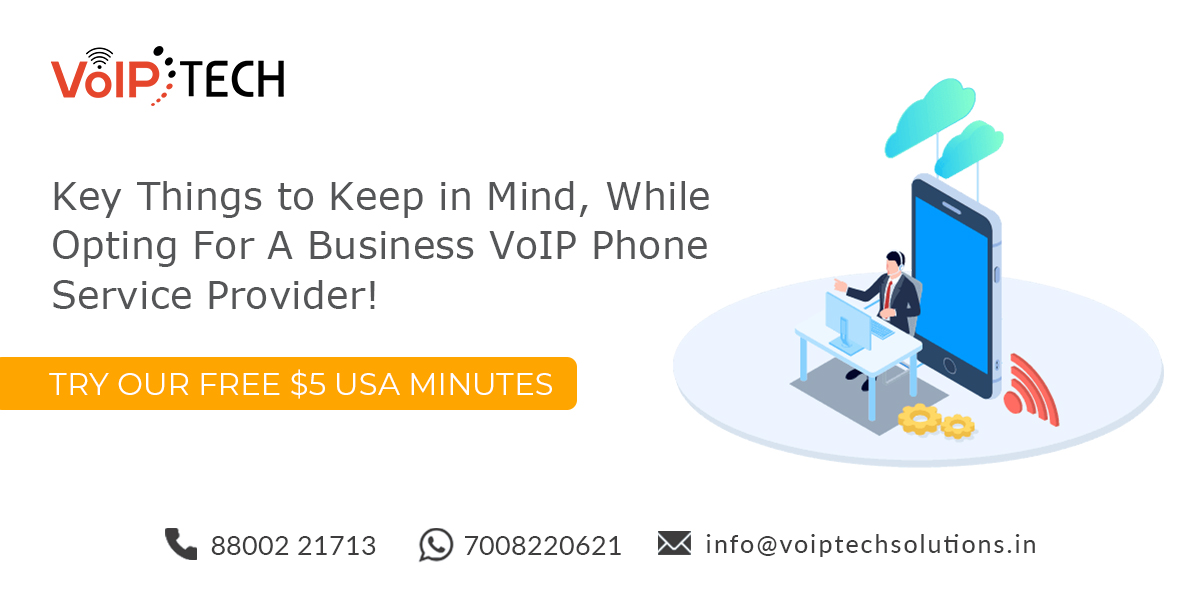 Amid the surge of Novel Coronavirus cases worldwide, work from home has become the new norm. And that's the reason Business VoIP Service Providers in India is a popular choice among enterprises around the globe for providing the much-needed flexibility and productivity features to their employees. You can call Business VoIP Service Providers in India the best communication medium that ensures proper social distancing is maintained through the COVID-19 pandemic, without failing to achieve business goals or affecting the scale of productivity.
VoIP is an amazing platform that aids businesses in the best possible way by unifying their communication channel, especially when work from home is the only way out. VoIP systems now take advantage of futuristic, high-definition codecs that have improved enormously over the period, offering unmatched voice quality even better than the landlines. In addition to this, employees get a more flexible environment to work because the phone calls are now the new data. Moreover, state-of-the-art features such as; Call Forwarding, File-Sharing, Instant Messaging, Call Recording, Video-Conferencing, & Voice Mail make them even more rewarding for companies.
Here are the key things to Consider Before Choosing a VoIP Service for Business:
Pricing & Features

: Cost is something that would be coming to your mind at first, but knowing your current requirements & anticipating your future needs is a must. Choose a

VoIP service

that not only comes with a reasonable price tag but also offers a fantastic selection of features.

Custom Integrated Mobile Apps:

As a drastic shift in the workforce towards distributed and remote locations, the growing demand for custom

VoIP

mobile apps is at an all-time high. However, you can't expect the same value and services that desktop apps offer from mobile apps. Desktop-enabled features like call log creation, voicemail transcripts if the call isn't answered are not available on every mobile-based app. So, do make sure your

VoIP provider

offers all these features on a custom mobile app.

Tools to Collaborate

: High-end

VoIP services

come with a variety of collaboration tools that allow employees to stay connected online and work as a team. Apart from basic options like SMS texting, Video Conferencing, & Online meet, they also need advanced features like screen sharing, ability to comment on shared documents as well. If your

VoIP provider

is offering customization tools that allow you to combine specific features gained through third-party integrations with the current VoIP system, then it's great.                                        

Versatility:

Your

VoIP system

should integrate with other systems such as; CRM or Help Desk that lets you understand your audience better. It also plays a major role in cost-cutting and empowers you with all the advanced features that are used to avail with the enterprise-level

PBX

only.

Effective Call Management:

Managing a large volume of calls at a time, can be an overwhelming task. With state-of-the-art call management technology, a

VoIP system

can handle the job effortlessly. A

VoIP system

queues those calls adequately & intelligently distributes them among the end-users based on their availability, location, or another criterion that comes first.

24*7 Support

: No matter how good or superlative services your

VoIP provider

offers, without the support you will be in a mess. Do make sure you find a service provider that is available 24*7 to answer your queries.

High-End Security Features:

Security is a must for every single cloud-based service that's plugged into your system, as there is a potential threat of cyber attack every day. Look for services that come packed with high-end security features, guaranteeing 100% data protection at any cost.

Unified Channel for Communication:

This means integrating all of your communication channels within one single app. Do make sure you have a unified system that is able to use all the channels more efficiently. 
Are you an enterprise, looking for the top-rated Business VoIP Service Providers in India that can integrate Artificial Intelligence In Cloud-Based VoIP Phone Systems? You couldn't have a better choice than VoIPTech Solutions. We offer you robust and fully functional AI-based VoIP Solutions that work on any device. With us, you get international phone numbers from over 165 countries. Our paid plan starts at $10 per month and goes up to $20 per month.
VoIPTech Solutions is one of the Top VoIP Service Providers in India, offering a comprehensive range of features that your business needs the most. On top of this, our all-powerful customization tools can make your business communication even better & more effective. Our VoIP services come with an extensive range of features to meet your business requirements. Sign Up and get FREE $5 credit today! For more info, call: +91-7008220621.