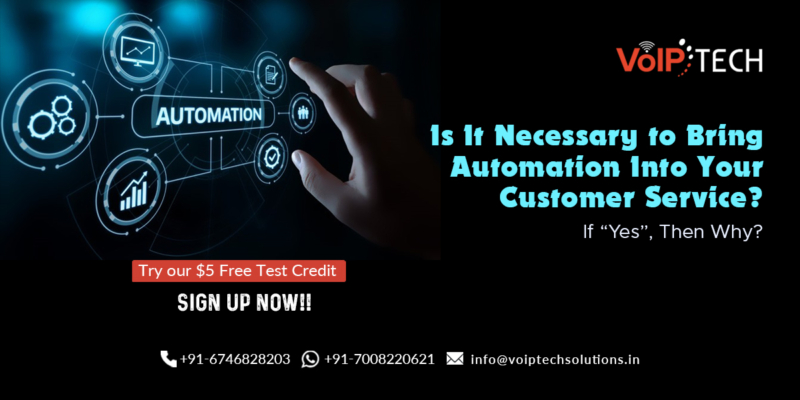 Most organizations are introducing automation to improve their customer service by adding more ammunition into agents' fold. The sole purpose is to enhance customer's experience by reducing the live human interactions. As the result, teams are better equipped to deal with a sudden spike in call volumes, making the customer service process faster than ever with minimal human error. 
Every coin has two sides and automation is not an exception. Lack of human involvement and handling complex issues are two of the drawbacks that might raise eyebrows. But overall, it keeps you away ahead of your competition. If not all, then at least you can automate few areas to leverage the benefits of this modern-day technological wonder. 
What is customer service automation?
Bringing automation into customer service means, reducing human involvement to a certain extent and solving repetitive queries in an intelligent way. The brightest side of this technology is its self-service menu that gives more freedom to individuals to get things done in their own way and for that, they won't need any helping hand from others.
Listed below are a few of the examples of automation contributing to better customer service:
Maintaining the workflows in an automated way

Chatbots use

IVR system

Auto Email Sending

Self-help menu

Answering FAQs
Companies have been following the traditional way to solve customers' queries that is through a team of support agents. Inbound phone calls are the main source of two-way communication, where email and other channels are the secondary sources. As the business moves to the next level, there is the need to add more people to your support system.
Unfortunately, the resource add-ons can bring you more financial burdens. That's the reason businesses are looking for an alternative way that is both effective and is reasonable.
How can it benefit your organization?
Automation brings a plethora of benefits to customer support. Apart from cost-savvy features, businesses can think beyond.
Expenditure of customer service can be brought down: Without quoting the price, business customer service is a mere possibility. If you compare the cost of operation, then automation would cost businesses a fraction of the price as compared to live agents. According to recent studies, you can reduce the service cost up to 40% by introducing automation to your technical support. Call centers can scale down their human resources hires, while adding more value to your customer CX

.
Apart from covering the basics, the technology also empowers live agents to get involved in more serious stuff. The end result is an improved workflow and better time management in this highly competitive marketing landscape.
Human interaction is certainly enhanced: The lifecycle of any business totally depends on the customer journey. Sometimes you won't able to think what next! So, in this case, anticipating their needs and being able to meet their growing expectations can pay in your best interest.
It works like a double engine by improving efficiency and speed: With a shorter response time, you can win the hearts of customers, eliminating that negative feeling towards the brand. Quick problem-solving capacity, give them a sense of reliability that works in your favor. Imagine the difference between pressurizing your agents to get into every call to answer the same queries time again and having a system in place that can take care of these types of queries so that they can focus more on serious stuff. they can focus on outcomes. Of course, the second one is a wise move. Empowered teams, happier customers, so you can expect fewer complaints.
Better Team collaboration: Automation definitely puts an end to a tussle between the team and improves collaboration to a great extent. All team members can stay aware of their support ticketing windows. No confusion, pure clarity. And, the result is an improved workflow and issue solving capability. 
You can be available 24/7: Agents are no machines that they can work 24/7. They have shifted and after the shift is over, there would be no one to take the call. Of course, you can hire more resources but that would cost you a fortune. With automation, you can save big bucks and still provide the same level of customer support even better. Automation is not limited to shifts, no sick leaves, and other breaks, the result is uninterrupted customer service 24/7 without spending a ton.
Sets a uniform tone for customer service: You can use certain terms related to your brand in every single interaction. It's pretty simple, just program the chatbots accordingly or you can do the same to the auto-attendant system to achieve the desired output. You also have the pleasure options like on-hold music and quick message notifications during busy hours.
Centralized information-sharing center: With the integration of CRM

software, you can have a centralized information-sharing center where agents can avail of all the client or caller data at their fingertips. The info can be seen in a pop-up window screen that they can use to know and understand the customers better.
Minimizes human error: Humans are prone to errors, in fact, all of us have come across the same situation. Be it due to insufficient technical knowledge or availability of resources, no one likes to keep moving from one person to another in order to get help. Thanks to automation, these errors can be eliminated and brought down to a minimum. Agents always pull off their sucks to give the best ever customer experience, however they miss something that can cost you a fortune. The intelligence of automation handled by the live agents can certainly minimize these errors, ensuring a great customer experience.
The time has definitely come to look beyond human resources and adopt new technologies to empower them. Especially, when it comes to providing excellent customer service, you have to consider automation as part of your support system. And, today is the best time to take the first step forward to bring on that change, the change for a better today, tomorrow.
Are you a business or call center, looking to bring automation into your support system? VoIPTech Solutions is your ultimate destination. Our advanced AI-powered software completely automates your customer support service with advanced features – so that your agents can get free time to concentrate more on some serious stuff. We are a VoIP service provider with a huge network, spreading over 165 countries around the globe. Our paid VoIP Minutes plan starts at $10 per month and goes up to $20 per month. Our VoIP services come with an extensive range of features to meet your business requirements. Sign Up and get FREE $5 credit today! For more info, call: 91-6746828203.