Improving Healthcare with VoIP Phone System – Saving Lives of Millions! How?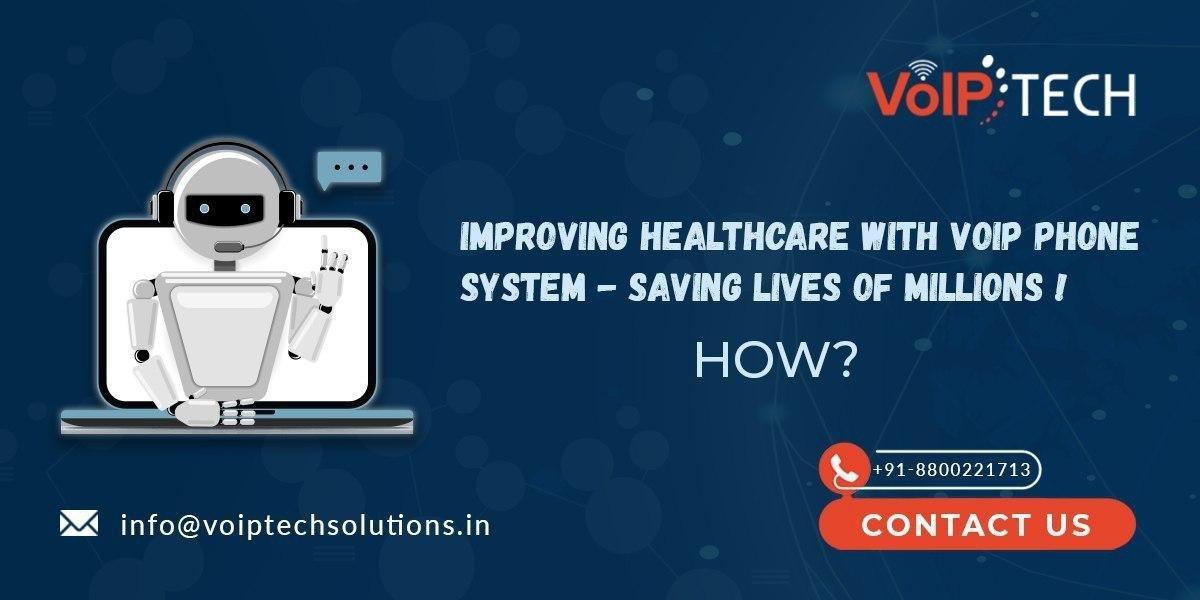 The healthcare sector is the fastest growing industry in this modern world. Being one of the three necessities in life, it's a must for all. Do you belong to the healthcare industry or own a hospital? Don't you think efficient communication can make a big difference between life and death in hospitals? Undoubtedly, Yes! Whether to provide first-aid or performing life support, a clear and one-to-one communication makes a patient's treatment easier by passing critical information with 100% precision. You couldn't achieve it with traditional phone systems, it's only possible with VoIP Service.
VoIP minutes provider in New Delhi, India serves in your best interest that results in providing better patient care, while maintaining proper coordination among the staff. Whether it's an emergency or normal consultation, with VoIP Phone Systems you always stay ahead of your competition. 
Improving The Healthcare with VoIP Services:
VoIP is an amazing solution to get in touch with anyone, anywhere without having to stay in the hospital premises. With a plethora of amazing features, it can change the way healthcares used to function, by delivering a super-fast, effective communication channel that everyone can take advantage of.
Let's have a look, how VoIP Minutes can benefit the healthcare units:
Improved Patient Care & Staff Responsibility:

When healthcare professionals usually communicate, they need an efficient way – just for the sake of patients health. What if a patient needs doctor consultation, and at the same time he/she is off the duty? It would have been a matter of concern if you were using traditional phones that require physical presence, but with

Cloud Based VoIP Phone System,

one can be always available on their choice of devices. Apart from that,

VoIP Service

makes the workflow smooth and reliable, by making your staff more responsible in a precise manner for optimal health of patients. 

Better Diagnosis:

When a patient is being treated, it is very much important for a doctor to diagnose thoroughly with clear communication with the medical practitioner. Ultimately providing treatment becomes easier for the doctor. With

VoIP Services,

the communication flow becomes simple & effortless for the doctors & patients alike. Simply put, after listening to the patient's problem, they can come up with a better treatment plan.

Better Risk Management:

It empowers healthcare units to decrease the risk of malpractice that is subjected to communication gaps happen to be between the fellow doctors, staff, and mainly the patients.

VoIP Phone Systems

ensure a quick transformation of right info to the concerned people, hence eliminating the risk factor involved due to miscommunication. 

Remote Connectivity: Cloud based phone systems

help the doctors and staff to connect remotely. When you are a doctor or medical staff, it's very important to stay alert for an emergency. VoIP plays an important role, because this is the only solution that can connect you anywhere. Whether you are in the office, travelling or working remotely, people can reach you anytime 24*7. One can also take advantage of its video conferencing and call forwarding services to make the patient care even better.
Important VoIP features for Hospital:
VoIP Services in New Delhi plays a crucial role, taking healthcare service to the next level. It makes the communication more transparent and efficient among all the medical staff along with doctors, ensuring a world-class patient care.  
A traditional landline with limited features is never a great option for healthcare units. Installing VoIP can help you out with unlimited features that help connect to any departments in a smooth and efficient manner. All that you need is a high-speed Internet connection for a hassle-free communication. With advanced call management features such as; call forwarding, call conferencing (both video/audio), find me/follow me, and many more, the hospital staff and doctors can easily connect to their respective departments during after-hours and in case of any emergency. This is the only way, doctors can get exact reports of a patient and can ensure proper care 24*7.
We are all aware of the fact that hospital administration is responsible for smooth functioning of patient care & other things involved. For important announcements, they really need to be in touch with all the medical members. Well, in that case, "group paging" makes the process simpler than ever. Taking advantage of this extraordinary feature, administrators can reach out to all the members by simply paging a group number or dialing an extension number and pass the message through a speaker all over the hospital. 
Last, but not the least, Cloud Video Conferencing is also a great feature that connects the doctors from remote locations. It builds trust and loyalty between patients' and doctors' through clear communication, regarding queries and their solutions. 
How VoIP Helps Healthcare Units in Cost-cutting?
Healthcare units do spend a ton on infrastructure, maintenance and service, so opting for a technology that can save you big is always a wise option. VoIP minutes provider in New Delhi, India reduces the monthly phone bills to almost 80% and avoids any recurring charges that you used to pay for the traditional landline. Apart from that it reduces the regular visit to the hospitals through instant messaging, video conferencing and VoIP enabled UC application along with the test results. 
If you're looking for VoIP minutes for healthcare in New Delhi, India – then VoIP Tech Solutions is the ultimate destination for you! To get started, call: +91-8800221713. For more info, please visit our website: https://voiptechsolutions.in/.