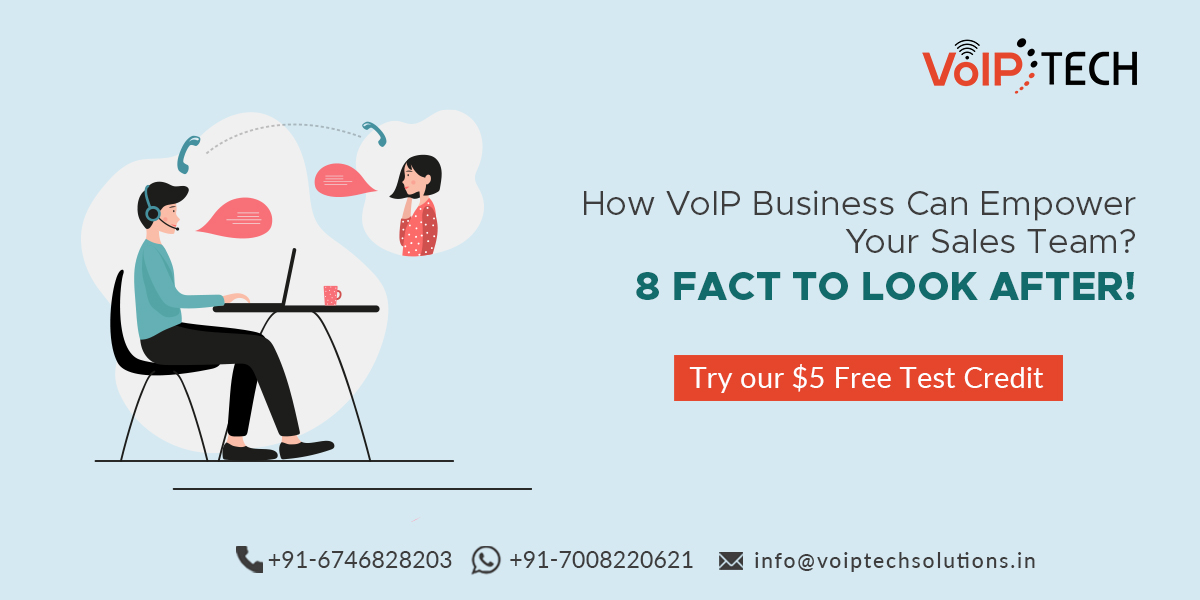 In this hurried industry to maximize profitability, most business owners often focus on increasing revenue and reducing costs. Isn't it? And if a company invests in the right tools, technology can be a means to that end. So, VoIP business comes into the background. With a rapidly rising stock to increase business output, VoIP is an upgraded technology. And with its adding power to streamline and unify customer communications, can equip your sales reps with the resources they usually need to beat out the competition which is nothing but the state-of-the-art VoIP phone services is all about.
However, A modern VoIP business phone system not only helps them in increasing sales and growing their volume of customers but also helps businesses save money a lot. 
Scroll down to know more about the list of 8 ways VoIP could defect their analog counterparts and proliferate your business prospects and sales: 
Unlock New Sales Opportunities:  Technology that facilitates it becomes equally crucial as internet-based shopping and consulting continue to outpace the growth in the brick-and-mortar sales sector. However,  if it offers a "click-to-call" widget on the website report shows that 80% of visitors are more likely to contact a business that clearly identifies more calls means more opportunities. To take on a role, VoIP is the essential technology for the widget. Along with that to enable free visitor-calling from your website a key VoIP phone system could offer advanced API or WebRTC Click-to-call feature. All you need is to upsell consumers on the phone just make a simple integration, then your sales reps will have a greater chance. And your sales and revenue are sure to skyrocket, with more visitors turning into potential leads.
Multiply Sales with Existing Customers:

Always keep in mind that the success of one is contingent on the other which is best for businesses to understand that their sales and customer insight are inexorably linked. However, to unfold the data in real-time VoIP integrates customer conversation records, purchase history, and all other key statistics from CRM, and enables call pop-up. That means when they are talking to a customer your sales representatives will have firsthand customer insight and can utilize that information to dig out what interests a customer most. This way, customer relationships will also be enhanced to multiply sales which indirectly increases the chance to cross-sell different products or services will proliferate.
Shorten Service Interaction with Increased Satisfaction:

As it takes too long customers to hate contacting service departments. And if you do not have a "smart" phone system answering questions such as service requirements could repeat several times before they get transferred to the right department. Along with that

VoIP technology

solves the issue perfectly. To make sure that every caller is always attended with a "live" operator it manages all aspects of call handling. And businesses will be able to gather customer input and route calls to a desired recipient/destination in a 24/7 automatic manner with the advanced IVR and Call Routing feature offered by a VoIP phone system. 
Boost Call Efficiency for Outbound Sales: 

Well, business sales is undoubtedly a numbers game. Isn't it? That means the more people you call, the better the odds of acquiring leads that will convert into customers. To help your sales agents connect calls easier and faster, with no chance for misdial you will need advanced tools. 
Some advanced VoIP phone systems offer click-to-call and hotkey-dialing functionality to automate tedious dialing instead of manually entering phone numbers. However, simply by a few clicks of the mouse, no matter the number is stored in a website, document, or any software-based CRM, greatly increasing the call efficiency for business outbound sales you will then be able to call any phone numbers that appear on your computer screen.
With Easy Reporting and Quality Assurance Evaluate Sales Performance:

Never forget that the key to a successful sales team is Performance reporting. Fortunately, for analysis of on-call times, missed call rates, and other KPIs that inform both individual and team sales performance VoIP phone systems provide sufficient call logs. Additionally,  to coach struggling sales newbies on how to interact with customers on a call for a better outcome, sales managers can use dedicated call recording or real-time call monitoring feature which in turns helps the whole sales team to identify the elements they have nailed and figure out what they could have done differently.
Expand Market with Local Presence: 

Allowing you to expand the market virtually without huge overseas investment a well-known area code can lend an air of familiarity to your business. In this way, the term, local business VoIP brings a whole new meaning.  However, VoIP systems allow you to own multiple virtual numbers with any area code you want as compared with traditional landline systems that are tied with local phone numbers that lower the barrier of entry for interstate or inter-country expansion and intercity. And best of all, by giving the impression of being a neighboring business your customers will never know where you're calling from and you will always enjoy the advantages.
Appear Professional and Bigger than You Are: 

When they seem like a big brand businesses usually get more customers in the arsenal. Be it music on hold, IVR, or voice prompts at the very touchpoint of phone calls VoIP holds the power of IVR, auto-attendant, and custom voice prompt features, which help to automate customer services and reinforce your brand identity by making your brand look big. 
Consolidate Inner Team Collaboration: 

However, it also improves team communication and collaboration for better business outcomes while VoIP certainly allows employees to call clients and vendors. It enables unified communications that allow employees to collaborate in multiple ways instead of limiting team communications to one-to-one phone calls. With conferencing, presence, messaging and file-sharing technologies in one single platform, some advanced VoIP systems would even combine enterprise-grade telephony which by no means offer greater agility for teamwork and facilitate real-time team communications.
Last but not least to facilitate business sales and improve business efficiency, as a business decision-maker you might not ever think of a VoIP phone solution could be an effective tool. And the call center solutions constantly find new opportunities with VoIP. So what are you waiting for? Is it your turn next?
We are one of the Best VoIP Service providers in India that offer customized cloud call center solutions with VoIP Business to improve the efficiency of your agents & boost your business productivity. Switch to VoIP System, walk hand-in-hand with the future. Call: +91-7008220621. Our VoIP services come with an extensive range of features to meet your business requirements. Sign Up and get FREE $5 credit today! For more info, call: +91-8800221713.