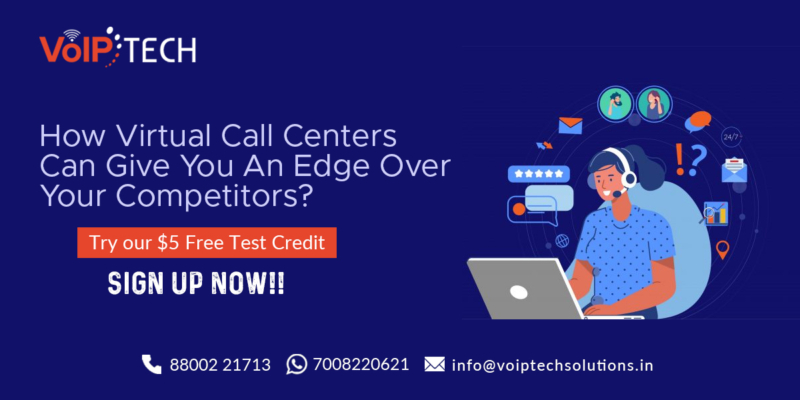 Have you ever wondered that having a Virtual Call Centers can make operations possible every day being anywhere? And how the benefits of a Virtual Call Centers can strongly outweigh those of a traditional call center? Because we all know that connecting with others is as of now an important thing. However, technology has made it possible to connect with people through various platforms like emails, phones, text or video chats despite the remote location. And in that case, Virtual call centers are not at all excluded from the technological ongoing trend. 
Always remember that Virtual Call Centers are one of the precious solutions for most of the employees working remotely. And having the right call center saves a ton while considering productivity. Isn't it amazing? And it saves a lot of your equipment and rent cost of businesses. However, that is the sole reason behind investing in Virtual Call Centers nowadays mainly the small companies and startups. As we know that Contact center software completely works over VoIP which means for making calls you need internet service. Ultimately you can say that the agent needs a strong internet connection to run a smooth Virtual Call Centers. 
Goodbye On-Premise Setup, Hello Increased Efficiency:
Always keep in mind that when you are considering a standard call center, two things come along with it one is the real estate costs and the other one is its higher turnover rates. And you cannot work as per your needs if your staff is confined within the office walls which creates an ultimate difficulty. However if you really need to hire more agents on a sudden basis, you need a bigger space for that. And for business growth, this will be time-consuming and quite limiting. 
When you are thinking of transit to a Virtual Call Centers, it enables your organization's turnover rate to be lowered. However, without affecting the moving schedule the employees can continue to work effortlessly. Now most companies, be it a small-scale industry or a startup everyone is realizing the benefits of Virtual Call Centers.  
Below are some of the comparisons made between on-premise and virtual call centers:
On-Premise Call Center:
The calls are being handled in the office by the agents.

The whole team is being structured through individual phone lines and separate locations.

With a very limited change, hiring and scaling for the company is minimal.

Coordination among the managers and agents becomes successful through in-person collaboration and meetings.
Virtual Call Center:
The calls can be handled being anywhere by the agents: Be at home, on the road, or on a vacation. 

Through Automatic Call Distribution and digital categories, the whole team from every department is structured well.

Allowing easy growth and downsizing, hiring, and scaling for the company is quite flexible. 

Coordination among the managers and the agents becomes successful through any digital communication tool and virtual conferencing. 
Cutting Down Costs:
Every organization should know that a huge cost can be eliminated through a virtual call center associated with having a traditional platform. So without downsizing your company, you can easily enjoy it by lowering your office real estate expenses. While maintaining high-functionality, you can easily operate with agents working remotely along with a smaller home-base space.   
Increase Agent Satisfaction:
To increase agent satisfaction, the agents working remotely are being provided with a flexible and trusted environment. Because, always keep in your mind that to bring great products to your company, you really need to keep your employees happy and satisfied. For which the agents don't burst out easily when they feel secure and valued.  
Increase Customer Satisfaction:
No matter where your agent is being located but with the help of Automatic Call Distribution the customers will easily get connected with the correct agent that can help out the best. The agents can easily and quickly communicate with the customers through omnichannel features of various channels like Email or SMS. However to get the customer's satisfaction and expectations, you need to offer multiple ways of opportunities to get the assistance they need.  
However, you must keep up with the industry advancements only just to maintain a modern contact center. As of now in the call center world, Virtual has become the new normal. And switching to a virtual call center puts your organization ahead of all others which is overly also beneficial for others as well. However, in this competitive market, you really must be prepared for everything that comes your way with the changes. 
As the worldwide pandemic has created a great barrier for the employees working remotely, implementing virtual features allows for desired changes to your call center operations. 
Being the pioneer in this industry, VoIPTech Solutions incorporates a dynamic option which is the Virtual Call Centers. We believe in creating a Virtual Call Centers at the most economical price. Or we can say that providing Virtual Call Centers for customer ease. For more info, please call: +91-7008220621. For more info, please visit our website: https://voiptechsolutions.in/.