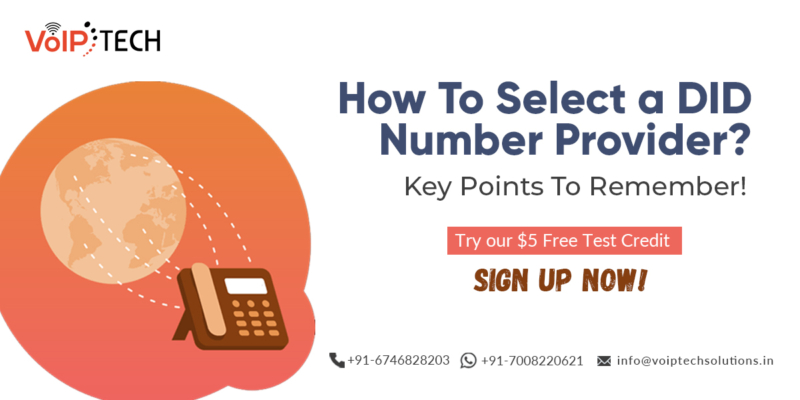 With the introduction of internet telephony, now businesses are not limited to their country of origin anymore. They can expand their horizons and explore new, promising markets, and for that, they necessarily don't need to open a branch in that location. This is the power of Internet telephony. Gone are the days of conventional landlines and welcome to the future of business communication. Now, it has become possible and affordable for businesses of all sizes to ensure a smooth and fruitful interaction between the customers and their live agents', improving the satisfaction rate. It doesn't end here, the technology has also come as a blessing in disguise for the employees, leveraging the freedom of work from the comfort of their house with DID Numbers. What are the DID Numbers?
By availing a series of legitimate virtual numbers from their DID number providers, businesses can provide each of their support team members with a personal direct phone number nicely printed on their visit cards. The best part is, they can use it for direct routing to other devices such as smartphones, tablets to name a few. Direct Inward Dialing (DID) numbers are none other than the very own virtual numbers that are used for call routing purposes to existing business phone lines. It puts an end to those trunk lines or the age-old extension systems that are very complicated to operate, allowing callers to directly reach the person they would like to speak to. You can easily route a large volume of incoming calls to the right extensions at a time. With the right set of DID numbers, you get the convenience of operating in different locations by a simplified business communications system.
Taking your organization to the highly competitive global marketplace comes with a huge price tag, isn't it? However, with DID service, you can control your communication expenditure to a great extent and get more. Well, in this case, the DID number provider you choose can make a huge difference. Before you make a decision, it would be wise to consider these key things to prove it right.
Do make sure that it is reliable & accountable: Reliability and accountability are the two deciding factors to judge the integrity of a service provider. Do make sure your service provider has a sophisticated website and genuine contact details. Also, don't forget to go through their previous customer reviews.
Does it provide encrypted security assurance: With the Internet becoming more vulnerable to threats, ensuring a proper security system in place security should be on the top of your checklist. As a business owner, you would never wish to let the hackers breach your accounting details through your

DID number provider

, right? Any kind of small security chasm can leave your business spellbound in the hands of hackers. So, do make sure you check out all the security protocols before shortlisting a DID provider for your business.
Compare cost, go for a free trial & make sure it gives a money-back guarantee: Cost factor is always the key concern. And, that doesn't mean to go cheaper, as all cheap things are not reliable. First, see the trial and judge the performance on the basis of merit. If that doesn't meet your expectations and get your money back.
24/7 Technical Assistance: Technical failures are a part and parcel of any business operation. Different time zones can create problems in getting technical support while troubleshooting the problem. Do make sure your provider has a 24/7 technical support facility.
VoIP Networks All around Globe: Most of the DID number providers are limited to certain geographical locations that can restrict your business operation in those countries that are not listed in the service. Do make sure that your partner provides you with international toll-free numbers with faster porting and instant uptime.
With an increasing trend towards global customer support, DID Numbers have now become one of the greatest assets that a business can possess. Most VoIP providers can give you valid DID Numbers to raise the bar of a company's customer service. This comes with a long list of benefits that eventually results in better ROI generation & brand value. The easier option is to hire a reliable Indian VoIP service provider that can provide you with legitimate ones. 
Are you a business or contact center, looking for a reliable VoIP phone service provider that can provide you with the required DID numbers? You better off strat with a VoIP package from VoIPTech Solutions. Our network is spread over 165 countries around the globe. Our paid VoIP Minutes plan starts at $10 per month and goes up to $20 per month. Our VoIP services come with an extensive range of features to meet your business requirements. Sign Up and get FREE $5 credit today! For more info, call: +91-8800221713.