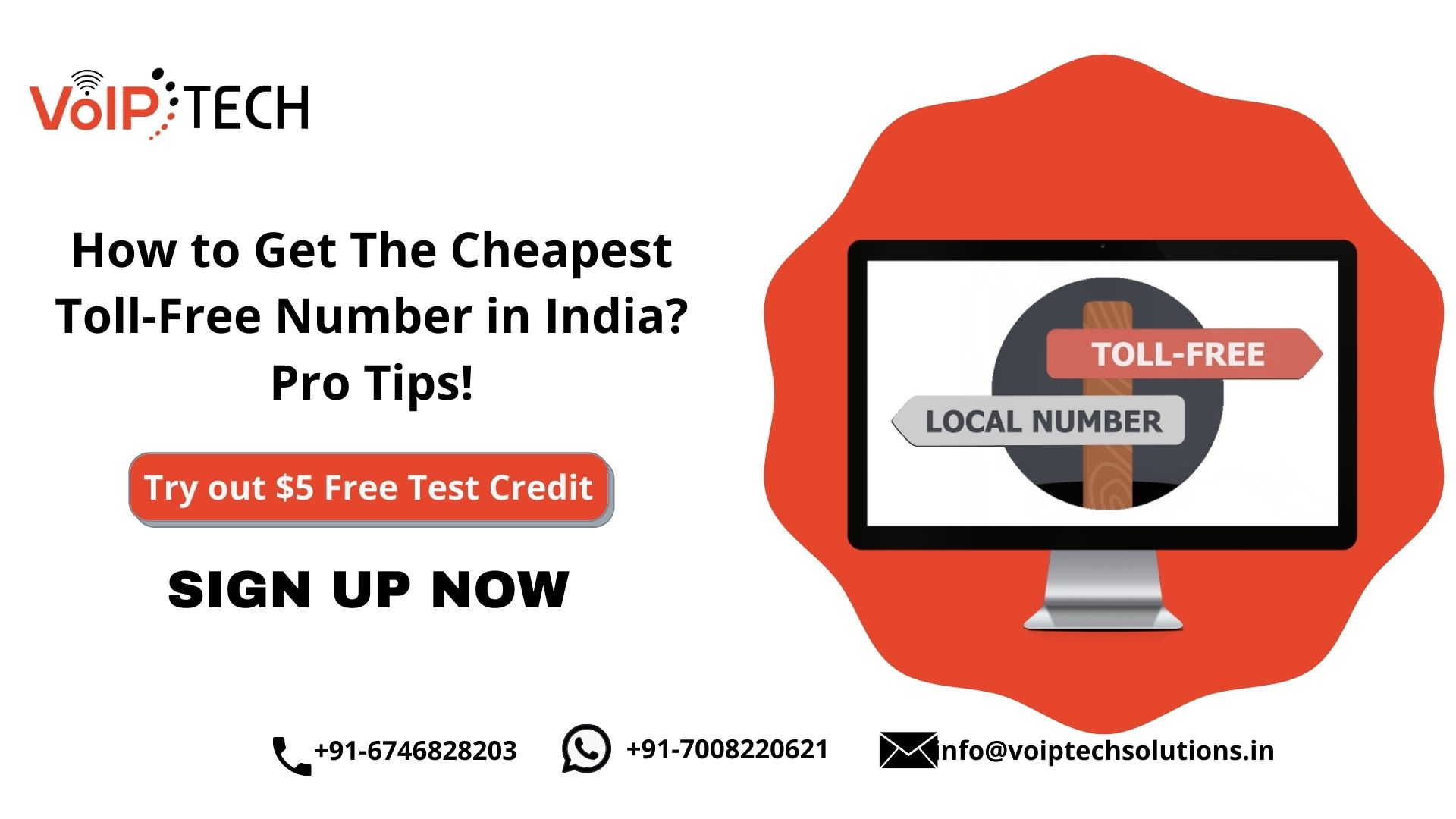 The biggest plus of Toll-free numbers is, people can reach your business anytime from any part of the world without any surcharges. Even today, calling remains the customer's first choice when it comes to contacting a business. If you have dedicated toll-free numbers, then customers find it easy to directly contact you without having to pay any call fees, which is applicable for both new and existing ones. Here the question is, how to get the cheapest toll-free number in India? Do I need to buy costly phone systems or purchase new hardware? Need answers? Give this blog a two minutes read to understand the process of getting the cheapest toll-free number in India and everything involved.
You won't have to buy expensive phone systems or need to hire experts to get Cheapest Toll-Free Number in India. Isn't that great?
Let's first find out the key difference between A Virtual Phone Number And Toll-Free Number. Shall we start? Okay!
Defining the difference in simple terms, a virtual number is a cloud-based phone number that businesses use to set the local tempo. When dialed they forward the incoming calls to the businesses operating miles away from the exact destination. 
A toll-free number is also a virtual phone number but with a major difference. These numbers come in a preset format, and in India, it starts with 1800-XXX-MOMA. Customers can reach you by dialing your toll-free number, here all the call costs are borne by the business.
How exactly do they work?
The working principle is almost the same for the majority of toll-free number services:
Dialing the number.

Calls being forwarded & getting connected to the actual business via their phone number that works behind the scene through the toll-free numbers

Callers ghetto speak to your agents that receive the call, the business on whose name the toll-free number is registered pay instead, callers here won't have to pay a single penny
What are the major benefits of having the Cheapest Toll-Free Number in India for your business?
Businesses highly benefit from a toll-free number and with the cloud telephony services they can access all the amazing features. No matter how big your team is or the size of your business, having a dedicated toll-free number for your organization opens up new windows of sales opportunities for a fraction of the cost. Other major benefits include:
Leveling it up with the MNCs: By having a toll-free number, you can take your business operation to the international level. It's all about being able to convince your audience that they are no less than a brand by displaying the number on your company website or on your visit cards. Do remember only professional companies do keep the toll-free number.
Increased lead conversion rate: You are not going to leave out any kinds of lead coming to you, as the calls are directly routed to your live agent's numbers. Managers can easily track those calls, record them for quality & training purposes, and quickly respond to these calls. The result? A great customer experience that eventually results in higher rates of conversion.
Operate nationally: Businesses with toll-free numbers able to come out of the local or small tag, exploring bigger markets in one go. You can be easily accessible to the national level audience, creating more business opportunities out of a wider customer base.
You can still receive calls on the device of your choice wherever you go: Its call forwarding feature, connect the calls to the designated numbers. Be it your office phone line, or any mobile number, the calls will be directly forwarded to the same, customers won't have to receive the voicemail on any day.
Provide Information: With the IVR integration, you can broadcast some important announcements or promote your businesses well.
A true delight for the customers: According to recent studies, business advertisements with toll-free numbers as the contact creates a positive outlook for the brand being an authentic one than the others that do not use toll-free numbers. And, the result is a higher response rate from the customers' end. 
Reliable service: You only pay for those incoming calls that come to your registered number, not a single penny more than that. Businesses with a small client base can easily afford the call charges while making the most out of it.
How can you get the cheapest Toll-Free Number In India?
In India, you are available with a plethora of options to get a toll-free number, you can contact a top network service operator or ask reputed Cloud Service providers for the same. However, the cheapest will be going with the VoIP service providers. What are the steps to follow in order to get a toll-free number? Here you go:
Step 1: Choose your 1800 toll-free number
Step 2: Enter the numbers you want your calls to be forwarded
Step 3: Add the IVR script of your choice
Step 4: Create an account
Step 5: Confirm & submit
Step 6: Your toll-free number is now activated
No matter wherever you go, getting toll-free numbers from the VoIP service providers is almost similar all around the globe.
Why Choose VoIPTech Solutions for Cheapest Toll-Free Number in India?
These days you are available with a sea of toll-free number service providers, but with VoIPTech Solutions, you will always be at the top of your game. What's new? Well, let's have a look at the benefits:
You won't be needing any kind of installation service.

You can change your call forwarding numbers at your will in real-time

Avail real-time data analytics of the calls, making improvement to your current customer services

CRM integration

for leads tracking and conversion rate optimization

API integration

Option to choose from a huge selection of genuine, professional-looking numbers that are pretty easy to remember

All the additional features of cloud telephony 
If you would like to take your business to the next level by giving a more professional look to your contact support, then getting a cheap toll-free number from VoIPTech Solutions will be your best bet. We can make it happen in a few minutes. You won't have to worry about the setup & all, as our technical team will do all the hard work and assist you during the process. Then what are you waiting for? Pick up your phone and dial: +91-6746828203 and get going by starting a new chapter in your business history. We will tell you what is suitable for you right at the moment and what are features should include in your current subscription. You can customize your toll-free number according to your brand name.