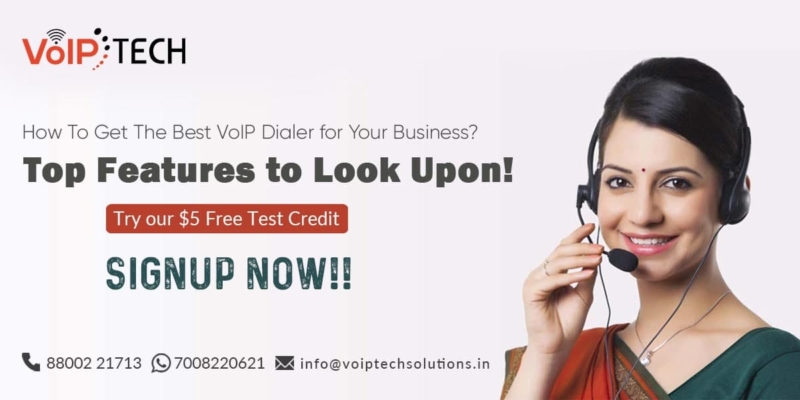 Have you ever thought How a VoIP Dialer could be a holy grail for a modern contact center solution? And What are the top features to look for while adopting the best VoIP Dialer? Well, the answer is quite simple. Because always remember that a good VoIP Dialer is the only asset to boost up your contact center performance but at the same time if you are choosing bad software it will dramatically decrease the efficiency. 
However, this is the reason behind adding up a VoIP Dialer by most organizations to their marketing, sales, and client management suites. Considering the various benefits of this VoIP Dialer for a contact center like best customer experience, real-time interactions, lead management improvement, and increase in the call agent efficiency. 
Below are the important things to consider when choosing a VoIP Dialer: 
 

Compatibility

: Always remember that when you are choosing a

VoIP Dialer

for your Call center you should always consider a stable and reliable working process which is a must for great productivity along with software compatibility. However, there are also some things left behind that do not go well with a

VoIP Dialer

during its implementation. Apart from that, there are many cases where it does not suit your business needs just like failing to integrate the already used systems with other business systems, being unable to solve all the required tasks or it might not just have all the other features. Before buying the VoIP Dialer, just make sure to avoid the potential difficulties. As most of the call center solutions are in the hurry to showcase their products in action, so before making any commitments try to just grab this opportunity in any way. 
Scalability:

Never forget to include the scalability characteristics in your to-do list if you really want to stay in business for a long time. Because if you are running a seasonal business then also scalability is quite important for the company. However you really need to take care of a few things first like the number of agents using it randomly, the number of

outbound calls

it can usually handle and how quickly you can usually remove or add the agents from the running campaign. Last but not least, despite the modifications, you really need to check whether a

VoIP Dialer

is still functioning well and working properly. 
Versatility:

  Do you know that the basic

VoIP Dialer

can only connect the agents through dialing the number with good prospects? But you really need more for your

call center solution

to stay competitive, avoid getting into troubles with the law basics, and most importantly provide a high-quality service
Below is the list of some of the most useful features which include:
Integration with your existing CRM tool

: Always remember that storing the data in several places is extremely useless and inconvenient. Because a lot of time is being wasted by your agents while navigating among the various solutions. However, for any productive work,

CRM Integration

is quite essential. In real-time, the

VoIP Dialer

should always be able to import and export the data easily from the

CRM system

along with receiving the newly collected data from the other external systems. 
Comprehensive reporting:

Never forget to keep a detailed report of calls, KPI, campaigns, and agents productivity which is undoubtedly extremely important and helpful. To enable problem detection and immediately addressing them, you really need a

predictive dialer

for valuable insights into the call center work culture which is undoubtedly great support. 
Legal compliance:

Being aware of the fact that the outbound call is strictly regulated by law only because of its complicated history. In this process, there are various legal regulations imposed on different kinds of aspects. Consider an example: If a person has restricted the call then you are not allowed to call them but at the same time you can start an immediate conversation once the prospect answers the call. To avoid the headache of controlling everything manually, VoIP Dialer follows all the regulations and restrictions for each and every region which can actually help them out. 
Technical support:

Having a cloud-based call center solution is one of the greatest benefits through which the technical support team falls squarely on your dealer's shoulder. And to know whether the dealer is reliable and responsive you have to deal with them through the entire process of product usage. Through which you can easily judge whether the company you are going to deal with is an easy-going one and is a good fit for long-term business cooperation.
Because most of the time you might face issues as the vendors look perfect on paper without proving it in action. This is the only reason behind believing whether the company is trustworthy or not. So within your network, you really need to look after some important things just like asking the vendors regarding the effective solution that can help the other customers to address similar business problems, customer review verification, and obtaining references from other people. Last but not least always think of spending more time researching your vendor which ultimately creates a bigger chance of making the right choice. 
Price:

On the other hand the price of a

VoIP Dialer

completely depends upon the dealer's functionality and its limitations. Apart from that, you can choose either factor-like can buy expensive multifunctional software or can go for free open-source basic app. Ultimately, in the end, the choice completely depends on the business needs. And if you are looking for go one-time solution, then you can blindly choose a free open-source app. And if you are looking for a long-term dealer, then you really need to make some good investments. But never forget that free software is always limiting its capabilities and lacks technical support. 
Well, looking for the best VoIP Dialer for your call center solution? Our VoIPTech Solutions VoIP Dialer is a self-sufficient and versatile solution posing all those characteristics. 
Being the stakeholder in this industry, VoIPTech Solutions incorporates a dynamic application which is the VoIP Dialer. We believe in providing a VoIP Dialer at the most economical price. Or we can say that providing a VoIP Dialer for customer ease. For more info, please call: +91-7008220621. For more info, please visit our website: https://voiptechsolutions.in/.