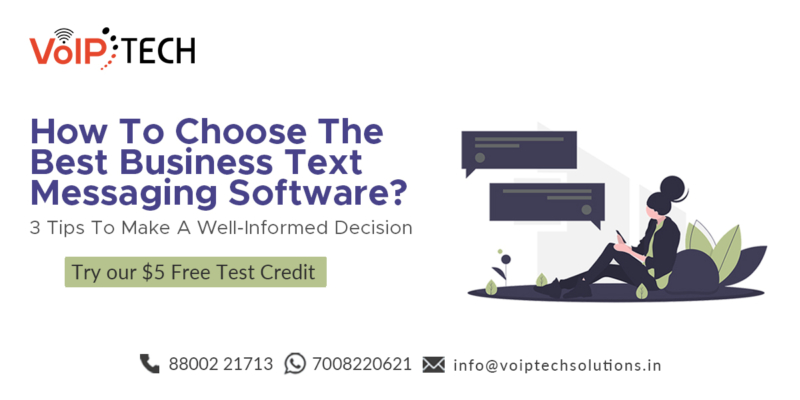 No matter how far technology has taken us, we still prefer to use a few things that we liked from the very beginning. Yes, we are talking about text messaging. You would also agree to this. Nowadays text messaging software has become an integral part of the call center business. They are using text messaging for sending promotional and informational notifications to their clients. Different sectors like E-commerce, logistics, healthcare, educational institutes to name a few are using Bulk-SMS to improve their brand value. So, how do you define text messaging software? How does it work? 
If you ask the experts, they would tell you the exact definition of text messaging software. It is a tool that is used to send messages to multiple recipients at the same time. But we will tell you how it works so that you can have a better understanding of the software and its amazing features.
Exclusive Features of today's Text Messaging software:
Call Management: Today's next-gen Text Messaging software is designed for businesses of all sizes. The multiple conversation management features of this software allow call centers

to manage hundreds of message recipients at a time. Isn't that useful?
Multi-User Login Support: This software allows multiple users to log in at a time and manage ongoing conversations from any part of the world, using the same number. Each user can view the conversation with various recipients as they come to the portal.
Message Scheduling: The message scheduling feature of the software allows users to schedule their messages and send to recipients whenever they want. It helps contact centers to reach a maximum number of customers and make them read the messages they want to convey.
SMS To Mail Forwarding: The SMS to mail forwarding feature of this software allows businesses to forward text messages to the Email of customers for making sure they read the messages.
Advanced API: The advanced API of this software empowers call centers

to sync their contacts and inbound, outbound call log list. It is intuitive and convenient for everyone to use.
Three Things to look at before choosing Business Software?
Call centers must check these three things before purchasing a business text messaging software. These areas follow:
How effective is the software: Do make sure you have done thorough market research, see how results-oriented is your software. According to recent studies, text messages are seen within 90 seconds while Emails take almost 60 minutes to be seen. Most of the advanced software gives power to your hands to interact with your customers the way you want. As the response rate is high on text messaging, you expect to get instant results.
Can you use it to connect with offline clients: If you have problems in reaching your customers who live in remote locations, text messaging can be an effective way to reach out to these people. Those recipients, who have no internet connection, can easily receive your text message. Therefore the need for advanced business text messaging software becomes effective in building a strong audience base for you.
How much it costs you: The text messaging software is cloud-hosted therefore you do not require any additional and costly hardware deployment. You can easily start your campaign without spending much capital and expect a great ROI from your Bulk SMS

campaign.
Last but not least, with the rising number of mobile users in India, investing in a tool that actually reaches millions of users per day is definitely a wise move. The mobile phone user portrays the numerical data, the business text messaging software in India is the easiest communication to promote your brand value. In India, more than 50% of people don't use emails or computers. But the use of mobile phones is high. So it is easy to reach the target customer within a short time. So the text messaging software can be effective and time-saving.
Again, in this highly competitive digital world, you can't fight the odds without having software that can actually deliver for your business without costing you a ton. Most of the modern business phone services have already tested the success by providing a great user experience to their customers with these text messaging software. So, why haven't you capitalized on this technology yet? If not, then this is the best time to do it. 
Are you a business or contact center solution, looking for VoIP Providers that can provide you with advanced business text messaging software? You couldn't have a better choice than VoIPTech Solutions. We offer you the most advanced bulk software in the world along with virtual phone numbers in over 165 countries around the globe. Our paid plan starts at $10 per month and goes up to $20 per month. Our VoIP services come with an extensive range of features to meet your business requirements. Sign Up and get FREE $5 credit today! For more info, call: +91-8800221713.