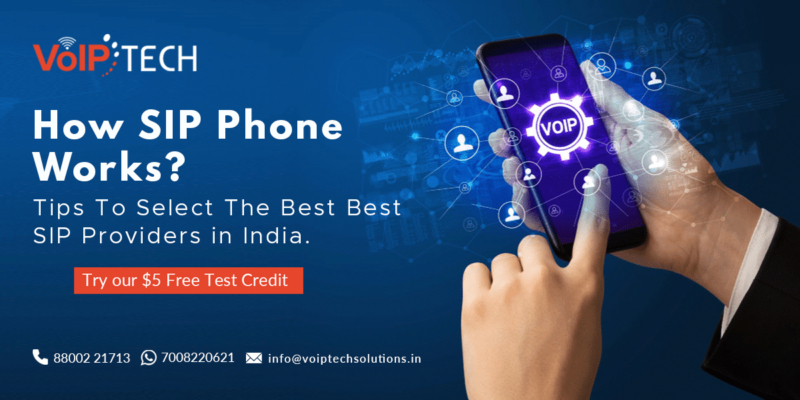 SIP Phone (Session Initiation Protocol), has become everyone's cup of tea in no time, and for a reason. Why? Well, most modern-day organizations and IT sectors don't want to stereotype a particular location, so they are looking for advanced business phones that work beyond geographical barriers and meet their business requirements. Business leaders all around the globe are tilting towards cloud phone services to empower their workforce with tools that help make the effective communication. And, one of the more cost-effective and user-friendly choices is to go with SIP phone systems. It's wise to choose the top SIP Providers in India.
It's true. SIP providers in India Phone tend to be very cost-effective that don't cross the allocated budget of any company. Here is everything you would like to know about SIP phone systems and Indian SIP providers.
What exactly is SIP?
SIP (Session Initiation Protocol) is one of the most advanced communication protocols that is known for managing HD quality audio & video calls with multimedia functionalities. To get started with SIP, you need to ask your SIP provider to provide a SIP phone to make communication via the internet. With SIP phones, you can make secure & encrypted calls to any number on the planet, using your existing internet connection, which was the case with traditional phone systems.
Using SIP protocol, you can unify your communication channels, by successfully integrating basic phone functionalities with video calling, emailing, instant texting, and more. SIP phones are not just limited to making calls only, you can do a lot more than just calling with a sense of scalability & reliability. With SIP, you are allowed to expand different horizons of video calling and instant messaging. You will come across the use of SIP applications in most modern-day communication products. You can take any desk phone, software-based phone, as an example of SIP. A number of companies have gone a step forward by upgrading their legacy systems with SIP trunking? Why did they do that? For cost-cutting and improving your calling capabilities.
What are the unique features of a SIP Phone?
A SIP phone might look like a common office phone, but with a difference. When it comes to calling management, you couldn't have a better choice than the SIP Phone. You can connect your SIP phones directly to your cloud-based VoIP phones without requiring any on-premise hardware or servers. Hassle-free installation and no maintenance.
Top features of a SIP phone:
You can enjoy all the benefits of call forwarding that include both basic and advanced 

You can put the callers on hold with music as an option

You can add multiple callers with call conferencing

Enjoy HD quality calling anywhere, anytime

Enable auto-attendant feature

Record Calls for quality & training purposes

Shared call appearance

See the caller ID or customize it

Integrate mobile and desktop-based apps
Types of SIP phones:
In general, SIP phones are divided into two categories: 1. hard phones, 2. softphones. Both are good in their respective fields and areas of use, offering distinct benefits.
Hard Phones: Hard phones are pretty much similar to regular telephone systems in terms of look and functionality to some extent. You can use the Ethernet cables to connect these Hard phones and they are available in cordless versions as well. Not all hard phones are the same. They are classified into three basic categories that are basic, intermediate, and advanced in terms of their price, features, and operational capabilities. 
Softphones (VoIP): Where on the other hand, softphones are basically applications that provide users with phone service connectivity through software installed on a desktop, laptop, or smartphone. You can use the VoIP App to get started with these softphones. With VoIP,

you can expect HD quality calling with a high-speed internet connection.
Advantages of Using SIP phones:
No matter what you are into, upgrading to SIP phones can save you millions of dollars from getting wasted. Listed below are a few advantages of using SIP Phones:
You won't have to run after your local telephone service providers to set up copper lines

Zero maintenance, no additional configuration required (until future extensions)

Your workforce can stay connected with the business while working remotely

Advanced level security encryption for superior call security

Cloud-based advanced features with future upgrades

The ultimate goal of SIP phones should not be limited to the basic requirements only, as you can do a lot more than that. Take inspiration from the big enterprises and put some real-world examples to make the best out of your SIP Phone.
Now you must have understood how SIP Phones works and the ways it can benefit your business. So, what are you waiting for? Join your hands with the best SIP providers in India & take your business to the next level. If you are a small or mid-sized business, looking for VoIP Providers that can provide you with SIP phones and low-cost VoIP Minutes? You couldn't have a better choice than VoIPTech Solutions. We can port your number and retain the same number with different service providers that work with any smart device. With us, you get international phone numbers in over 165 countries. Our paid plan starts at $10 per month and goes up to $20 per month. Our VoIP services come with an extensive range of features to meet your business requirements. Sign Up and get FREE $5 credit today! For more info, call: +91-8800221713.