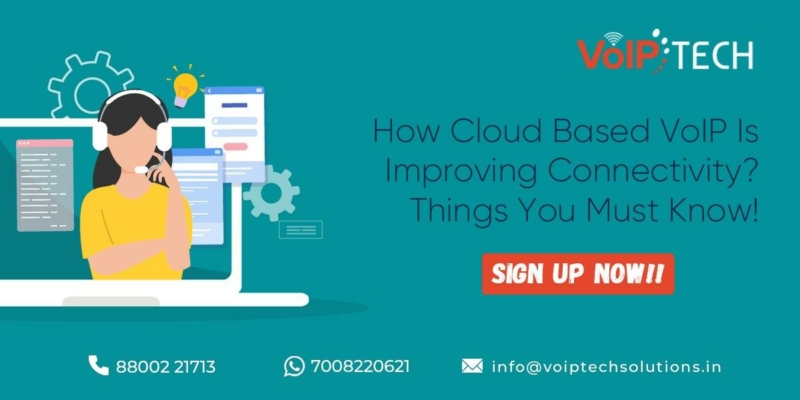 Don't you think cloud-based VoIP is becoming a necessity for today's successful call centers? Because remote workers are becoming increasingly more in this digital world. However, it is the only reason to start shifting from on-premise to cloud-based VoIP by making your business risk-free. A cloud-based VoIP offers all the features that an in-house VoIP serves like it manages messages, forwards the calls, and has a tremendous ability to add extensions. Isn't it really amazing? 
Well, having several additional advantages the cloud-based VoIP is the only technology that saves you and your business money.  
A More Affordable Way To Connect:
Always remember that the only reason behind choosing a cloud-based VoIP is how much affordable it is. However, now a cloud-based VoIP system is not anymore a barrier for any smaller organization that possesses very few staff and is looking for cost minimization. 
As the cloud-based VoIP network is fully online-based, so you do not need to invest a single penny in an expensive on-site phone system. Apart from that you really need to buy VoIP phones and a separate routing kit, but at the same time, you can skip purchasing the extensive equipment that is required for an on-site system. 
Easy Set-Up
Customers are quite choosy while purchasing the right cloud-based phone system due to the cost factor. Well, in that case, a cloud-based VoIP is very easy and fast to get up and running. Instead of rerouting the wires and some extra major equipment to set up, you can really save a lot of money and time. 
Accessibility
When you are adopting a cloud-based VoIP system, everyone can easily access all the features of the systems irrespective of their location. And longer the connections through broadband by the employees remain constant, the access to VoIP systems remains constant. 
Apart from that, you can save a lot of money not only by purchasing an extensive on-site system. Isn't it really great? 
Distinctive Features of a Traditional VoIP, in the Cloud: 
Now every organization adopts the cloud-based VoIP system quite well. But that does not mean that you really need to give up on some of the great features of traditional VoIP systems. You can really make things happen with an in-house phone system and many more which is really required for your business.  
However, with this cloud-based VoIP system users can easily record their voice mails, quickly set up multiple voicemail boxes, and can also read out the voicemails online. Apart from that, the calls can also get forwarded to other required departments easily. Last but not the least, you have the freedom of using a traditional phone or cell phone to receive the calls.  
Scalability
While considering an on-site system, there are many restrictions for many people who can connect to it, but on the other hand, a cloud-based VoIP system allows you for endless expansions. And the best part is? You can easily add as many people as you need to the system and the process which is quite simple. 
Improved Operations with External Management
Keeping in mind that a cloud-based VoIP system is managed externally, your IT department will not be responsible for managing your VoIP system. Ultimately it allows the IT department to focus on other areas, by reducing the amount of time and resources which is allocated to your phone system.
A Flexible Solution
For a smaller business, a cloud-based VoIP system is undoubtedly the perfect solution irrespective of the functionality and flexibility of a larger system for quite less. However, a cloud-based VoIP system implementation ultimately improves the overall connectivity among the call center representatives and the customers by offering more flexibility to business owners as well as their hardworking employees.
How More Cloud-Based VoIP Can Help?
However, VoIP has changed the calling process quite well and maintained flexibility and connectivity, and information sharing among the two persons talking over the Internet. Well, the future of  VoIP is pretty clear, instead of many calls, it's all about the data. 
Now whatever VoIP has done for people as well as for business regarding the telephone calls and services, VoIPTech Solutions is doing much better with great knowledge. However, the organizations that are switching to VoIP, have now faced a 50-70 percent drop in telecommunications costs. Isn't it really amazing? Well, it costs quite less on both the services as well as the infrastructure sides than any other legacy telephone system.  On the other hand, it saves your phone bills and long-distance international calling charges. As the VoIP operates over the Internet, one can easily replace the phone company by paying a single bill for all of your communication needs. 
Ultimately the demand for  Cloud-Based VoIP in call centers is growing. If you're looking for a lead-rich website then VoIPTech Solutions is the ultimate destination for you! To get started, call: +91-7008220621. For more info, please visit our website: https://voiptechsolutions.in/. We will be proud to serve you!