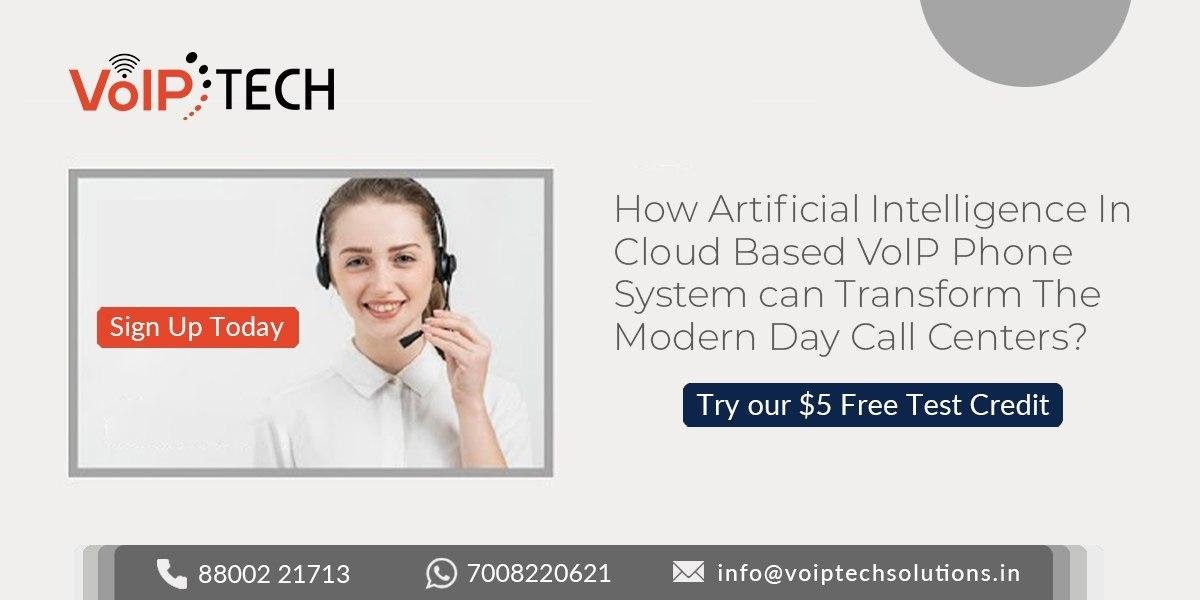 AI (Artificial Intelligence) and machine learning combined has been the most advanced tech in recent years & it's here to stay. From showing the products you may like in Flipkart, Amazon, Myntra, etc., to help bots on customer service websites, you will find the applications of AI in almost every field. Businesses looking to take it to the next level can harness the immense benefits of Integrating Artificial Intelligence In Cloud-Based VoIP Phone system to become more efficient and productive – and to stay ahead in the ever-changing marketing landscape. And, if you are a call center, integration of AI In a Cloud-Based VoIP Phone System could be the game-changer for your customer service. Want to know how the integration of AI In a Cloud-Based VoIP Phone System can benefit your contact center? Keep scrolling.
Here is an overview of the remarkable services that you can offer to your customers with AI-powered cloud-based VoIP phones – and how it helps you grow as an organization.
Interactive Voice Response: In general, what's your take on calling to a

customer care

? I hope, it's not satisfactory! 
 "Press #1 to listen in English. Press #2 for other language"
"Press #3, if you are an existing customer. Press #4 for select from the menu"
"Press #5 to select the category, Press #6 to………"
Well, by the time you get to speak to an actual customer care representative, you feel exhausted, right?
This is normally what happens during a tech support call. Customers buy products or services, they face a problem, call their customer support, and then spend minutes listening to multiple rounds of a recorded voice reeling off a menu of choices, before finally getting routed to an extension. Only to end up being on hold for half an hour. Are you doing enough to give a great customer experience every time? More likely than not, the person who's on the other side of the phone gets irritated by the time he/she speaks to an actual human. 
There comes AI-powered interactive voice recognition technology. Its IVR receptionists don't take much time, by quickly accessing queries of the callers and processing the request to the right extension within a fraction of a second through call routing.
It not only saves your callers valuable time, but also puts an end to those long halt, keeping them happy to deal with you time again. With millions of requests processed every day, companies need this technology to manage them more efficiently.
Transcription of Recorded Calls:

Well, you can call it another handy application that comes with the integration of

AI In a Cloud-Based VoIP Phone system

. The application uses the same voice recognition technology to transform the recorded calls into text documents. The voicemail-to-email and voicemail-to-text feature of a

VoIP Phone System

is based on this technology. As the name suggests, the voicemail messages are transcribed into text documents and then sent to the inbox of the concerned person, or to the messaging platform of your choice.
An employee gets instant access to the voicemail messages anywhere, anytime without having to wait to get back to the office. It can transcribe the entire conversations between customer care representatives and the customers, and store them in the internal database for future reference. Above all, it would come handy in case of any disputes and to give a more personalized customer support.
Language Translator:

These days, you can avail exact rendering of texts and conversations in a matter of seconds that too with 100% accuracy and this is only possible with

AI

. In this highly competitive marketing landscape where businesses are eyeing for global presence, this could prove to be a saving grace. With businesses going online, integration of translation assistance into your business phone services can take your communication to the next level. And paves the way to business success. Whether you would like to translate English to Japanese or any other foreign-languages,

AI

translation assistance can be an invaluable asset to serve overseas clients.

Data Analytics

: With

AI

in your

VoIP Phone System

, you can easily deal with staggering amounts of data in a matter of seconds. These analytical data provide you with in-depth, actionable insights to optimize your marketing strategies. You can analyze the call metrics, anticipate the behaviour of callers, and evaluate the performance of your workforce. With the algorithms getting smarter with each passing day, this technology can help you in decision making with better efficacy. In conjunction with CRM systems,

AI

analytics empowers you to give a personal touch to almost everything from regular follow-up calls and text marketing campaigns to web browsing and email marketing.

Process Automation:

This is one of the best applications of

AI

for

VoIP Providers

in particular. With Process Automation, you can eventually boost the productivity & efficiency of your business to a great extent. On the basis of the data obtained from various processes, you can automate certain things to yield better results. You can use

AI

to improve areas with low efficiency such as; agents' performance, team effort, process flows, and internal structures. You can streamline workflows by automatically shuffling tasks among your workforce based on their current performance, like follow-up calls, sending email, etc.
The bottom line is – In this highly competitive digital world, you can't fight the odds without 
integrating AI in your system. Most of the modern business phone services have already tested the success by providing a great user experience to their customers. So, why haven't you capitalized on this technology yet? If not, then this is the best time to do it. 
Are you a call center, looking for VoIP Providers that can integrate Artificial Intelligence In a Cloud-Based VoIP Phone System? You couldn't have a better choice than VoIPTech Solutions. We offer you robust and fully functional AI-based VoIP Solutions that works on any device. With us, you get international phone numbers in over 165 countries. Our paid plan starts at $10 per month and goes up to $20 per month.
Our VoIP services come with an extensive range of features to meet your business requirements. Sign Up and get FREE $5 credit today! For more info, call: +91-8800221713.