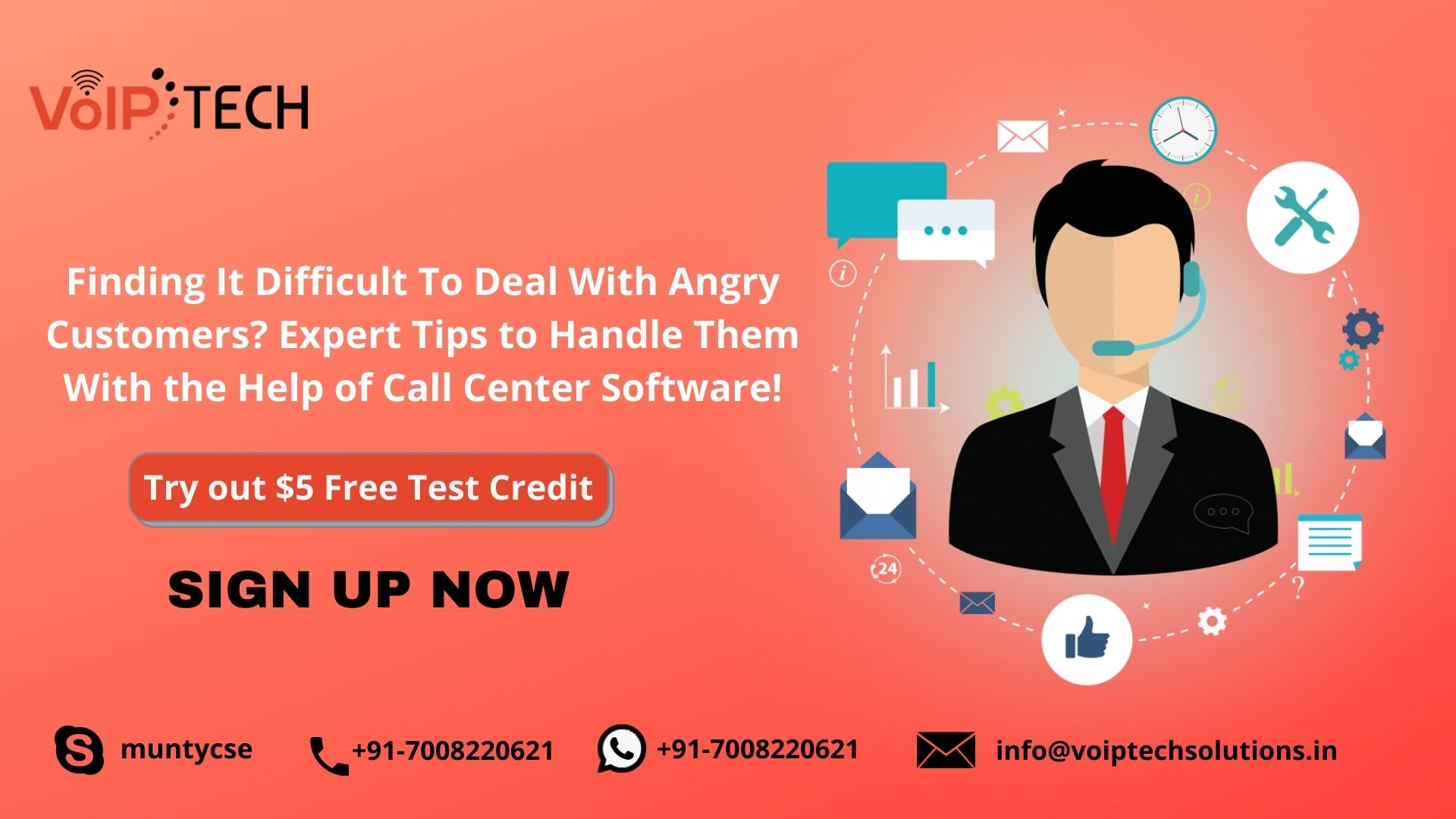 Running a call center is not an easy job at all. Thanks to the advanced Call Center Software, for taking the customer service to the next level, making the overall customer CX highly satisfactory. Call Center Software is also a great help for the workload management of the live agents. But is there one thing that keeps hunting even the best contact center solutions in the world and they don't have an answer for it? What is it? Have you ever dealt with angry & upset customers – satisfying them can be a herculean task! Even the most patient & cool agents are not able to handle their attitude – these are the primary reasons call centers experiencing a low employee turnover rate.
According to recent studies, over 82% of call center agents are experiencing difficult situations dealing with the callers, handling their aggressive & not-so-soft spoken conversations that eventually end up with abusive languages. In general, agents in contact centers come across situations like this at least 12 times in their working hours every day. What is the solution?
The solution lies within the system. You need to find out the most effective way to deal with customers' anger management and how to keep them calm during the interaction. By doing this you will be able to retain your existing customers and win their trust that eventually results in maintaining the upward trajectory in the retention graph.
No matter how big or manipulative you are as a call center service, you will still require the actionable strategies in place in order to deal with everyday challenges that you generally face while dealing with angry, frustrated customers.
Here are a few things that call center managers should watch out for:
If you are a call center manager, then it is your sole responsibility to measure the customer satisfaction levels and find out key factors contributing to the dramatic decrease in clientele.
Of course, the pandemic restrictions have forced many organizations and forced retailers to reduce their employee numbers, and the only positive is remote work which has driven the productivity level to an all-time high. What is the impact of the workforce laying off? Not having enough live agents to respond to customer queries, as a result, customer support is now dealing with serious frustrations vented out by the customers'.
If you take a serious look at the current surveys conducted by various agencies, 72% of the callers feel that the overall quality of customer service has declined with the surge of covid cases due to the third wave. They should be because this is the time when both businesses & customers need each other the most. By the way with travel restrictions in force, is there any way to reach a business? Hopefully, No! There is a huge pressure on agents to deliver in these circumstances and they are now burdened with handling more numbers of calls than they used to.
Focus more on more inbound calls: With pandemic squeezing people from every angle that is in person and from the financial point of view, it is obvious the frustration to reflect in their behavior. The result? More quick resolution seeking and demanding customers. What is the best way to deal with it? As a manager, you need to take some proactive steps that lie in your capacity. Find out the best person to deal with these unruly behaviors and categorize them into different parts based on their past performance. By doing this, you can ensure having the right people in the position to deal with uncertain situations that result in increased customer satisfaction level and agents feeling more confident about their approach and staying in service for a longer period.
high FCR rate: Customers these days want an immediate resolution to their queries and those who do not, supposed to get angry with the support team. On average, 78% of the customers expect their queries to be solved within a day or less, and they do not want to keep calling the agents to get it done. Why should they? It is better to choose another service provider and they are available with a lot of options. After all, why should they wait for the service they are paying, their demand does make sense.
By improving your first call resolution rate, you are setting a higher standard for your customer support that does not require regular follow-ups. It pays in your best interest, customers' knowing that they are not going to face any kind of service request irregularities. They do not require to keep repeating the same thing time again, which is indeed very frustrating – be it you or me, nobody likes to repeat and do not have time for the same as well. Integrate the CRM software so that your agents can avail all the customer data at their fingertips that help them understand the customers better and give solutions accordingly. You can also opt for having the IVR system in place to solve common problems that see redundancy and effective call routing in place.
Call analytics: These days most call centers experience a marginal drop in their client satisfaction rate, the reason is growing competition and unavailability of human resources. In this case, you need to analyze your KPIs and key metrics.
The real problem starts with the managers' ignorance of the customers' changing needs and their current mindset. They often think that knowing the customers better and what problems they may be facing, but the reality sounds something else. You can't see all the problems from your perspective and you have to go to the root of the cause and offer them the appropriate solutions with immediate effect. By analyzing their past queries and what they are facing now with the real-time data obtained from the key metrics and real-time analytics helps you find the key reason behind the poor customer experience. For better results, do not forget to take the agents' feedback, this would be a great help to determine what needs to be done instead.
Here are the list of key things that you need to analyze:
The average duration of the inbound calls

The FCR rate

The rate of call volume based on the peak and normal operational hours

The percentage of missed calls

Call redundancy rate

Calls per resolution

The rate of call transfer

CSAT score

The average decrease or increase in retention rate

The average time is taken by the agents to respond a call

Calls that put on hold

Customer's most favorite channels to communicate

Agents' performance
Listen to the call recordings: By listening to the call recordings carefully you get involved in the process and get to know whether the fault is from your side or from their end. You can get into the skin of the conversations and understand the customers' psyche better.
How Call Center Software can help you:
What are the most common problems that customers face on a daily basis?

Are they satisfied with the solutions provided by the agents'?

Have you improved the quality of the service and if not, then how you can?

Common queries coming from their side?

Which agent is good in which area, and what is his/her strength and weakness?

The intent of the customer'?

Have you been able to improve the resolution?

And, the overall customer satisfaction?
Introducing IVR: Imp: Customer getting to speak to a live agent has no limitation, however; there are some calls that do not require any kind of human intervention and puts an extra burden on agents' shoulders. So, why would you spend more to hire new resources? What you can do instead is, have an IVR system in place that empowers the callers to serve their own needs with just a press of a key and take some pressure off from their agents so they can focus more on something needy. You can effectively route the calls to the right person or the concerned department if the issue is not solved by the IVR menu. In addition to this, IVR has become a new benchmark for the businesses that customers look for. 
Train your agents: Keep everything aside, try to prepare your agents to deal with all possible scenarios that may come in the near future and how they should react to them. This would be a big plus for agents to be well aware of the situation at the earliest possible and react accordingly.
Client retention is the biggest asset when you're operating remotely, especially in this pandemic-driven market. New sales are not in your control but retaining the existing one is in your hands. So, in the hope for the new, do not lose the old ones, as they are ones that would stay with you for a longer period of time. Do make sure you hire the right VoIP provider to get the job done. Are you a service-based business or call center service provider, looking for affordable VoIP solutions that can provide you with advanced VoIP phone systems and the required software to support remote support teams? You couldn't have a better choice than VoIPTech Solutions. We offer you VoIP phones with call center software that not only empower your sales team but also make support a pleasant experience. Save big with our paid VoIP Minutes plan, starting from only $10. For further queries, please call: +91-7008220621.
[/fusion_text][/fusion_builder_column][/fusion_builder_row][/fusion_builder_container]