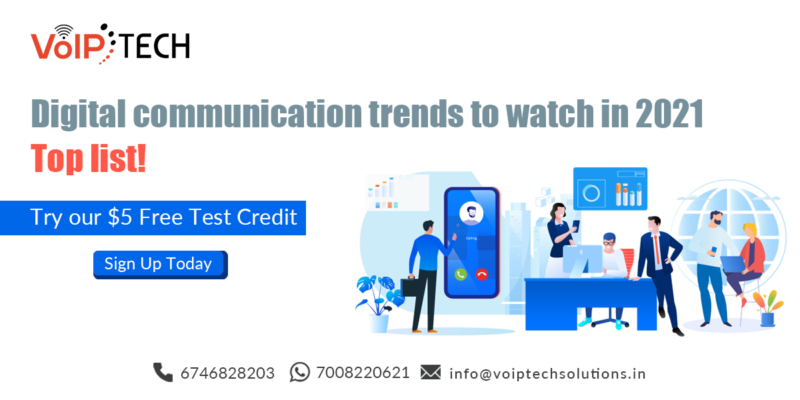 Digital Communication in 2021! Sounds interesting. Right? Well, have you ever thought about Digital communication trends in new-age communication? And how smoothly can Cloud Communication be when it comes to flawless communication? Because 2020 has been a disturbing year and people are really waiting for the government to propel the future of communication in India. But at the same time, if you are running a call center then you do not need to be worried as Cloud Communication has become an excellent asset.  
However, communication is one of the primary mandates but at the same time, there are also some other goals involved such as revenue creation, job creation, and security. 
Below are some facts listed one can see in the digital communication space in 2021:  
Convergence of communication will lead to better customer experience: Always remember that on the convergence of communications we placed our bets heavily at the beginning of 2018. However, by restructuring the regulatory framework the NDCP has taken a step in this direction. And to stay relevant thus leading to a better customer experience with the framework in place, across different platforms we will definitely see more companies adopting a mix of communication. Apart from that across different media, we will see companies providing an interesting mix of complete communication. And if a call is routed over IP or over PSTN it will also cease to matter. Moreover, it will vanish just like the difference in cost which was touted as a benefit of the difference.
Distributed call centers will become more cost-effective:

However, distributed call centers will be not just efficient with lowering call costs and the advent of convergence but also cost-effective. And there is an increasing number of customer conversations that happen outside the traditional call center with changing business models. Using a distributed setup these can be easily tracked and measured as well.
The language barrier will be a thing of the past:  Being the language barrier, Voice communication has become one big limitation today. However, for some breakthrough in the real-time translation of communication happening between people speaking different languages you are going to see soon. Let's consider an example, to ensure that there is nothing lost in translation, literally and figuratively you could have a conversation with someone speaking in Bahasa and be able to interpret that in English.  
Simple will be the most powerful: 

Never forget that the communication needs to be simple and low tech with an increasing focus on the Indian rural market. However, to bring voice to the next billion users we will see more and more companies tapping into the user-friendly, easy-to-understand feature phones via calls & SMS. And the possibility is endless with features like interactive SMS and smart IVR-powered calls.
Increased focus on customer privacy: 

There will be renewed interest in the way customer data is currently handled, with the NDCP emphasizing keeping customer information private and secure. And when it is absolutely essential, companies will have to ensure that they share customer data judiciously. To protect sensitive customer information like phone numbers when sharing with third parties, the right measures have to be ensured as phone numbers are no longer public property. However, to protect customer data businesses will adopt solutions like Number Masking.
Below are the reasons listed How Cloud communications Can Solve Customer Service Problems:
High Availability and Reliability Make for Happy Customers: 

Always get assured that customers not only accept it but also want to be able to contact your company quickly and easily. However, with a reliable, high-quality communications experience cloud communications service provides your company a more professional image that can make dropped dial tones and poor connections a thing of the past. And with little to no downtime, the system helps companies and customers connect. Additionally, your company communications are still up and running even in the event of a disaster only because these types of communications are a hosted service and located offsite in data centers with redundant technology. And with customers using the many capabilities available to them these communications work only because the company employees can work from anywhere and communicate. To hear important messages or speak with an employee means customers can expect reliability and reach your company.
Mobility Means Connect Anytime and Increase Productivity: 

Cloud communications can help out a lot if you're looking to increase employee productivity levels and give your business an immediate efficiency boost. However, making processes quick and easy for employees and customers alike this style of cloud solutions is easy to use and offers streamlined Digital communication. And your employees can work wherever they please and have access to the same features with such a system they would if they were in a company office.
To communicate in real-time, cloud communications solutions also allow employees at various locations. And to collaborate and share any document from any device, anytime, anywhere it gives the easiest way out!
New Abilities With Scalability:

However,

they will experience technology demands, they need to be prepared with no magic crystal ball to predict companies' future needs when investing in their business or growth. By allowing businesses to scale up and down as needed cloud communications can add and remove new employees, solutions, and applications immediately. And to increase their bottom line, keeping costs in check with all this scalability, businesses also receive peace of mind and more opportunities.
Dreading a Delay? On-Demand Data Has Your Back.: 

With on-demand customer data, always make for a better customer experience. However, with a comprehensive view of customer information during a call cloud communications systems can provide your employees. And the chances of a customer having to wait on hold are reduced since the information is displayed automatically as soon as a customer calls in. However, employees on the line can provide the highest quality care without any delay or gaps in customer service with this communication system. Additionally, by reducing hold times and ensuring calls are answered quickly contact center technologies can help enhance the communication experience between company and customer.
Being the pioneer in this industry, VoIPTech Solutions ensures a dynamic way of checking  Cloud Communication. We believe in providing the best Digital communication at the most economical price. Or we can say that providing Digital communication for customers at their home. For more info, please call: +91-8800221713. For more info, please visit our website: voiptechsolutions.in.