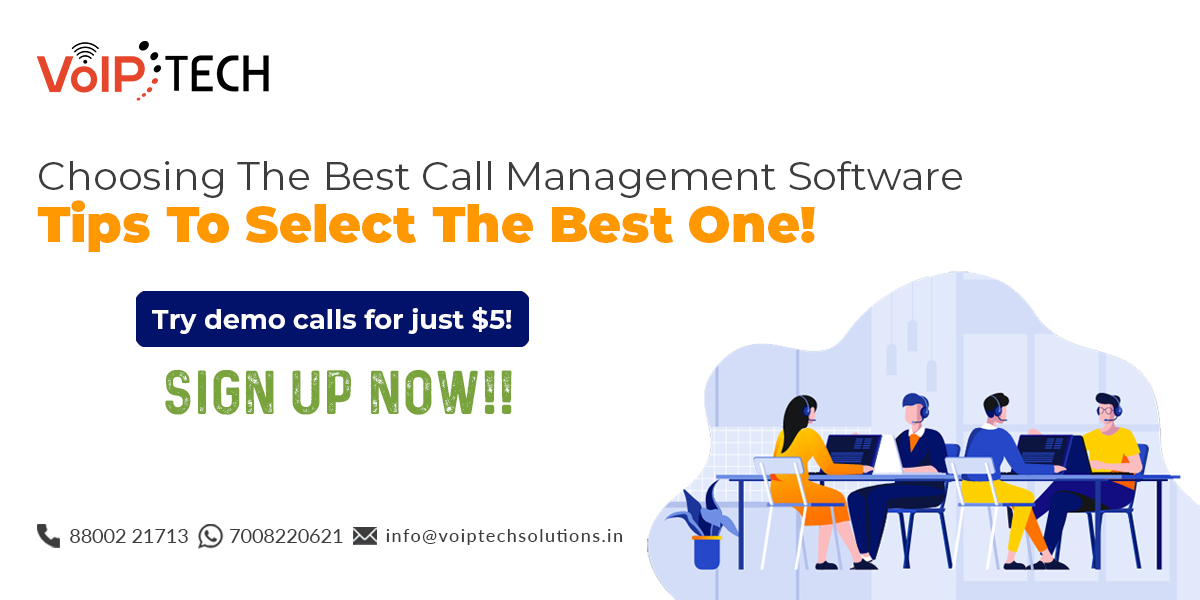 In this digital world, costumes generally prefer phone supports while reaching out to customer service. Isn't It? But at the same time for many growing organizations, it is quite challenging to manage the phone support. So to offer great customer support you need effective call management software. Because without a call management software the customers will be kept on hold for a long period of time while the agents struggle to answer their queries. However, it is very much essential to choose the best call management software that can route the call to the right agent effortlessly, provides additional text to the employees, and also executes a great omnichannel platform. 
Ultimately it is a great way to help the customers in which the phone support is least cost-effective, most time-consuming, and not so easy to support. So always remember that choosing the right tool is very important despite your team size. Because undoubtedly it is an ideal solution for both customer service teams and sales. 
Call Management Software Features:
Generally, the best call center software depends upon the specific needs of your teams. Along with the usage capabilities, every tool has various benefits. So always be choosy while selecting the best one. 
Below are a few features you might want to consider while searching:
Omnichannel:

  Well, when you are looking for

call management software

it's quite obvious to support the customers through other communication channels as well. How well your new call center software will integrate with your other channels is very important to consider. However, a unified customer service experience reduces customer friction and increases front-line efficiency which is found by VoIPTech Solution. Along with that incoming calls should be logged on your help desk which will allow agents to follow up via email. Regardless of the channel, they took place on, this feature will let everyone else on your team see the context of previous customer interactions. To create a consistent customer experience no matter which channel the interaction begins on is also another feature that allows us to do so. 
Call Routing:

  Have you ever thought about how a customer is being connected to the right person so quickly? Whether the customers need to select a department after listening to a set of options or your software offers automated call routing in which you need thorough information about the working procedure of call routing. Try setting up and changing your workflow during your trial period to make sure you're not stuck with one configuration as many systems are complicated to update on the fly. 
CRM Integration for Customer Context:

To resolve a problem, most customers believe it takes an average of six interactions. However, for customers, this is quite a huge source of frustration. Whenever they used to pick the call they provide a summary of their previous interactions along with repeating their issue. However, they can provide more effective help when agents have more context about the customer who's calling. From having to repeat themselves they quickly reference past interactions with the customer which prevents customers. Through CTI pop-ups that identify a customer through their phone number and surface, previous interactions through the browser many call center tools provide context.    
Cloud-Based Calling: 

To align with the online databases, call centers usually operate on cloud networks that require a cloud-based calling system. A phone system that runs through the internet instead of a phone line is nothing but known as

Cloud-based calling or VoIP

. And it's usually cheaper to install and maintain than regular landlines when a third-party provider typically offers this service. However, it removes the typical maintenance and infrastructure costs that traditional phone lines usually have only because of

VoIP

which doesn't require on-premise hardware.
Reporting:

 To have a finger on the pulse of call center metrics like incoming call trends, call volume, and agent efficiency by the managers who run a

call center

. Without knowing how your team is handling fluctuations in traffic, it's just impossible to manage scheduling and plan for the future. However, customers calling about, potential training opportunities and gaps in your support coverage are the various issues that can be easily identified through reporting. 
Outgoing Calls:

Always remember that call management software is not only confined to inbound customer service. Usually, if you offer proactive customer support options agents might need to make outbound calls to customers. However, to place calls to prospects sales teams might work through your call center software. So just look for software that includes an

automated dialer

and easy-to-use call logging features so your CRM stays up to date only if your contact center requires agents or sales teams to place outgoing calls. 
Usage Pricing:

Last but not least pricing is the most warming factor about a

call center

. And you might be charged more than expected for each minute on the phone depending on how your chosen software assigns your phone numbers. So just make sure to confirm what's included in the package and how much each call and minute will cost before committing to any new phone lines. 
Being the stakeholder in this industry, VoIPTech Solutions incorporates a dynamic service which is the Call Management Software. We believe in providing the best Call Management Software at the most economical price. Or we can say that providing a Call Management Software for customer ease. For more info, please call: +91-7008220621. For more info, please visit our website: https://voiptechsolutions.in/.