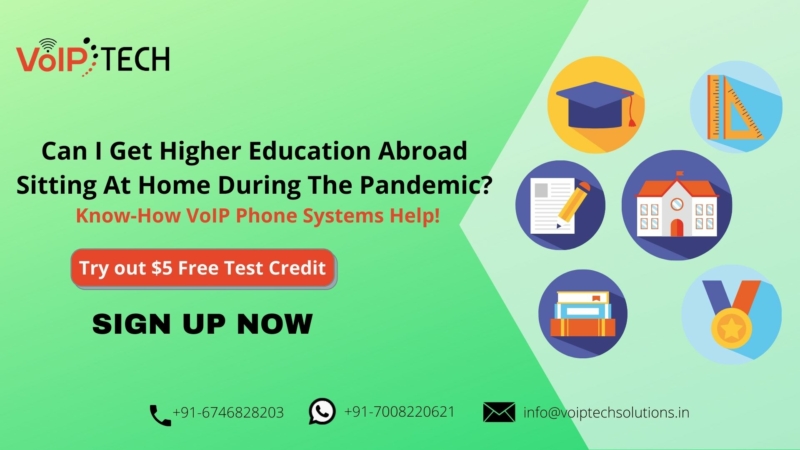 Often asked, which is the most powerful weapon in the world? Most people would say, "Nuclear Weapon" – Not exactly. It's "Education". Education gives you all that you need to grow as an individual, community, & nation. It empowers you to find the science behind everything and helps improve your life in a significant way. And, when it comes to getting higher education, studying abroad can certainly make the difference between great career success and a mere failure. But pandemic has been an obstacle for students getting higher education from world-class universities. Thanks to VoIP Phone Systems! Now they can obtain education from the schools and universities abroad from the comfort of their home. How VoIP Phone Systems have made this a reality? Would like to know? Let's start with the importance of getting an education abroad and how VoIP Technology didn't let the panic stop it.
Studying abroad gives you a career boost & offers you an array of opportunities. Once you decide to move out of your comfort zone, you take the first step to be a better person. Because when life takes your test, it doesn't appear subject-wise. Whether you decide to study in the USA, UK, Europe, Japan, or anywhere else in the world, you stay sure to gain a wealth of knowledge that you can share with the world & career-enhancing skills that bring you a sea of opportunities. Simply put, that one name in your CV is enough. 
Why does higher education abroad give you a career boost and how VoIP helps in the continuity? Keep scrolling down:
You Get an Opportunity to learn something New:

The rate at which the technology is evolving, you never know what to study, whatnot. The things you learn today may be of no use five or ten years down the line – and it's a fact that you can't' ignore! The best thing about foreign universities is, their courses are designed keeping futuristic technologies in mind, so once you graduate you will be a step ahead of your competition. Isn't that great!
You Have More International Contacts:

Studying abroad gives you an opportunity to get to know a variety of people & young professionals working on new projects, opening new windows of opportunity for you. It's not just about knowing each other, it's also about grabbing knowledge, learning new skills as well. Every day is a learning experience, the more you learn, the more you grow as an individual. Having each other's shoulders also improves your chances of employability. 
You Get to Learn New Languages & Share Your Cultures:

Knowing each other's language & sharing culture, enhance your surviving skill in new horizons. When the west meets the east, your life becomes the best. Your command of English & other languages improves to a great extent. With India being the ultimate destination for investors around the globe, your Western influence would play a significant role in making you the most sought-after candidate for the recruiters.
Improved Management Skills:

Once you are out there, you get exposure to new currency exchange, international transportation rules, the way businesses function there, their people's mindset, & last but not least your university courses. This hugely boosts your ability to think out-of-the-box and plan accordingly, which happens to be the most important aspect that employers look for in a candidate.
Surviving in Alien Conditions:

Going alone to a different nation and coming out victorious, defines your strong persona and survival skills in alien conditions. In the corporate world, change is the only constant, and those who are adaptable are always appreciated by employers. Because no matter what life throws at you, you won't give up.
A handful of Experience: You get to work on live projects that give you real-world work experience. Be it doing research, writing a thesis, doing internships in MNC's, or site visits, studying abroad provides you a wealth of experience that gives you a competitive international edge. 
The VoIP phone systems have taken it to the next level. To get an education, you do not necessarily reach the premises, the premises can be brought to you through the amazing features of VoIP.
The

IVR systems

let the messages reach their target audience, even when the teacher on the other side is on a constant move. 
Intelligent call routing and call hunt groups play a crucial role by taking certain things into account, like what next, holiday updates, schedules, etc.
Endpoints are available in literally every available classroom, on the devices that are preferred by the teaching staff. 
Message broadcasting that is from one-to-many
The voicemail-to-email transcription feature allows teachers to receive and scan urgent messages without creating any kinds of hindrance in the ongoing classes.
All the educational institutions around the globe have already embraced this new change, taking the first step towards the modernization of education. Today there is no boundary to get an education. With the threat of Corona looming in the sky, parents do not have to worry about their kids and their education. A VoIP-based phone system is the best way to reach students and connect with them, bringing education to their homes. 
If you're looking for the most advanced VoIP phone systems to expand your educational capabilities, then we can help you get there by leveraging the benefits of online education. We offer you a robust and fully functional AI-powered IVR system that works on any device. For further queries, you can speak to our experts on: +91-6746828203 or send an email to: info@voiptechsolutions.in.